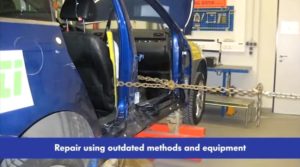 About 84 percent of Volkswagen collision repairs studied by the OEM's Irish branch weren't done referencing the automaker's procedures, a representative told an IBIS Ireland gathering earlier this week, according to the symposium.
That's a staggering number, worse than the 57 percent of improperly handled higher-strength steel SUV parts encountered by General Motors in the U.S. in a study of 3-4 years of data.
About 10 percent of VW cars receive collision repairs in a year, VW Ireland body and paint business manager Trevor Lee told the symposium, according to the International Bodyshop Industry Symposium website's coverage and Twitter feed. About 40 percent had non-OEM parts, which is about par for the U.S.
Up to 10% of vehicles = accident repair pa, 84% repaired without VM guidelines, up to 40% repaired using non-OE parts #ibisireland2016

— IBIS (@IBISworldwide) July 5, 2016
About 16 percent of damaged vehicles go through VW's certified Ireland collision repair network of 18 auto body shops.
What happens when you fail to repair a Volkswagen correctly? Well, here's a couple of examples, one from VW Ireland in involving a Passat B6 and one from Thatcham Research (the U.K.'s IIHS) involving a Golf Mk7.
In the VW Ireland video, posted on YouTube in 2014, both the Goofus and Gallant repairs used Volkswagen OEM parts, but one of the Passats was fixed using outdated procedures. It didn't end as well for the crash-test dummy.
In the Golf Mk7 case, which isn't narrated, Thatcham wrote on YouTube in 2015 that no VW procedures existed at the time the study started, so it developed best practices intended to restore the Euro NCAP crash-test rating. Then it tried "traditional but wrong" repair procedures.
"The driver dummy results from the 'good repair' were equivalent to the results from the official Euro NCAP test performed in 2012," Thatcham wrote.
" In the 'bad repair' test the driver results were significantly worse, mainly for chest injury."
Other interesting OEM-related tidbits at IBIS Ireland:
VW: Some sort of OEM-non OEM part comparision is coming soon from Volkswagen:
Trevor Lee @vwgroup_en highlights parts comparison project – major differences between OE and non-OE safety related parts #ibisireland2016

— IBIS (@IBISworldwide) July 5, 2016
.#ibisireland2016 first to be given glimpse of the @vwgroup_en parts comparison programme – official and full release to come September

— IBIS (@IBISworldwide) July 5, 2016
Volvo: The Volvo windshield is structural, and roadside window replacement will soon be impossible, according to another speaker. The latter comment by Volvo body and paint development manager Steve Plunkett of Remit Resourcing might be a reference to current and future tech like HUD displays and ADAS systems aroung the glass.
'The windscreen in a Volvo is an integral safety feature of the vehicle' @Plunkykos @volvocarsglobal #ibisireland2016

— IBIS (@IBISworldwide) July 5, 2016
Question: does the latest vehicle technology spell the end for roadside windscreen replacement? Answer: yes #ibisireland2016

— IBIS (@IBISworldwide) July 5, 2016
Take a look at the IBIS feed on Twitter. There's been a lot of interesting content delivered during their conferences in 2015 and this year, and the new Irish conference is no exception.
While the international nature of the events means not everything will apply to the U.S. market, international OEMs, global platforms and converging world safety and emissions standards seem to suggest at least some of the insight either is or might soon be relevant for the auto body industry here.
More information:
International Bodyshop Industry Symposium Twitter feed
"Repair Validation VW Golf MK7"
Thatcham Research via YouTube, June 18, 2015
Volkswagen Ireland via YouTube, July 4, 2014
"QUALITY KEY TO LIFELONG CUSTOMER"
IBIS Worldwide, July 5, 2016
"CORRECT REPAIR 'UNQUESTIONABLE'"
IBIS Worldwide, July 5, 2016
Featured image: This screenshot from Volkswagen Ireland video shows a Volkswagen Passat B6 being repaired with outdated methods. (Screenshot from VW Ireland video on YouTube, www.youtube.com)
Share This: