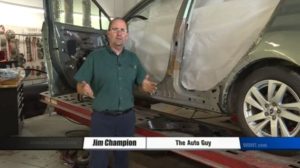 A new laymen-friendly video from Omaha, Neb., TV station WOWT explains why collision repairers can't just heat and straighten higher-strength steel components as they did in the past.
It might be a useful educational tool for shops to refer customers questioning the price of fixing a vehicle which has undergone shifts in repair procedures. It could serve a similar purpose for insurers with customers wondering why their car was a total loss because of such changes. (None of this means the customer will calm down, but at least they'll know what you're talking about.)
"Auto Guy" Jim Champion of Charlie Graham Body and Service keeps it simple, explaining in the WOWT video that OEMs replaced thicker mild steel with thin but strong higher-strength steels to save weight but retain strength.
"Because of the way high-strength steel is manufactured, collision repair shops have to use strict repair standards when they're trying to repair it," he tells WOWT's audience.
Though not getting into specifics or recounting the other joining methods which could be used with more advanced materials like the steels, Champion also notes that "welding equipment that doesn't overheat the metal is required"; otherwise, the steels "lose their strength and ability to protect you."
Champion on the WOWT video also explains that higher-strength steels often won't be repaired at all: "You can't splice in just part of it, the entire part needs to be replaced."
When the part is an entire B-pillar (or Honda/Acura's far-reaching door rings), costs can rise to the point where an insurer would considering totaling the car, he says.
Finally, Champion warns WOWT viewers considering buying a salvage vehicle to seek an inspection first.
"While some rebuilders do it the right way and replace the high-strength steel inside, others don't," he says.
Unfortunately, the same could be said with some body shops, which places more impetus on the customer to do their homework before a repair or get a car reinspected after it, too.
More information:
"Testing the mettle of your ride's new steel"
WWOT, July 10, 2016
Featured image: Omaha, Neb., TV station WOWT's "Auto Guy" Jim Champion discussed higher-strength steels in vehicles and collision repair in a new video. (Screenshot from WOWT video on www.wowt.com)
Share This: