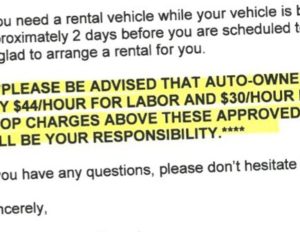 Two weeks ago, we covered a letter provided us by a tipster in which the Charlotte, N.C., branch of Auto-Owners Insurance notified policyholders of certain rate ceilings.
"****PLEASE BE ADVISED THAT AUTO-OWNERS INSURANCE COMPANY WILL ONLY PAY $44/HOUR FOR LABOR AND $30/HOUR FOR PAINT & SUPPLIES," the claims branch wrote. (Emphasis branch's.)" "IF A BODY SHOP CHARGES ABOVE THESE APPROVED LABOR RATES, THE DIFFERENCE WILL BE YOUR RESPONSIBILITY.****"
A representative of the company told us then that the letter (redacted by our source) must have been an error. However, the nature of the interview seemed to raise the possibility of there being some confusion from the other party, and so we double-checked with the Charlotte branch itself, providing a copy of the letter.
They in turn contacted the corporate communications office, and on Friday, Auto-Owners corporate communications/group sales manager John Lindauer confirmed that the mailing didn't correctly describe company policy.
Lindauer wrote in an email that the branch had since been advised to rewrite the letter and the company's position was to negotiate, find "an agreed repair price," and "pay all that we owe":
The correspondence from our Charlotte Claims Branch at issue does not accurately reflect Auto-Owners Insurance Company's position on the issue of rates for labor and paint/supplies.  We have communicated and reinforced our position to our associates and advised them to revise the letter in accordance with our Company's position.
Auto-Owners works closely with our policyholders, insureds, and repair shops to achieve repairs of customers' vehicles.  Our goal is to reach an agreed repair price on accident-related damages and to pay all that we owe on every claim.  If questions arise concerning repairs, the parties are encouraged to communicate these issues to our appraiser or claim representative involved and work toward mutual satisfaction.
Auto-Owners looks forward to continuing to assist our customers and working together with auto repair shops to successfully resolve customer claims.
A Hickory, N.C., body shop on Monday said it as far back as last year encountered a similar Auto-Owners letter specifying the same $44/$30 rates.
K&M Collision operations manager Michael Bradshaw said Monday his company's counsel contacted the state Department of Insurance in September 2015. His company's attorney in July told the shop that to his knowledge, the agency never responded.
The average national body labor rate hasn't been as low as $44 since before 2010, based on CCC's 2016 "Crash Course."
A paint materials rate of $30 was above the 2015 average CCC reported but below the $34 median found by the recent "Who Pays for What?" survey and the $33.51 rate found by Mitchell during the first quarter of 2015.
Also, don't forget what basic statistics teaches us: Real-world data has a distribution and doesn't all hew to a single value. Here's the percentiles "Who Pays for What?" found from its national poll of shops: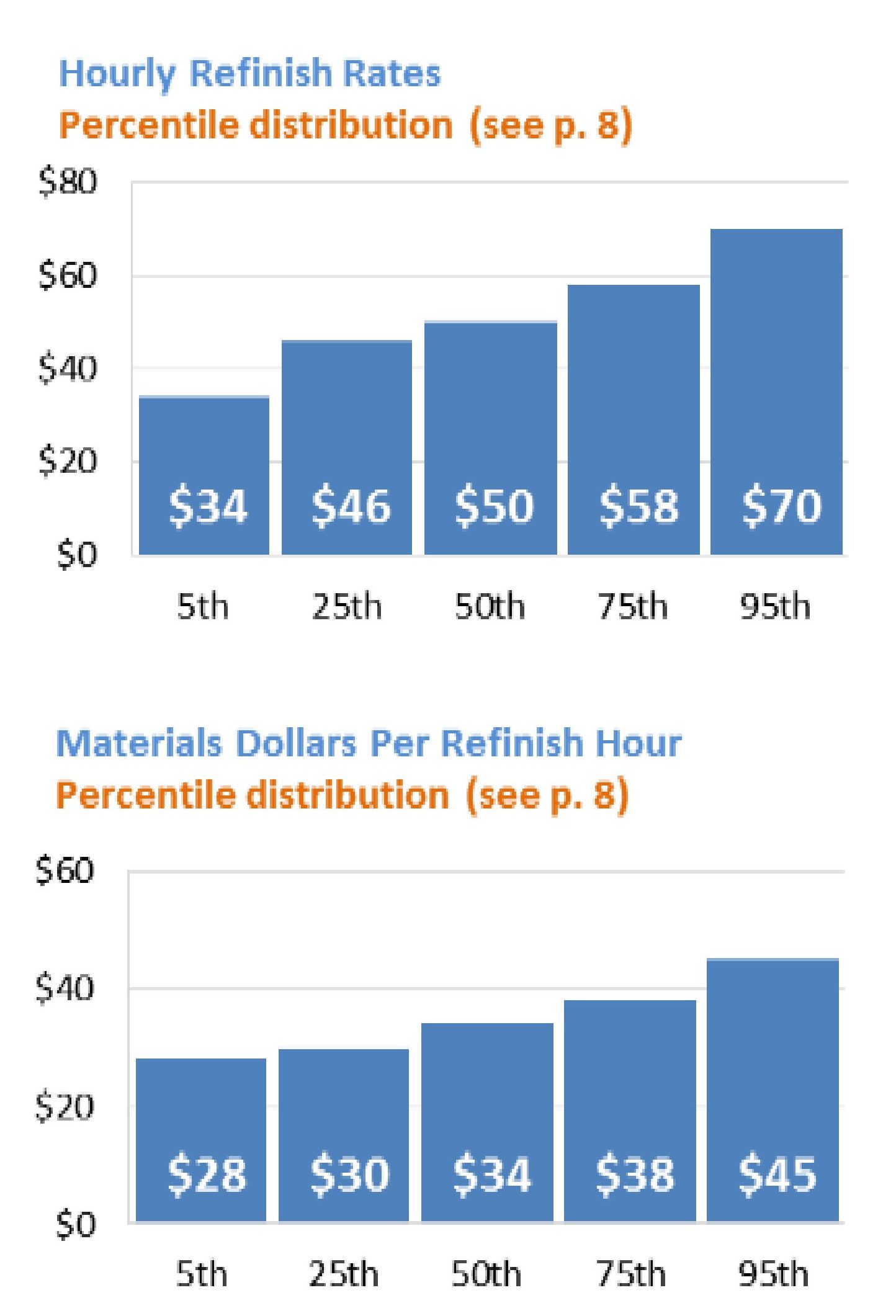 Auto-Owners Insurance was not among the top 10 auto insurers in North Carolina in 2014, according to the Insurance Information Institute's presentation of SNL Financial data. Its market share in the state couldn't immediately be determined further Monday.
However, it did crack the homeowner's insurance top 10 (No. 9) in the state, according to SNL/the III, and the National Association of Insurance Commissioners ranked it No. 17 for auto nationally, in case you were wondering. Auto-Owners also was No. 1 in 2015 in J.D. Power auto insurer claims satisfaction surveys.
Other tips: Email info@repairerdrivennews.com or fax 866-893-2545. And you're always welcome to call us at 866-893-2544.
More information:
Images:
The Charlotte, N.C., Claims Branch of Auto-Owners Insurance notified a claimant of what rates it'd pay auto body shops in this letter provided by a tipster. However, the insurer said that's not company policy and must have been sent in error. (Provided to Repairer Driven News)
Some paint labor and paint materials rate data from the second-quarter 2016 "Who Pays for What?" report. (Provided by Collision Advice-CRASH Network)
Share This: