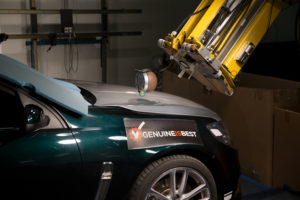 The Adelaide University's Centre for Automotive Safety Research found steel aftermarket copies of a Holden aluminum hood would have put both a pedestrian child or a mechanic at greater risk, the Federal Chamber of Automotive Industries announced late last month.
CASR has conducted pedestrian safety testing for the Australasian New Car Assessment Program (think a NHTSA-IIHS hybrid) since 2001. The FCAI, an Australian version of the U.S. Alliance of Automobile Manufacturers, said it asked the lab to put a real aluminum Holden (GM) Commodore hood and steel aftermarket versions through a variety of tests to support the "Genuine Is Best" campaign.
Watch your head!
The Impact Lab mimicked an impact with a 7.7-pound child's head (played by a steel ball) at 25 mph to simulate striking a kid in an Australian school zone. (25 mph is par for some American school zones, too.)
"The head form test found that the aluminium original equipment bonnet fitted to a Holden Commodore performed better in every complex test than a fake steel replacement bonnet," the FCAI wrote in a news release. "The genuine bonnet absorbed impact more evenly. Importantly, neither the bonnet nor the head form test device … made contact with hard engine objects beneath, a major cause of pedestrian injury."
The FCAI news release references "fake" and "counterfeit" parts, but that's hyperbole. The part or parts tested were technically aftermarket, according to a "Genuine is Best" representative; there was no attempt to fraudulently pass them off as genuine Holden parts. However, the alleged labeling of a Tong Yang steel hood as "Auminium" would seem to raise some sort of legal question, at least here in the U.S.
According to the IIHS –which doesn't currently evaluate pedestrian protection — a HIC-15 (head injury criteria) score of 700 is the maximum the feds allow in an advanced U.S. airbag rule and is also the boundary between the IIHS' "acceptable" and "marginal" scores during moderate overlap crashes.
At 700, a person has a 5 percent risk of a severe injury, according to the IIHS. The real Holden Commodore hood scored 658; the aftermarket one scored 715, according to FCAI.
"It was a small, but telling result," FCAI Chief Executive Tony Weber said in a statement. "But I can say that as a parent, the safest result is the best one."
FCAI video footage indicates one allegedly steel, less safe hood came from Tong Yang, which supplies aftermarket collision parts to the U.S. market as well. Email messages to the Taiwanese company last week and late Tuesday morning were not returned Tuesday.
Watch your hands!
Also at risk: A mechanic or collision repairer's fingers.
In a result "unexpected by the test team," CASR found a steel aftermarket version of the aluminum Commodore hood was twice as heavy, causing the Commodore's hood support strut to fail. FCAI footage seems to imply this heavier steel hood was also allegedly supplied by Tong Yang.
"The fake steel bonnet was twice as heavy as the genuine panel and that meant every time the steel bonnet was lifted it would crash down again after just a few seconds," said Weber, the head of the Genuine Is Best campaign.
"The safety implications for any repair person – for example a roadside service mechanic – are obvious."'
Ironically, Holden boasted in 2013 about the introduction of the Commodore's first-ever aluminum hood and how it allowed weight savings — as well as just one strut.
"The switch from steel to an aluminium boot lid and bonnet breaks new ground for Holden," Holden VF lead development engineer Andrew Howell said in a statement then.
"The new panels are made in Adelaide by Hirotec and are just as strong as their steel equivalents but are 30 per cent lighter. This is a huge mass saving and means we can  support the bonnet with a single gas strut."
Hoods are projected to shift from steel to predominantly aluminum in the U.S.
U.S. aftermarket certification programs CAPA and NSF say they test steel and aluminum metal properties. Unlike NSF, CAPA doesn't weigh parts, though both say they check dimensions and fit. A CAPA spokeswoman wrote last week that the program "uses extensive material properties and performance criteria to evaluate comparability" instead of "weight"
Also, while CASR didn't test for this, the fit and finish around the fender, lights and grille was "terrible" on the non-OEM version, according to the FCAI.
"No-one would accept such a terrible fit and finish after a repair but parts like this are offered for sale here in Australia," Weber said. "The counterfeit was so badly made you could almost fit a finger into the panel gap."
The research here demonstrates potential safety considerations when using a non-OEM hood, particularly if NHTSA opts to add pedestrian testing. Not to mention the gas-mileage, corrosion, and "like kind and quality" considerations if you're trying to get a replacement aluminum hood and end up with a steel one — and let's not forget your fingers!
More information:
"CHILD PEDESTRIAN SAFETY TEST SHOWS GENUINE PART COMES OUT ON TOP"
Federal Chamber of Automotive Industries' "Genuine is Best" site, June 20, 2016
"New Technologies and Sleek Design Make Commodore the Most Economical Yet"
Holden, May 30, 2013
Featured image: The Adelaide University's Centre for Automotive Safety Research found a steel aftermarket copy of a Holden aluminum hood would have put both a mechanic or pedestrian child at greater risk, the Federal Chamber of Automotive Industries announced late last month. (Provided by FCAI)
Share This: