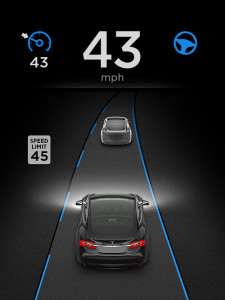 One interesting development coming out of the Tesla Autopilot crash: The National Transportation Safety Board is looking into it.
NTSB spokesman Christopher O'Neil told the New York Times his agency's investigation will be independent of the National Highway Traffic Safety Administration's inquiry into the collision that killed 2015 Model S driver Joshua Brown, 40, in Florida in May, the newspaper reported Sunday.
Brown died May 7 at age 40, according to an obituary in the Akron Beacon-Journal cited by an an Associated Press June article published in the Times.
O'Neil confirmed the NTSB's involvement to Repairer Driven News on Tuesday.
The crash involved a tractor-trailer traveling perpendicular to the Model S, the OEM wrote last month on its blog. It called itself "beyond saddened" at the loss suffered by the driver's family.
According to Tesla, the Autopilot was active during Brown's death. The system — still in beta testing — demands that drivers pay attention and keep their hands on the wheel. Neither the Autopilot nor Brown apparently braked for the truck, which Tesla wrote had a white trailer obscured in the bright day.
The AP/Times reported that the truck driver said he heard a "Harry Potter" film playing.
ABC News reported last week that the Florida Highway Patrol has said the vehicle contained a portable DVD player and laptop, though both were damaged and it could not be ascertained if either was in use.
We talked to the NTSB in February about its scope, and the agency said then it typically doesn't look into light passenger vehicle crashes the way it would with a plane or train. However, it does look into commercial vehicle crashes on U.S. roads.
NTSB investigations dig deep, and it'll be interesting to see if the agency finds anything not directly related to the Autopilot or driver. For example, mechanical or other automotive aftermarket-related contributing factors.
"The NHTSA investigation will focus on the crucial purpose of determining whether there are defects that need to be addressed, the NTSB investigation will be looking more comprehensively at whether the crash reveals systemic issues that might inform the future development of driverless cars and the investigation of crashes involving autonomous vehicles," O'Neill wrote in an email Tuesday.
Tesla has received a lot of attention for its Autopilot, but other OEMs have begun to build in capabilities similar to it. Autopilot is able to maintain a lane, follow at a responsible distance from another vehicle and brake and accelerate to keep pace with traffic or avoid a collision. Those technologies are all available on non-Tesla vehicles today or will be soon, as the Wall Street Journal's John Stoll has observed, and autobraking will be standard on virtually all new cars by 2022.
However, when asked if it planned to investigate other future crashes given the inevitable proliferation of advanced driver assistance systems, O'Neil said no.
"With respect to future crashes, the NTSB will evaluate, as it did in this case, when to conduct an investigation, but at this time, it is not anticipated to become a significant portion of the 25-30 crashes a year the Office of Highway Safety investigates," he wrote.
That's fortunate for repairers, glass installers and aftermarket manufacturers which erroneously cover or fail to recalibrate sensors or cameras — or those which did everything right but still have to put other work on hold and demonstrate this to the NTSB or NHTSA.
But with state and federal regulators and lawmakers still trying to wrap their brains around the technology and such heavy attention from the media, we wouldn't discount the possibility of further official scrutiny just yet.
And even if regulators focus attention on the OEM, driver and Tier 1 system suppliers, who knows what lawyers and insurers seeking to find or divide fault will do, rightly or unfairly? One luxury-certified collision repairer told us he already has taken out more insurance just in case.
"Since we focus on luxury vehicles with advanced autonomous systems, we realized our potential liability exposure would increase, so we upped our liability coverage," Pan-American Collision President Luis Alonso said in a statement.
Since we're on the topic of crash scrutiny, Canadian repairers might want to note that the city of Toronto road department has floated a proposal to investigate more collisions, and the City Council is expected to vote on it Wednesday. As it stands now, a spokesman said the scope won't extend to aftermarket service and repair, but we thought it was still worth mentioning.
More information:
"Fatal Tesla Crash Draws In Transportation Safety Board"
New York Times, July 10, 2016
"After Fatal Autopilot Crash, Laptop, DVD Player Found in Tesla"
Featured image: Tesla's Autopilot is demonstrated in this screenshot. (Provided by Tesla.)
Share This: