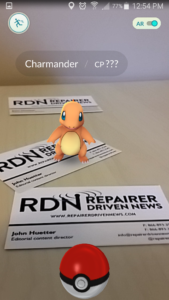 While some technology has begun to erode collision business, other technology might foster it: State and federal agencies have warned drivers against playing "Pokémon GO" in the car.
The smartphone game uses augmented reality to make it appear as though Pokemon monsters are running around the real world, ripe for collection into a team of adorable gladiators. This makes it tempting to play while driving around at low speeds, according to one Jalopnik writer.
Perhaps the most high-profile, the National Highway Traffic Safety Administration warned Americans on Friday against trying to drive their way to Pokemon success.
"Eyes up, Poké Balls down, people," it tweeted. "… don't #PokemonGo and drive. #justdrive"
As did the Washington Department of Transportation in Nintendo of America's home state. (Otherwise, the Washington DOT's breezy Twitter feed has embraced the fad, encouraging collection virtually everywhere else but behind a wheel (including while riding a "bike," which sounds like a terrible idea).
"If your weekend includes looking for #Eevee on #PokemonGO, please do so safely. No Pokemoning from behind the wheel," the agency tweeted Friday.
The New York Department of Motor Vehicles took a sober approach Tuesday:
"This new, all-consuming Pokémon GO craze has caught the entire country by surprise and as such we are concerned about the consequences playing this game can have on public safety," DMV Executive Deputy Commissioner Terri Egan said in a statement. "Distracted driving is behavior we at DMV and GTSC speak out against all year long. What is meant to be a fun game can have tragic real-world consequences if you're playing it while driving or crossing the street. Simply put, catching virtual creatures to get to the next level is not worth risking your life or the lives of others."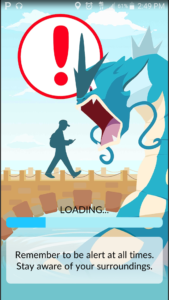 The game warns users to keep tabs on the world while playing.
The only high-profile "crash" from the game so far seems to actually be the hoax by clickbaitey site Cartelpress, according to Snopes. So the agencies' warnings are probably cries for attention leveraging the media buzz around the game as well as expressions of serious concern.
But repairers internationally will probably encounter a few sheepish parties involved in augmented-reality fender-benders, whether from "Pokémon GO" or any AR games inspired by its success.
More information:
"NEW YORK STATE TO POKÉMON HUNTERS: POPULAR NEW APP IS NOT MEANT TO BE USED WHILE DRIVING"
New York Department of Motor Vehicles, July 12, 2016
"Pokémon Go Makes Driving A Lot More Dangerous"
Jalopnik, July 10, 2016
Images:
Photo illustration: We put out some cards to hype ourselves while demonstrating the augmented reality of "Pokémon GO." (Screenshot from "Pokémon GO" app, image arranged by John Huetter/Repairer Driven News)
The"Pokémon GO" app warns users to pay attention while playing the augmented reality game. (Screenshot from "Pokémon GO" app)
Share This: