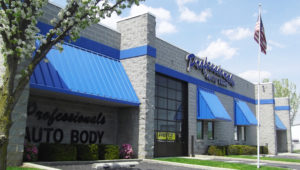 A county arbitration panel has ruled in favor of a Pennsylvania collision repairer's 25 percent upcharge to tow a car from the initial post-collision lot to his own.
Nationwide had disputed the charge before the Blair County, Pa., Court of Common Pleas, but a three-arbitrator panel returned a decision in May in favor of defendant Professionals Auto Body within an hour and a half, according to owner Ron Peretta. He wrote about the experience in an essay provided to Repairer Driven News late last month.
Asked for comment on the outcome of the 2.75-hour hearing or if the insurer planned to appeal, a Nationwide spokeswoman wrote July 1 that "I am not in a position to discuss litigation."
The other tower had charged $670, including a 911 response fee, debris removal, a service fee, and two days of storage. "All items were very reasonable and necessary charges," Peretta wrote.
A customer had requested their car be towed to Professionals for the repair, and so Professionals paid the previous tower's $670 bill, and added 25 percent ($167.50), and similar towing and storage fees, according to Peretta. "I consider that a reasonable markup for me using my money and for my staff to coordinate the tow in anyone's eyes, except Nationwide," he wrote.
The car was partially disassembled over four hours, then declared a total loss — with Peretta even knocking $22 per hour off the disassembly labor because of a "great working relationship with the old manager."
So after saving Nationwide $88, Peretta said he was sued for the $167.50 markup on the grounds of unjust enrichment. The 2013-14 median cost of an attorney in Pennsylvania was $325/hour, the National Consumer Law Center has estimated.
"Nationwide brought the new supervisor for my area, who testified, in over a thousand tow bills he reviews each year no other shop has submitted a tow bill with a markup," wrote Peretta, who expressed skepticism such was the case. "He's never seen it before in his twelve years of reviewing tow bills."
Peretta said the defense was easy.
"We use our money for their benefit and deserve a markup," he wrote.
Featured image: The Duncansville, Pa., branch of Professionals Auto Body is shown. (Provided by Ron Peretta/Professionals Auto Body)
Share This: