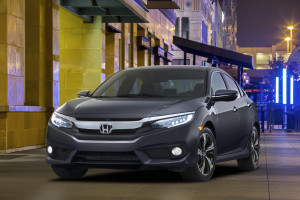 Following similar moves by FCA and Nissan, Honda on Friday mandated pre- and post-repair scans for all Hondas and Acuras involved in collisions.
In a new position statement, the OEM made its stance clear, emphasizing the mandatory nature of the procedures with bold text:
It is the position of American Honda that all vehicles involved in a collision* must have the following minimum diagnostic scans, inspections, and/or calibrations done to avoid improper repair:
A preliminary diagnostic scan during the repair estimation phase to determine what Diagnostic Trouble Codes DTCs may be present, so proper repairs may be included. See Background On Scan Requirements paragraph for more information.
A post repair diagnostic scan to confirm that no DTCs remain.

Any repair that requires disconnection of electrical components in order to perform the repair will require a post-repair diagnostic scan to confirm if the component is reconnected properly and functioning.
Damage that requires body parts replacement will always require a post-repair diagnostic scan.
(Emphasis Honda's. Minor stylistic edits on spacing and bullets.)
As to the asterisk, the OEM's position statement defines a collision as "damage that exceeds minor outer panel cosmetic distortion."
Honda collision instructional designer Chris Tobie explained that the OEM originally planned to simply mandate scans for every collision — full stop. But it felt "kind of draconian," he said.
To be fair to customers and stakeholders like insurers, Honda allowed that some very minor damage might not need a scan, according to Tobie.
For example, he said, did a guy who scuffed his car against the front wall while pulling too far into the garage need a scan?
"No, probably not," he said.  "… Does every scuff and scratch need it? No."
But — as Honda notes in the position statement — should the minor damage repair get to the point where you're removing something from the car or disconnecting an electrical component, you need to scan the car, Tobie said.
Such examples and reiteration were included to demonstrate how little wiggle room there was, according to Tobie.
"We wanted to close all the seams," he said.
It's been famously observed that cars are multiple computers on wheels, and they must be treated as such by shops. This need will only grow; for example, a few hundred bucks will buy the advanced driver assistance system Honda Sensing option on the 2016 Civic.
For $20,440, you'll get a car with autobraking, automatic lane- and road-keeping and adaptive cruise control.
"Honda and Acura vehicles include numerous electronic control systems, including those that operate safety and driver assist systems," Honda wrote. "Most of these systems include onboard self-diagnostics that monitor the state of health and/or rationality of input and output circuits. When monitored circuit values fall outside predetermined thresholds, DTCs may be set in one or more electronic control unit (ECU)."
Honda also repeatedly stresses to head-in-the-sand shops and insurers that the dashboard lights do not indicate every trouble code — nor could they given the sheer number of DTCs.
"Dashboard indicators are intended for driver notification, not vehicle diagnostics," Honda wrote. "… Therefore, the presence or absence of dashboard indicators/warning lights is not an acceptable method to determine if post collision diagnostic scans are necessary."
Emphasis Honda's. It continued:
Many DTCs do not illuminate any dashboard indicators, but an electronic control system may still operate improperly or be completely inoperative.
Because of the complexities of serial data networking, dashboard indicators that do illuminate may appear unrelated to the actual vehicle problem.
Some self-diagnostics require multiple failures, or other criteria such as a number of drive cycles, to be met before illuminating any indicators.
Low battery voltage and/or repair procedures may inadvertently set multiple DTCs. Clear the DTCs and determine which ones reset after battery voltage is stabilized.
Honda "recommended" the i-HDS software, which conveniently comes with an "All DTC Check" feature that scans everything at once. (Emphasis Honda's.)
The OEM wrote that it couldn't comment on if any third-party scan tools worked well or not.
Even i-HDS can't scan everything, and Honda wrote that shops must also use the diagnostic procedures found on the Honda ServiceExpress site (techinfo.honda.com) to scan Honda LaneWatch or the self-contained diagnostics on older-model A/C and climate control systems.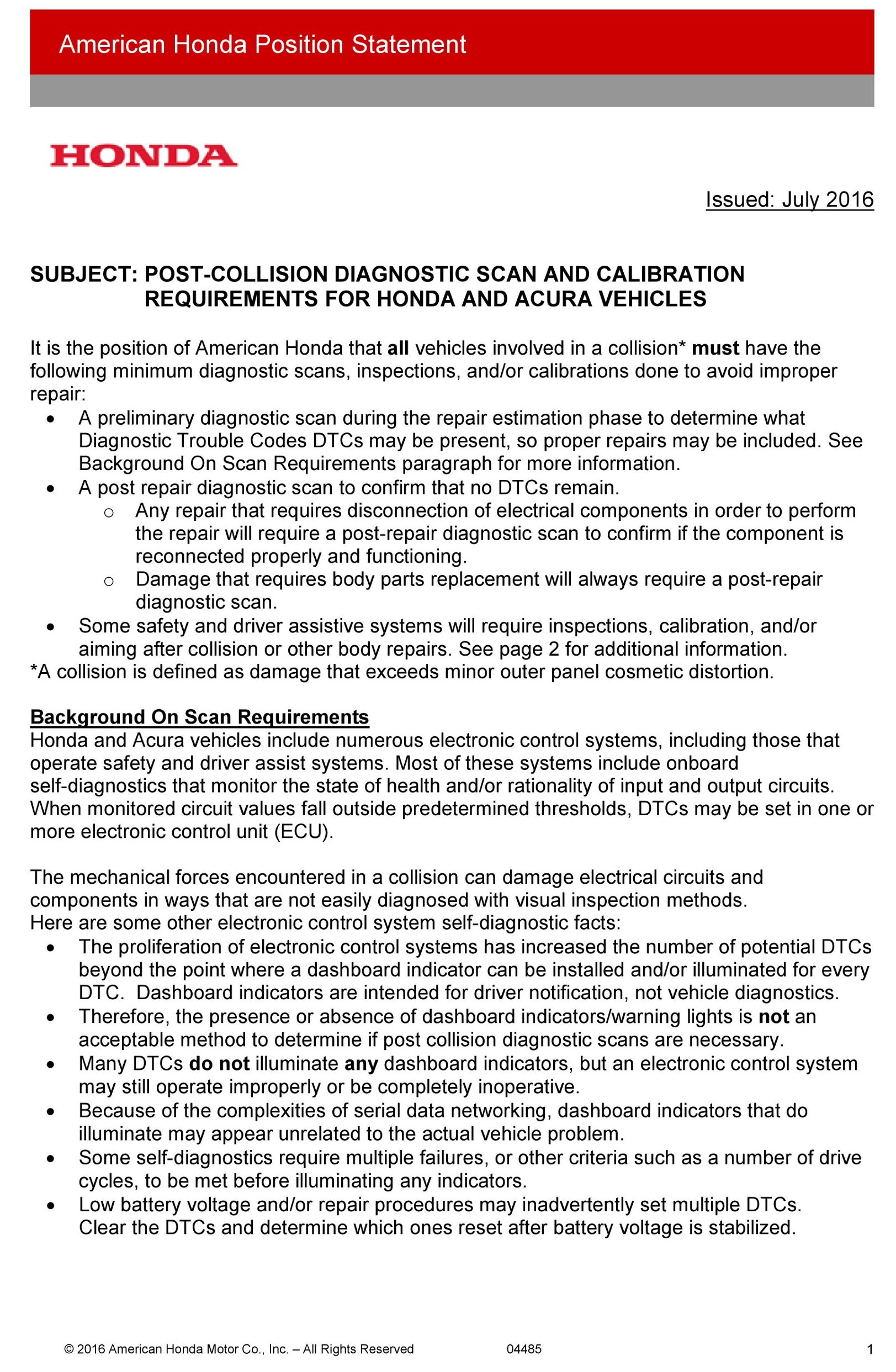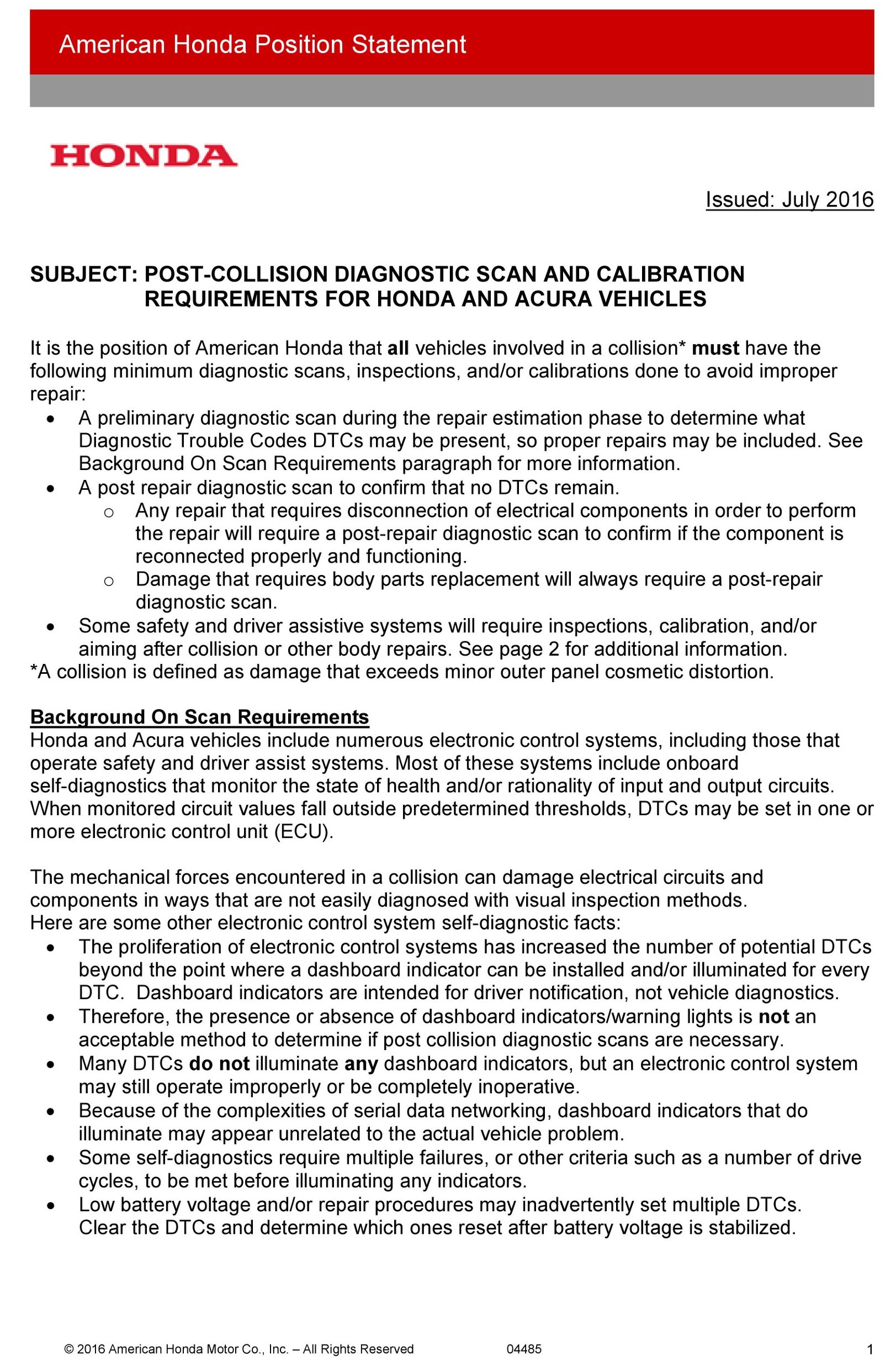 More information:
Honda position statement on scans, calibration for Hondas and Acuras
Honda, July 15, 2016
Share This: