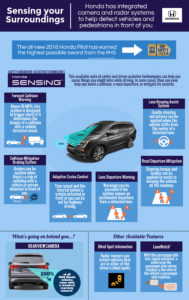 Fixing such common collision repair staples such as bumpers, front doors and windshields on Honda and Acura vehicles might require recalibrating advanced safety equipment with software, the OEM wrote in a position statement released Friday.
All kinds of radar/camera safety systems, including the autobraking coming standard soon and already available as part of a cheap Honda Sensing options package, come with this mandate following the replacement of various elements.
Potential calibration targets include, according to Honda:
• Adaptive Cruise Control (ACC)
• Collision Mitigation Braking System™ (CMBS™)
• Forward Collision Warning (FCW)
• Lane Departure Warning (LDW)
• Lane Keeping Assist System (LKAS)
• Road Departure Mitigation (RDM)
• Blind Spot Information (BSI)
• LaneWatch™ (Honda Only)
• Multi-View Camera System (MVCS – Acura Only)
Honda cautioned especially to watch out for calibration being necessary when doing work on, well, exactly the areas of the car you'd expect to find crash damage:
"Collision damage in these areas should be given particular attention because certain repairs and/or parts replacement may require aiming procedures to be done," Honda wrote, providing this chart: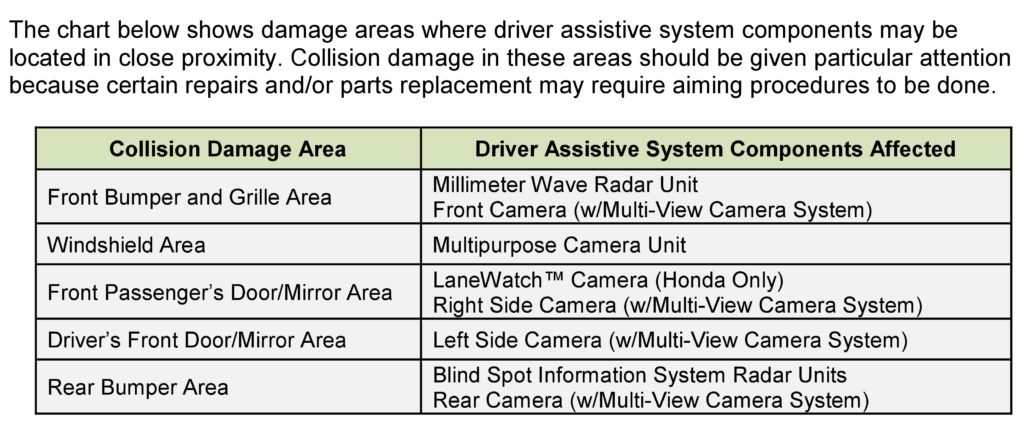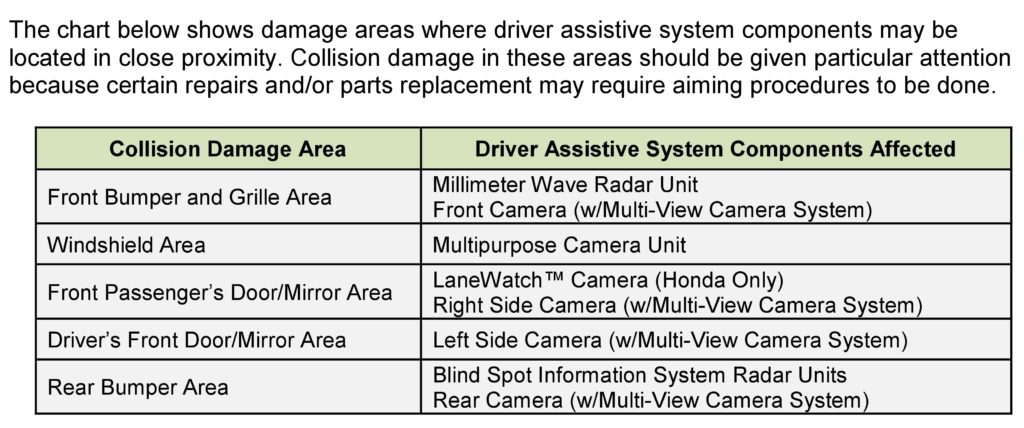 Honda did throw you a bone: The backup camera doesn't need any calibration unless the car has the Multi-View Camera System.
Right now, that technology is only on Acuras, according to Honda. That doesn't mean the OEM couldn't add it to future Hondas, so technicians should still be wary.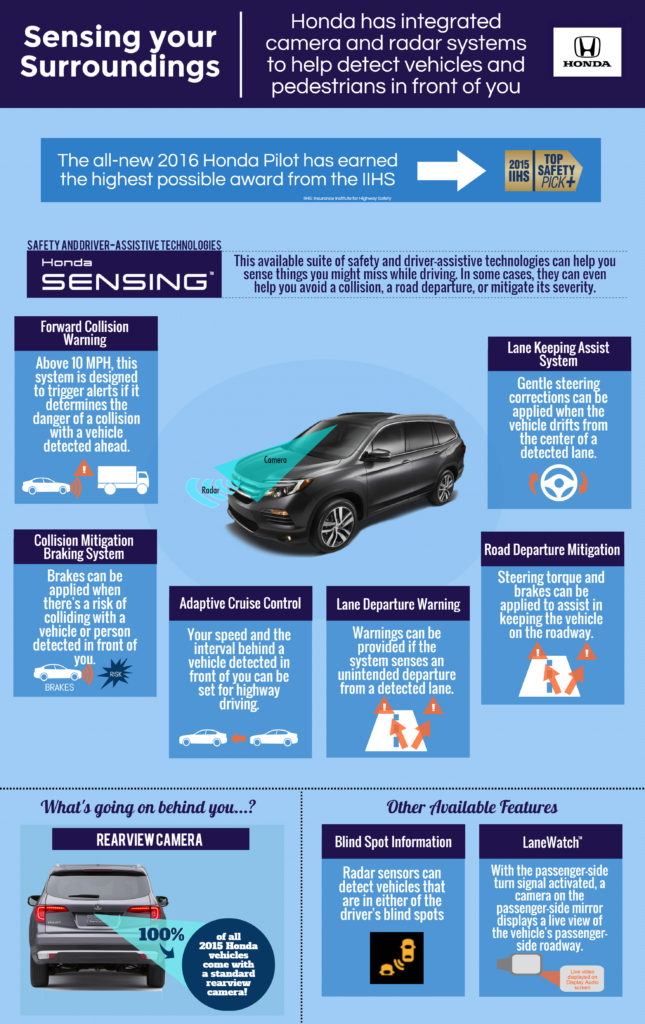 Reconnecting the battery
Honda also stressed that something as simple as reconnecting a 12-volt battery might affect some less autonomous systems including "but not limited to":
• Navigation systems
• Engine idle speed learn
• Power window, power tailgate, moonroof, power sliding door position and/or pinch
detection
• Keyless access and immobilizer/security systems
Having any these working incorrectly won't please a customer, and so you'll have to enter any vehicle on which you work into ServiceExpress and search "Reset."
"This search will retrieve a list of reset procedures required after parts replacement and/or a battery disconnect," Honda wrote. "Some reset procedures can be done without special tools. Others may require scan tool software."
More information:
Honda position statement on scans, calibration for Hondas and Acuras
Honda, July 15, 2016
Images:
This Honda graphic displays the Honda Sensing technology available for the 2016 Pilot. (Provided by Honda)
Fixing such common collision repair staples such as bumpers, front doors and windshields on Honda and Acura vehicles might require recalibrating advanced safety equipment with software, the OEM wrote in a position statement. (Provided by Honda)
Share This: