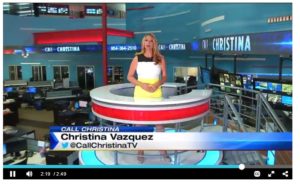 WPLG's "Call Christina" recently educated readers and viewers in how insurers won't necessarily put new parts on a leased vehicle.
A report posted Monday on the Pembroke Pines, Fla.-based station's website demonstrates the difference between lease terms demanding lessees return a car with new OEM replacement parts and insurance policies that cut premiums a fraction in return for putting used or generic parts on a car.
"All repairs must be made with new and genuine manufacturer's original equipment replacement parts," states a photo of Luis Corrales' BMW lease with Braman Motors/BMW Financial Services posted on WPLG's website. "I will discuss these requirements with my insurance company prior to signing my insurance agreement, damage repair estimate, or before authorizing any damage repair work."
Water from street flooding entered Corrales' BMW engine, according to the WPLG report. Allstate would only pay for a recycled engine, which meant Corrales would owe $8,000 to cover the difference and get a new OEM one instead, according to Vazquez's story. (The bill pictured in the broadcast also references a $169/hour mechanical rate, which should have body shops making a fourth of that an hour wincing.)
"In this particular situation, we are honoring our insured's policy with an original BMW engine at the same model year or younger, which has fewer miles than the engine being replaced, so the vehicle can be restored to its pre-damaged condition," Allstate spokesman Justin Herndon told WPLG. "Allstate's policy is above the industry standard in this situation." (Emphasis ours.)
Now, one can understand Allstate's point. Whoever buys the BMW after Corrales' lease end will get an engine with fewer miles than it would have had were no repairs necessary at all. On the other hand, that assumes something else awful didn't happen to the salvage part within those fewer miles. (Even if your BMW had 100,000 miles, would you want to trade parts with a BMW that rolled over and caught fire on Mile 1?) And what's BMW going to do, hire a team of private investigators to figure out the history of every salvage part or the equivalency of every aftermarket component?
Ultimately, the TV station helped Corrales just take the check from Allstate and find someone to repair the engine using new parts, according to the WPLG post. He did, however have to pay a few hundred for a diagnostic.
"I think it's (requesting new versus recycled parts) fairly new," the Property Casualty Insurance Association of America's Don Griffin told the station, and he also suggested gap coverage might help. "We haven't seen or heard a lot about it."
The issue has definitely come up before with collision parts, including during the Maryland debate between insurers, LKQ and collision repairers on aftermarket components.
More information:
"Local 10 viewer calls Christina after getting big surprise from dealership, insurance company"
WPLG, July 18, 2016
Featured image: WPLG's "Call Christina" recently educated readers and viewers in how insurers won't necessarily put new parts on a leased vehicle. (Screenshot from WPLG video on www.local10.com)
Share This: