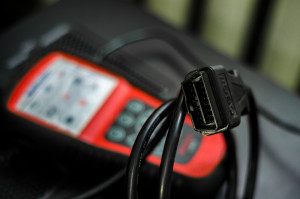 FCA, Nissan and Honda, which recently stressed the need for scanning before and after all or nearly all collision repairs, will participate in a panel of OEMs discussing the topic at NACE, the expo announced Monday.
Nissan and Honda also pointed out in their recent position statements that components or systems might require calibration as well, and both that forum and another August NACE Week event hosted by SCRS will address the other electronics issue too.
The news probably comes none too soon for shops and insurers unaware of or unwilling to follow prior expert and OEM demands on either procedures.
Besides FCA's Brian Wayne, Honda's Chris Tobie and Nissan's Mark Zoba, the NACE panel Aug. 11 will include Mark Allen of Audi, John Eck of General Motors and Eric Mendoza of Toyota (whose company's 2010 CRIB 177 airbag calibration directive tends to yield shop-insurer disputes). Rounding it out will be moderator Mike Anderson of Collision Advice and lone insurer Clint Marlow of Allstate.
"There is a lot of talk in the industry about whether or not it is necessary to scan every vehicle, pre- and post-repair. Do we really need to perform a calibration on vehicles such as Toyota or Honda? And what if it is not even occupied? Are there parameters to these items?" Anderson said in a statement. "Quite often the OEM's tell us in their repair information that we need to do these things, however insurers do not always pay for this work, and shops sometimes wonder if it is really necessary. This panel discussion is intended to educate all parties in the collision repair industry – insurers, shops, and technicians."
Check it out Aug. 11 at 9:30-11 a.m. on the NACE expo floor's Central Stage, located in the Anaheim Convention Center. A 30-minute Q&A will follow.
"This is the first time the industry has had a panel comprised of this level of industry expertise and the largest collection of OEs to ever participate. NACE | CARS is proud to offer such a panel, and we are excited to be working with industry expert, Mike Anderson, on bringing together this important topic and key players for discussion." Automotive Service Association President Dan Risley said in a statement. "Shop owners will want to take part in this program as it directly affects their business."
Last year, the topic also came to NACE through an I-CAR panel hosted by Jason Bartanen and featuring Jake Rodenroth of ABRA; Chuck Olson of Collision Diagnostic Services; Ben Johnson of Mitchell; Dustin Harrier of Service King; and Dennis Williamson of Snap-On.
See that discussion here on Collision Hub:
Details/NACE registration: www.naceexpo.com
Via SCRS
Rodenroth has since moved to CDS, which bills its asTech device as a scanning middleman between shops and OEM scan equipment.
He'll return to NACE Week in his new role to offer a guest Education Committee presentation on calibration during the Society of Collision Repair Specialists' open board meeting.
The entire meeting, which doesn't require preregistration and is open to SCRS members and non-members, runs 9-11 a.m. in the Gold Key III room of the Anaheim Marriott.
"Zero Point Calibrations are frequently referenced, yet often not fully understood," SCRS wrote in a news release Monday. "The educational program will clarify what the operation is as defined by the automakers, how is it actually performed, and the consequences if it is not performed or performed incorrectly. It will also provide insight into what a repair facility needs from its technicians, including training and tooling perspective, to effectively complete the operation. The presentation will conclude with questions from the audience."
The organization also hosted a forum including Rodenroth and Mendoza as panelists last year at SEMA. See coverage here.
Details: www.scrs.com
More information:
"Industry Panel to Discuss Importance of Pre- and Post-Repair Scans, Calibration/Recalibration at NACE | CARS 2016"
NACE, July 18, 2016
"SCRS Events in Anaheim This August"
Society of Collision Repair Specialists, July 18, 2016
Featured image: A few dashboard lights aren't going to tell you everything wrong with a car packed with tens of millions of lines of code and dozens of sensors, top OEM and diagnostic experts told a SEMA audience in 2015. (Yuri Snegur/iStock/Thinkstock)
Share This: