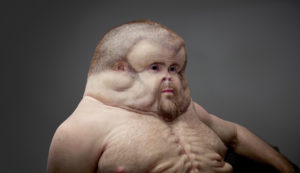 This guy has evolved to survive a car crash; collision repairers should help ensure that doesn't need to happen
By on
Education | Repair Operations
If you don't want your descendants to look like "Graham," make sure you've repaired a customer's vehicle correctly so it functions as intended in a collision.
Otherwise, you'll help give humanity a reason to evolve into something like him to survive vehicle crashes.
The bizarre-looking man, seen above, is a statue created by Melbourne, Australia, artist Patricia Piccinini, who collaborated with Royal Melbourne Hospital trauma surgeon Christian Kenfieln and Monash University Accident Research Centre crash investigator David Logan on the project.
The Australian state of Victoria's Transport Accident Commission, a government-owned "no-fault" insurer paying auto medical benefits, commissioned the work announced Thursday as part of its road safety campaign.
According to the commission, the human body has evolved to survive impacts at human speeds. But features like Graham's — such as airbag-like sacs between ribs; extra joints in the legs; and large skull with crumple zones — would be necessary to take what the Project Graham website describes as a "low impact" car crash.
It's unclear what level of impact they mean. However, Kenfieln in a video overview of the project notes the "quite great" danger of injury at "low" velocities of 25-35 kph, or around 16-22 mph.
"People can survive running at full pace into a wall but when you're talking about collisions involving vehicles, the speeds are faster, the forces are greater and the chances of survival are much slimmer," commission CEO Joe Calafiore said in a statement Thursday.
"Cars have evolved a lot faster than humans and Graham helps us understand why we need to improve every aspect of our roads system to protect ourselves from our own mistakes."
Fortunately, designing a vehicle with modern safety features and the traffic grid with "safe road design" can keep a person safe in a crash, according to Calafiore. Auto body shops need to ensure that the vehicle can continue to do so after they repair it.
"We have to accept people will always make mistakes, but modern vehicle safety technology and safe road design can drastically reduce the forces involved when a crash happens, making them more survivable," Calafiore said.
"Graham" will appear in the State Library of Victoria until Aug. 8 and then go on tour. You can see more of him and interact with him via Google Tango on the Project Graham website.
The commission called using the high-tech Tango feature, which reveals what Graham's his internal structure would resemble, "an Australian first."
All body technicians should definitely play around with the digital interactive. The videos, short text and look inside Graham really are a layman-friendly way to understand collision energy's effect on an occupants' body, not just the car's body-in-white.
The full interactive can be found at www.meetgraham.com.au. We've also provided links to individual body areas' interactives with the following discussion of the project.
Head
Piccinini kept Graham's brain the same as ours, but added cerebrospinal fluid and ligaments to keep it from moving around too much and hitting the skull. His skull is more like a helmet, with crumple zones to keep the energy from damaging the brain inside.
Graham's face is fatty and flat to prevent nasal and cheek damage from impacts to the steering wheel after being flung forward by a collision's energy.
Neck
Graham lacks a neck, since ours is too weak anyway to truly prevent spinal cord injuries or the head traveling forward and backward in a crash. Just cut to the ribs, Piccinini thought.
Torso
Human ribs actually do a pretty good job of protecting internal organs now, and seatbelts take advantage of this by distributing the energy throughout them — until the bones break. So Piccinini strengthened them and also gave Graham liquid-expelling sacs that would work like airbags, protecting organs further, absorbing crash energy and cutting down forward momentum.
"What we need to be thinking is airbag, rather than armor," Kenfieln says on a video.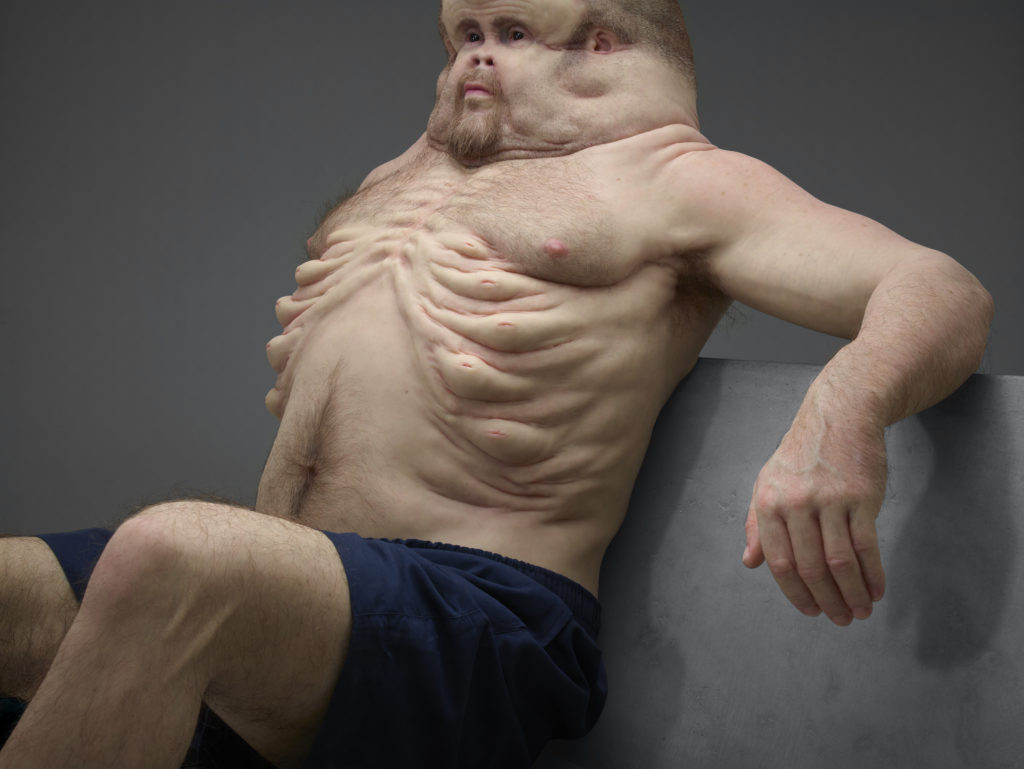 Skin
Skin injuries like cuts, gashes or "road rash" probably aren't going to kill you, but they're painful and leave scars as well as the potential for nerve damage if an impact strips off too much skin. Graham's skin has evolved to be thicker and tougher, particularly in areas like hands we're prone to instinctively put forward to ward off an impact.
Legs and knees
Piccinini also designed Graham's legs and knees with an eye towards his poor body's survival as a pedestrian as well as a driver. (Australia has pedestrian vehicle safety standards, while the U.S. doesn't — though it's considering them.)
Pedestrians are often hurt in Australia while stepping off the curb and being struck by a vehicle. Since your knee only bends in one direction, it's ripe for being injured by energy traveling in another direction during such an impact.
But Graham's knees have extra tendons and can bend in a variety of ways to manage such strikes.
His legs, meanwhile, are strong, jointed and hoofish enough to help jump him out of the way should he see a car coming in time. Were he the driver or a passenger, he'd also be protected from floor or leg injuries tied to intruding floor pans thanks to extra joints distributing the energy.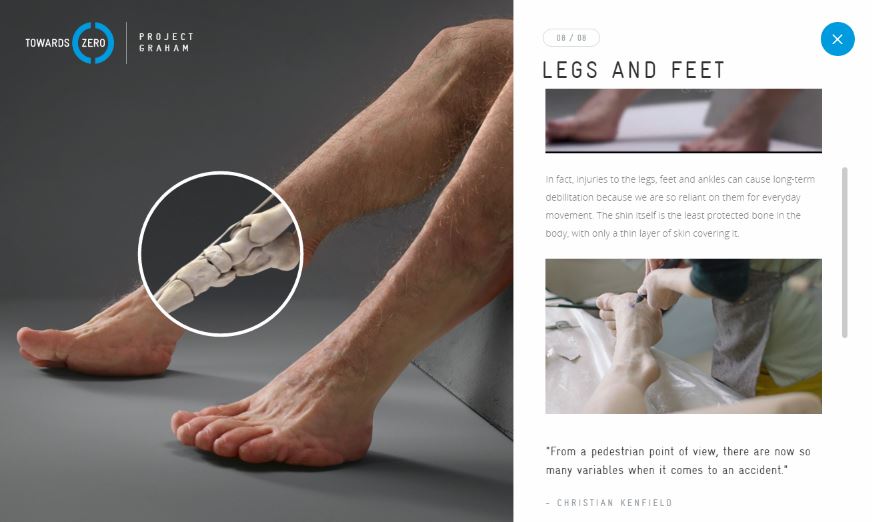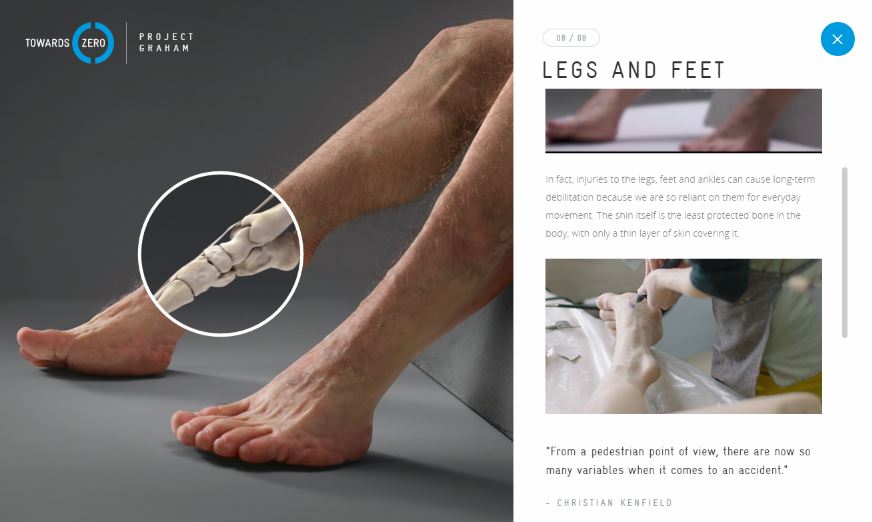 More information:
"Introducing Graham: the only person designed to survive on our roads"
Transport Accident Commission, July 21, 2016
Images:
"Graham" was created by Melbourne, Australia, artist Patricia Piccinini, who collaborated with Royal Melbourne Hospital trauma surgeon Christian Kenfieln and Monash University Accident Research Centre crash investigator David Logan on the project. He is meant to show how a human would evolve to survive a car crash. (Provided by Transport Accident Commission)
This interactive from the "Meet Graham" website demonstrates how a human leg and foot could evolve to protect a human pedestrian or driver in a collision. (Screenshot from www.meetgraham.com.au)
Share This: