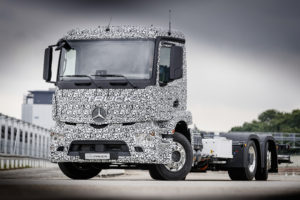 Heavy-duty collision repairers (and Tesla), take note: Daimler announced Wednesday a fully electric Mercedes Urban eTruck which could hit markets as by early next decade.
But while battery-improving advances are anticipated, heavy-duty body shops will be pleased to learn that the cab body and the frame of the 120-mile range eTruck will remain standard, according to Daimler.
That's in major contrast to the shops' private passenger car and truck collision repair counterparts, which must contend with aluminum Tesla Model S and Xs or carbon-fiber i3s and i8s to deliver that kind of range. The Chevrolet Bolt and Tesla Model 3, intended to be more mass-market electric cars with triple-digit mileage per charge, are likely to have more steel, but also incorporate aluminum to save weight.
Daimler, however, didn't want to add too many additional costs — it's expensive to cut kilograms off a vehicle, and also to repair them — to buyers like fleet managers, a spokesman wrote.
"A standard Mercedes Benz truck frame was used," Daimler commercial vehicles global communications Director Florian Martens wrote in an email Thursday. "No special materials. We don't believe it's worth adding such high cost concepts. We want to offer a truck that makes the (total cost of ownership) math work or at least comes close."
He wrote that the same applied to the body and panels of the cab; it's standard as well.
The truck itself is based off a heavy-duty, three-axle short-radius distribution truck, though the entire drivetrain and rear axle was swapped with for a rear axle and a special electrically driven axle similar to the Mercedes Citaro hybrid bus'.
"Thanks to the integrated concept with motors adjacent to the wheel hubs, the batteries are housed in a crash-proof location inside the frame," Daimler wrote in what is hopefully not a fate-tempting boast of indestructibility.
The truck OEM reported plans to focus heavily on battery and electric powertrain R&D and help achieve its prediction that such electric vehicle battery costs will have fallen 2.5 times between 1997 and 2025, from 500 euros/kWh ($554/kWh) to 200 euros/kWh ($221.47). However, Daimler expects batteries to improve from 80 Wh/kg to 200 Wh/kg.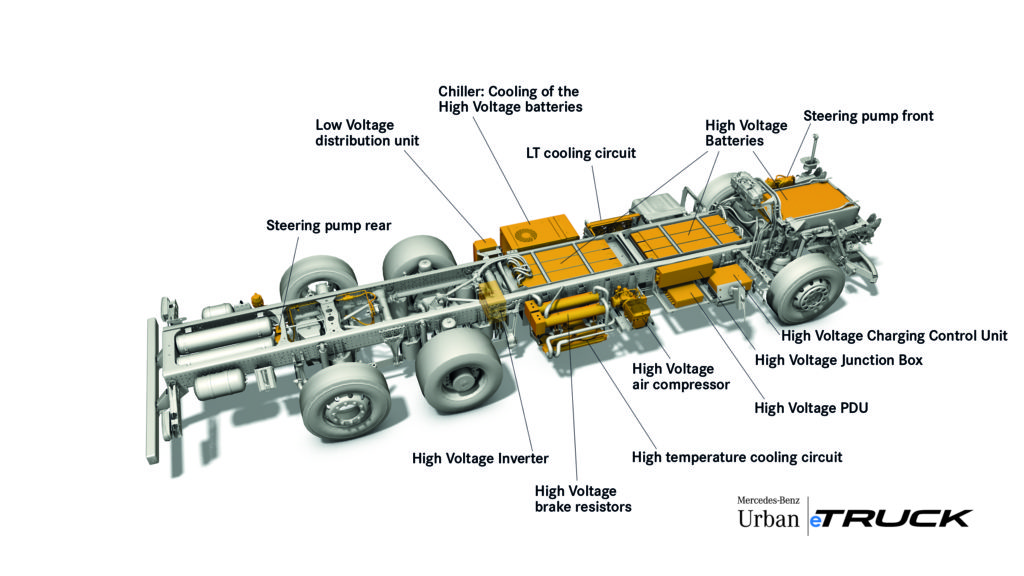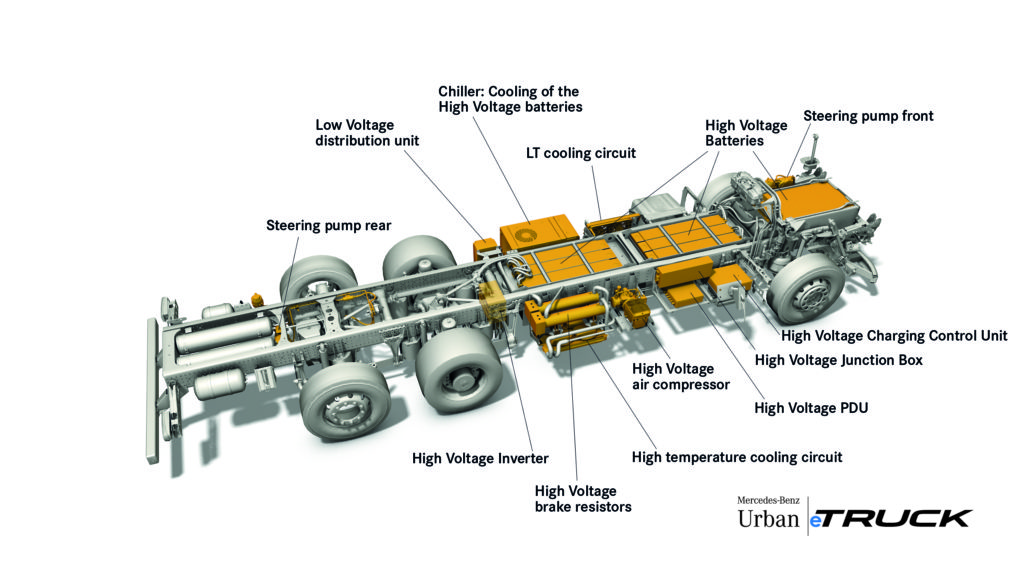 "Electric drive systems previously only saw extremely limited use in trucks. Nowadays costs, performance and charging times develop further so rapidly that now there is a trend reversal in the distribution sector: the time is ripe for the electric truck," Daimler board member Wolfgang Bernhard said in a statement. "… We intend to establish electric driving as systematically as autonomous and connected driving."
The European Union allows electric trucks to weigh 26 tonnes (28.7 tons) instead of the usual maximum of 25 tonnes (27.6 tons), which allowed Daimler to add the 1.7-tonne battery instead of a lighter engine. Ultimately, a user would only lose out on about 700 kg (1,543 pounds) of cargo weight.
But on the plus side, you can travel 200 km (120 miles) on a charge, which allows a trucker or fleet owner to save a lot on gas.
It also could allow the trucks to travel in European urban areas which might otherwise restrict internal combustion engines, according to Daimler. The OEM noted that the United Nations predicted 70 percent of a 9 billion population in 2050 will live in cities instead of the countryside, and that concentration will probably demand certain rules on emissions and noise.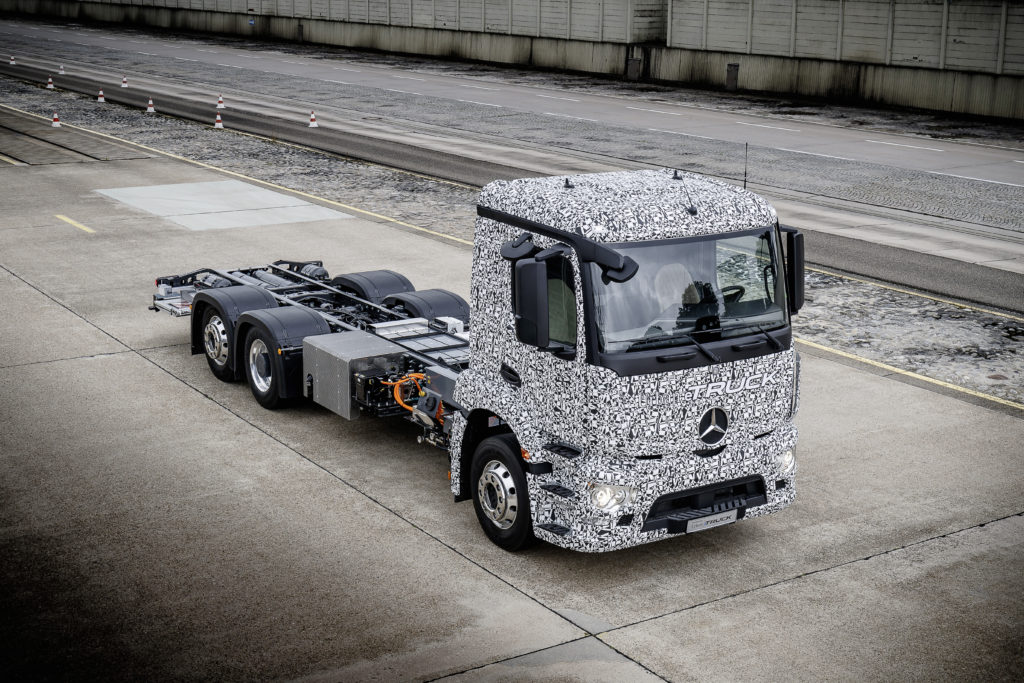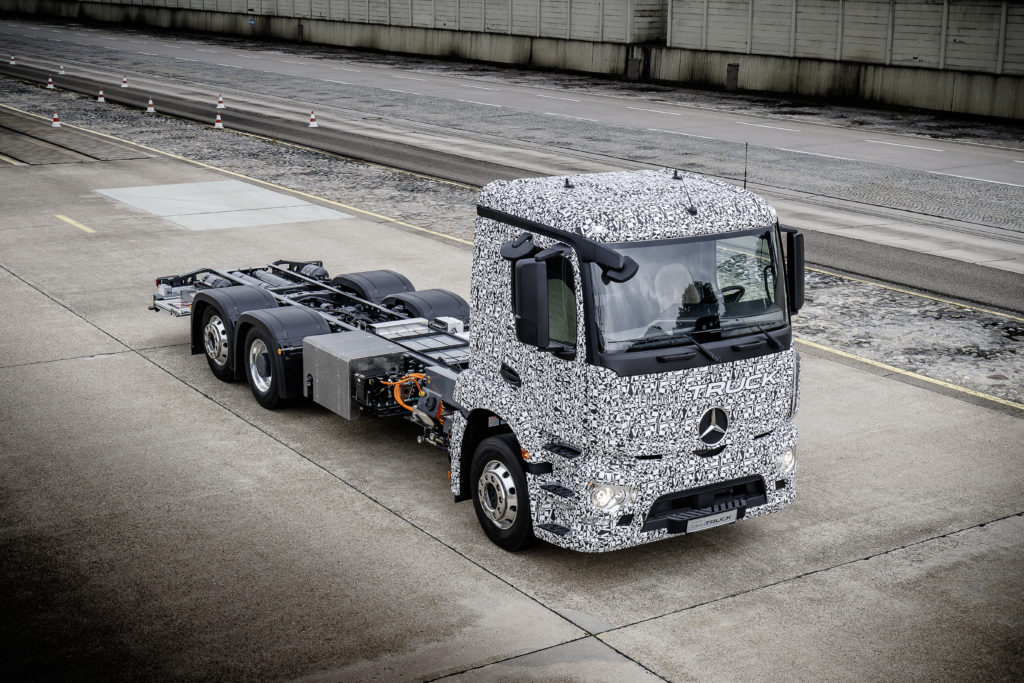 Daimler has already tested lighter-duty commercial trucks with customers since 2014. It wrote that the eTruck technology could have a "conceivable" launch as soon as the early 2020s.
2014 fleet trials of a lighter-duty Fuso Canter E-Cell found the 100 km (23-mile) ranging trucks exceeding average light-duty daily travel distances, according to Daimler — meaning you wouldn't need to stop and recharge the Canter until you were done for the day anyway.
The OEM reported that the 2014 Portugese trial trucks did around 31,100 miles a year but had 64 percent lower operating costs.
"The current generation Canter E-Cell offers our customers transport services which are not only environment-friendly, but also economical," Mitsubishi Fuso Trucks and Bus Corporation President and CEO Marc Llistosella, also head of Daimler Trucks Asia, said in a statement. "Our test in Lisbon revealed respectable savings of around 1000 euros ($621) per 10,000 kilometres (6,214 miles) in comparison to diesel trucks."
In April, Stuttgart and the parcel company Hermes began testing another five Canters in the "topographically very demanding" roads of the German city; Daimler plans to get results early next year.
"We are very proud of our successful cooperation with Daimler in the development of relevant future technologies for many years," Hermes Germany operations Managing Director Dirk Rahn said Thursday, according to Daimler. "Also regarding the current project, we accepted with pleasure the invention of Daimler to actively support the testing of the Fuso Canter E-Cell out of our logistical everyday life. Thereby, the results of our trest run are extremely positive! With regard to the growing requirements in city logistics we are now looking forward to test further vehicle classes and to bring them to market maturity soon. Our common goal: making e-mobility more economical."
More information:
"Mercedes-Benz is presenting the first fully electric truck for heavy distribution operations"
Daimler, July 27, 2016
Featured images: Daimler announced Wednesday a fully electric Mercedes Urban eTruck which could hit markets as by early next decade. (Provided by Daimler)
Share This: