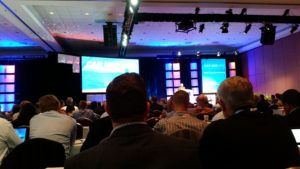 Today, we're at one of the major automotive industry events of the year: the Center for Automotive Research Management Briefing Seminars.
Held in Traverse City, Mich., near our home base and a couple of hours from the automotive Mecca of Detroit, the event draws some of the leading automotive figures in the world. It covers the kind of issues relevant to the automotive industry that consecutively or concurrently become relevant to collision and mechanical repair.
Topics Monday include one of the major collision repair (and OEM) trends of the year: lightweighting.
The timing should be particularly interesting, given that the Environmental Protection Agency and other regulators last month floated dropping the 54.5 mpg CAFE standards OEMs had sought. The new plan: 50.8 mpg, but dropping to 50 mpg if gas stays cheap and rising to 52.6 mpg if gas gets expensive again. This still ought to ensure lightweighting trends continue.
Thus, we'll be there for Day 1, which starts at 8 a.m. with the four-hour "World Class Manufacturing" session that touches on addressing lightweighting and other vehicle technology advances during the production life of a vehicle.
But the real main event will begin at 1 p.m.: "Manufactured Materials of the Future: Optimizing the Material Mix for Mobility." Not only will it discuss the new materials coming to mainstream vehicles, but a description of the event indicates repairability might make an appearance as well.
"The demand to improve fuel efficiency, safety, and vehicle performance requires a continuous reexamination of advanced materials, fabrication, and joining," CAR describes the session, which runs through 4:30 p.m. "Utilization of advanced high-strength steel, aluminum, and composites are becoming an essential part of most market segments and vehicle volumes. Vehicle manufacturers continue to grapple with the engineering challenges to improve manufacturability, reduce cost, and scale to high volumes. At the same time, uncertainty of vehicle performance, durability, cost, reparability, and recyclability is becoming a greater focus with the growing adoption of advanced material technology. This year's session will cover the gamut from cutting edge innovation to large scale deployment of new materials for the next generation of mobility."
We'll be live-tweeting from the event (and the morning session as well), which features experts from CAR, FCA and the competing substrate industries of steel and aluminum. Follow along with our feed below or @repairerdriven, or join in the conversation with #CARMBS.
Images:
The aluminum frame of an Audi A8 is shown. (Provided by International Aluminum Institute)
Share This: