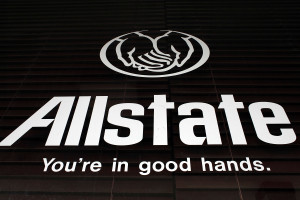 Allstate data presented Thursday indicated that auto property damage claims had been dropping radically since 1996 prior to the recent bumps in frequency.
The gross and paid claims charts indexed to 1996 indicate a sharp decline followed by about a five-year flattening as prior safety improvements worked their way through the U.S. fleet, incoming Encompass President Patrick Macellaro told analysts.
For collision repairers, vehicle owners, and insurers, Allstate's findings could imply a similar frequency drop to a "new normal" as advanced driver assistance technology — like the autobraking coming standard to new cars by 2022 — arrives and improves over the next decade.
But for now, frequency is higher — much higher — as low gas prices and a better economy produce more people driving to work, running errands and taking vacation.
Macellaro, who for the second-quarter earnings call Thursday was still acting as vice president of investor relations, said gross claims frequency over the past 18 months has been at the highest level since 2003, and paid claims frequency saw totals not seen since 2004 and 2010.
"This most recent period reflects just how challenging an auto loss cost environment we continue to operate in," he said.


Which for collision repairers, means business is probably good. But eventually, it'll flatten, Macellaro hinted. In fact, paid Allstate brand (excluding subsidiaries Esurance and Encompass) frequency fell 0.1 percent in the last quarter.
"We continue to believe that our early identification of the issue along with our proactive and aggressive response will position us well to accelerate profitable growth as loss trends stabilize."
Gross claims frequency refers to claims opened but not actually paid. Perhaps someone with a $1,000 deductible caused $700 worth of damage, or perhaps the other driver was at fault, CEO Tom Wilson suggested. The claim is closed.
Allstate likes to track them because they are sort of an early warning signal of what will actually need to be paid out in the future or if premiums will need to be increased.
The company continued to signal it would rely on premium increases and cutting marketing and other non-claim expenses to mitigate auto frequency and severity — up 5.3 percent for the quarter, as more expensive cars exist on the market.
"Knock off your mirror, it's a thousand bucks, not $150," Wilson said. ".. Cause it's got all those sensors and stuff on it."
However, collision repairers still could face battles over estimate line items, as claims "operational excellence" remains part of the company's playbook. (Fortunately, that doesn't seem to be high on either Allstate or Wall Street's radar.)
"Our claims team continues to address physical damage severity trends," Macellero said Thursday, without any real elaboration.
Allstate seeks an overall, companywide underlying combined ratio of 88-90, according to Wilson. It reached 88.6 in the second quarter of 2016.
Combined ratios measure how much your expenses and claim losses consumed your premium. It's like an insurer's profit margin if they didn't bother to invest the balance and their "float" at all. Unlike the combined ratio, the underlying combined ratio throws out uncontrollable items like catastrophes and makes other adjustments.
Wilson said the company doesn't provide a target underlying combined ratio for its auto insurance business (it was unclear if he meant companywide or Allstate-brand), but told an analyst you could consider their goal like GEICO and Progressive's "mid-90s."
"That's kind of where we look to be at," Wilson said. He said the company would like to improve its auto ratio by a couple of extra points, and overall, it was taking a multifaceted approach to handle the new auto trends.
"It's not just about raising price," he said.
More information:
Allstate second-quarter 2016 earnings webcast
Allstate, Aug. 4, 2016
Allstate second-quarter 2016 presentation to investors
Allstate, August 2016
Allstate, August 2016
"Allstate Net Income Impacted By Catastrophes"
Allstate, Aug. 3, 2016
Images:
An Allstate insurance company sign is seen outside one of its stores Jan. 17, 2008, in Miami. (Joe Raedle/Getty Images News/Thinkstock file)
Allstate data presented Thursday indicated that auto property damage claims had been dropping radically since 1996 prior to the recent uptick in frequency. (Provided by Allstate)
Share This: