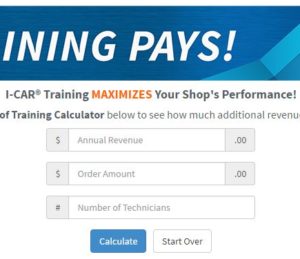 I-CAR on Friday teased a "major announcement" with ASE coming during next week's Collision Industry Conference in Anaheim.
Until then, shops can play around with its other big announcement this week: an online training ROI calculator. An I-CAR course Aug. 12 during NACE will elaborate on the idea of training not being an expense but a net revenue source.
I-CAR revealed in a Friday news release only that its President and CEO, John Van Alstyne, and his counterpart at ASE Tim Zilke would speak Wednesday morning during Day 2 of CIC.
"The CEOs will give details on collaboration between the organizations that will benefit technicians, students, schools and the industry," I-CAR wrote Friday.
ROI calculator
I-CAR's Friday announcement followed its Thursday release of the Value of Training Calculator discussed by the educational organization in this Repairer Driven News guest column.
"The business tool was developed based on several years' worth of research findings," I-CAR wrote in a news release. "Data reveals that I-CAR Gold Class® shops outperform non-Gold Class shops in every major KPI category, which leads to improved network ratings, reduced risk and improved customer satisfaction scores (CSIs)."
I-CAR attributed the "baseline" for the calculator to its 2015 white paper declaring victory on the return-on-training-investment debate.
CCC director and lead analyst Susanna Gotsch extrapolated from first-quarter results that the average CCC collision repairer handled about 1,098 vehicles a year with average revenue of $2,595,012. She said they threw out the top and bottom to avoid skewing the data too greatly.
The Census Bureau's 2013 County Business Patterns data show that more than half (18,760) of the 33,770 auto body locations had fewer than five employees. We'll say four, with one at the front desk, for three technicians.
And while we're busy horrifying all the Census and CCC statisticians who've produced the data with our napkin math, let's say $2,595,012 / 1,098 = $2,363 average repair order amount.
According to the I-CAR calculator, a shop which didn't bother to train these three hypothetical technicians would have continued doing 1,098 cars a year, making $864,858 per tech.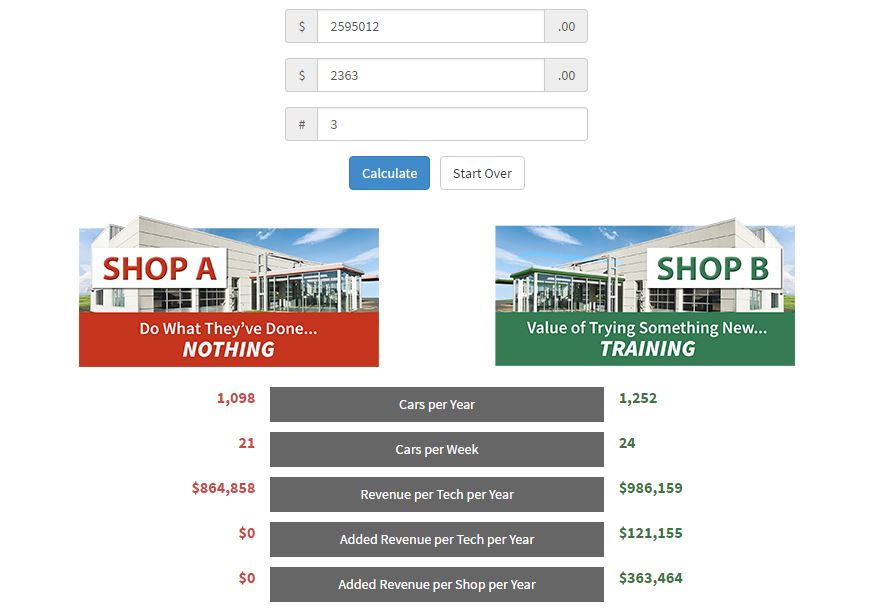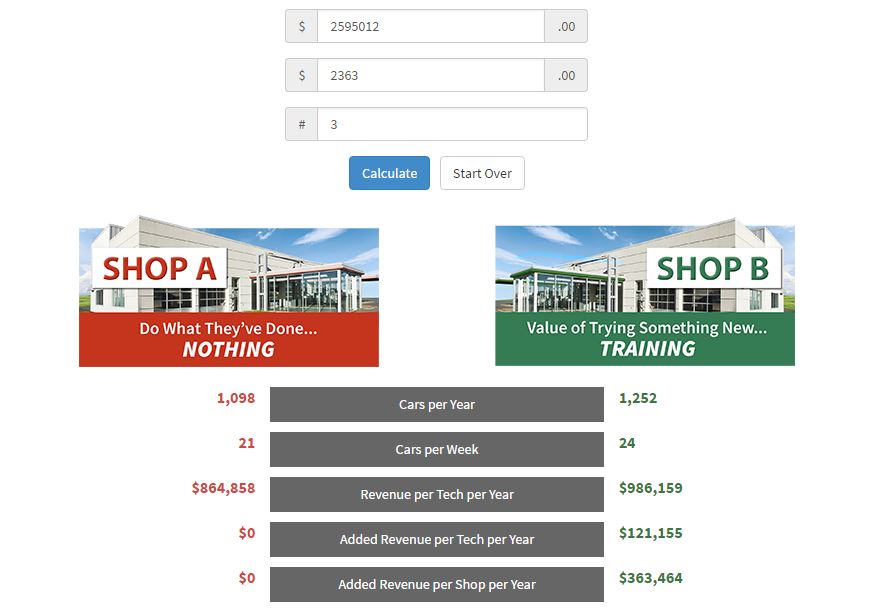 If they trained their staff, they could do 1,252 cars a year and boost shop revenue by $363,464 a year.
Whether you're a employee or the owner, plug in your own shop's data in at www.i-car.com/trainingpays and see how your workplace would theoretically fare.
"The new Value of Training calculator enables those at the management level in repair facilities to explore the financial ROI that training has been proven to deliver," Van Alstyne said in a statement. "Additionally, owners and managers need to understand that technician training is a requirement in today's era of new car model proliferation. 75-100 new or redesigned models are now launching every year, and each one features new advanced technologies that dramatically impact the repair process. A commitment to education is required to survive the 'Technical Tsunami™', and our new Value of Training calculator shows that shops can also thrive while they are surviving."
The calculator will also figure into I-CAR business development director Nick Notte's presentation Aug. 12 at NACE: "Training Pays – Calculate Your Shop's Training Return on Investment," at 8 a.m. in Room 202B of the Anaheim Convention Center.
More information:
"I-CAR Creates Organization's First Online 'Tool' to Calculate Training's Return on Investment"
I-CAR, Aug. 4, 2016
"I-CAR® TO MAKE MAJOR ANNOUNCEMENT AND PROVIDE ANOTHER STRONG TRAINING LINEUP AT NACE"
I-CAR, Aug. 5, 2016
Featured images: I-CAR has released a Value of Training Calculator for collision repairers. (Screenshot from www.i-car.com/trainingpays)
Share This: