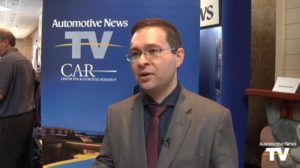 The chief economist for the National Auto Dealers Association has argued in a new Automotive News video and article that some sort of service and maintenance interval requirement must exist for the seemingly inevitable autonomous car landscape.
The newspaper's coverage from the Center for Automotive Research's Management Briefing Seminars also suggests NHTSA might be sympathetic to NADA's Steven Szakaly's argument.
"You cannot allow those systems to fail," Szakaly said in an article posted Tuesday on Automotive News. "And if you have those systems fail, or you don't properly maintain those systems and that leads to failure, that liability is on those manufacturers."
He suggested OEMs adopt either their own agreed-upon service schedule or the government pick one — not quite a mandate, but more than a suggestion, Automotive News reported in its Thursday video.
Szakaly also observes in the video that automated vehicles in other industries — mining and aerospace — already control maintenance, unlike automakers, which leave it up to customers who are proven to ignore it.
"Boeing and Airbus certify their mechanics," he says on the Automotive News video "… if you look at the companies, Caterpillar and Komatsu, that are building these heavy-duty, self-driving mining trucks … they also certify their mechanics, and they require that only certain individuals actually fix and repair these vehicles, because they want the reliability and the consistency there."
National Highway Traffic and Safety Administration head Mark Rosekind agreed on Automotive News' video that the new equipment necessary to make a self-driving car will mean someone will have to calculate service intervals for the new devices.
He also suggested that perhaps there were lessons from aviation for OEMs, too, according to Automotive News.
"Airline industry, they do not campaign on safety," National Highway Traffic and Safety Administration head Mark Rosekind says on the Automotive News video.
He jokes on the video that a passenger never looks at the side of a cockpit for its star-based safety rating, and he said his agency and the FAA have held a workshop to teach automakers about some aviation practices.
There's obviously a dealership financial interest in driving service business. And rather than create an apocalypse on the Interstate, self-driving cars could (and likely will) have redundant systems and be programmed to shut down and pull over if there is a problem.
Still, Skakaly has a good point, and collision repairers should take notice of the possibility.
On the plus side for shops, there simply aren't enough franchise new-car dealerships equipped with body shops — even for major OEMs with dealership networks — that OEMs or the government could feasibly bar independent or chain body shops from performing collision work on autonomous vehicles. Even Tesla, which limits mechanical repairs to its own network of official service centers, relies on a network of third-part auto body shops for collision repairs.
Another plus: More maintenance requirements mean more work for body shops to check various autonomous gadgets or factors (windshields, bumpers, etc). That brings customers in the door — and then there's an opportunity to sell them other necessary or aesthetic repairs.
But here's the downside: The idea of OEMs or the government further restricting who can perform structural or even minor repairs/maintenance on higher levels of autonomy also doesn't seem like a stretch, particularly in the light of what's going on now with OEM certified networks.
We're all just speculating now, and the technology to do true "the occupants can all be blind and asleep and we trust the car" isn't anywhere near ready. But the aggressive OEM targets for autonomy and regulatory interest in reducing human-caused traffic deaths indicate these kinds of realities or questions could truly be a lot more relevant sooner than we'd expect.
More information:
"A plea for strict self-driving car maintenance"
Automotive News, Aug. 4, 2016
"Autonomous vehicles would need mandatory inspections, NADA exec says"
Automotive News, Aug. 2, 2016
Featured image: National Auto Dealers Association Chief Economist Steven Szakaly has argued in a new Automotive News video, a screenshot from which is featured, and article that some sort of service and maintenance interval requirement must exist for the seemingly inevitable autonomous car landscape. (Screenshot from www.automotivenews.com video)
Share This: