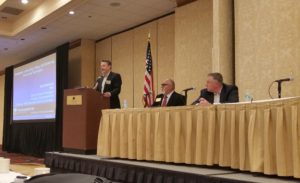 As you make your way into Anaheim, Calif., for NACE and the Collision Industry Conference, whet your appetite with the newly updated CIC schedule.
The conference, which has been criticized for a lack of relevance, counters that complaint with sessions on two of the hottest industry topics: OEM certification and scanning.
Both are planned for Tuesday, but come back Wednesday morning too for some other relevant topics as well. CIC runs 1-5:30 p.m. Tuesday (followed by a reception) and 8-11 a.m. Wednesday. Check out the schedule on Bizzabo here or get a PDF version here.
At 1:30 p.m. Tuesday, RepairCar.com/RCC Consulting principal Jack Rozint will teach "To Scan or Not to Scan? That is the question," according to the CIC.
Some OEMs have already issued position statements answering this within the past year, but collision repairers might have questions about automakers which haven't recently expressed it so explicitly. (Answers might exist within OEM repair procedures, though, so check there, too. Find three options for doing so here.)
As for the other big disruptor, OEMs have also shaken things up over the past two years by developing their own certified collision repair networks — and General Motors has indicated it plans one too.
At 4 p.m., Automotive Industry Consulting President Lou DiLisio will host a panel on "Do I need to be a certified shop in today's environment?"
---
Other NACE/CIC Week event coverage
---
Prior to the Tuesday CIC, don't miss the Society of Collision Repair Specialists' open board meeting from 9-11 a.m. in the Platinum VIII room of the neighboring Anaheim Marriott.
Highlights include presentations from the California Autobody Association, which has had some news this year on labor rate surveys, and Collision Diagnostic Services on zero-point calibration. Details: www.scrs.com
Other highlights from Tuesday's CIC meeting:
At 2:15 p.m., Jennifer Blake, Northwestern District Manager at environmental consultants KPA, will present "What you are throwing in the trash is going to cost you BIG TIME!" according to CIC.
"Hear real life stories from large California shops that will totally blow you away!" the agenda touts.
Though the agenda references California shops, repairers nationwide will probably benefit. Besides, even if Blake discusses a California-specific environmental regulation before the Anaheim audience, the feds or another state might later adopt it.
At 3 p.m., CIC will hold its open mic, which might see some good debate this time around given its Day 1 time slot.
At 3:30 p.m., Gene Lopez, co-chairman of the CIC Education Committee and an I-CAR field operations manager, will talk about "In house technical training and development programs that really work," according to CCC.
A year ago during the 2015 NACE CIC, the Education Committee conversation centered on the large number of untrained technicians  — and how alarming that is — and so any advice for closing that knowledge gap this year should be welcome. I-CAR also just repeated its conclusion there's a business case for training (besides not getting sued)  unveiling an ROI calculator on Thursday.
And of course, at 5:45 p.m., there's the reception, which is always a good networking opportunity.
Wednesday highlights include the special announcement by I-CAR and ASE heads John Van Alstyne and Tim Zilke at 8:05 a.m.
"The CEOs will give details on collaboration between the organizations that will benefit technicians, students, schools and the industry," I-CAR wrote Friday.
Chris Brandl of the Marketing Committee will follow at 8:15 a.m., presenting more survey data.
Following that, the Parts & Materials Committee will at 8:30 a.m. host a discussion on returns, based on the CIC description. "I ordered an aftermarket part and the delivered OEM, now what do I do?" CIC teases.
Next up is Toby Chess of the Technicial Committee at 9:50 a.m., who'll present on "Frame set up on today's vehicles – it isn't like it used to be," according to the CIC. His frequent collaborator Kye Yeung alluded to a similar consideration with his April CIC presentation on 3-D measuring because of crash energy transfer.
And wrapping up the day, California-based collision repair HR attorney Cory King will present at 10:20 a.m. on how to be compliant with increased employee benefits. King's presentations always seem to alert at least one audience member to a potential lawsuit waiting to happen, so shops won't want to miss that one. (Speaking of potential HR lawsuits, check out our May coverage of the Department of Labor's new overtime rules taking effect Dec. 1 — likely affecting the majority of shops.)
More information:
Bizzabo Collision Industry Conference agenda
Collision Industry Conference, July-August 2016
PDF Collision Industry Conference agenda
Collision Industry Conference, July-August 2016
"SCRS Events in Anaheim This August"
Society of Collision Repair Specialists, July 18, 2016
Featured image: A Collision Industry Conference Education Committee session at the April 2016 CIC.
Share This: