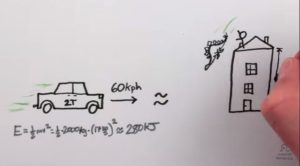 An eight-video Ford YouTube playlist brings the collision repair issues of certified automaker repair networks and aftermarket parts to a wider audience.
The series primarily features a group of Ford engineers discussing the merits of new parts over aftermarket imitations, with one referencing the automaker's research into the topic a few years ago.
"A lot of the aftermarket parts are developed to try to be low-cost and basically try to fit," safety manager Matt Niesluchowski says on one, contrasting them with the "special care" Ford puts into its parts.
"We're not just saying 'Buy Ford parts because we're Ford,'" Levasseur Tellis, Ford technical specialist in functional safety. "We're saying, buy Ford … cause we've seen these results."
"Original equipment parts have Ford research, testing and engineering behind them," the narrator states. "Aftermarket parts don't."
Ford systems engineer Dave Bauch in another video argues that a vehicle "shouldn't be degraded by buying a part that isn't the same standard, to the same specification as the Ford part."
"We want to make sure it works properly and so when a customer has the car repair, they want to get the same engineering detail that I have in my new Ford car," he says.
Another video discussed advanced driver assistance systems, and notes Ford develops something new daily.
"Fact is, the auto parts aftermarket, just can't keep up," the narrator states.
One addish, customer-friendly video features consumers raising objections like "I asked for diet soda" and "I wanted turkey dogs."
"We tend to speak up about the little things in life," the narrator states. "But what about the big things? Like making sure your Ford is repaired at a Ford-approved collision center."
Besides OEM-approved networks, that video also points out that Ford parts are covered by many insurance companies.
"So speak up. And keep your Ford — a Ford," the narrator states.
Another one produced late last year by the "Minute Physics" channel but apparently at Ford's behest, explains the physics of a car crash and how crumple zones are important to protect passengers.
A 60 kph (37 mph) crash ends up delivering energy equivalent to dropping a stegosaurus from a three story (10-meter) building.
Another fun fact: A typical car only has 50 centimeters (less than 2 feet) of crushable space, mostly related to the "shotguns" connected to the bumper reinforcement beam. This allows the car to decelerate at a constant rate instead of an injure-the-occupant sudden deceleration producing intense G-forces.
"Fully rigid cars are not good," a narrator, possibly creator Henry Reich, says. The narrator refers users to www.takeagoodlook.com.
"I personally want to say that making this video has just reinforced to me that regardless of what kind of car you have, big dents and deformations in the body are not just aesthetic problems," the narrator states. "They can be safety hazards too."
Another video quotes Tellis, and it recalls the often-posed rhetorical question at the heart of collision repair: Would you put your family in the vehicle?
"Safety to me is not just a job. Its about making sure that my family comes home safe," Tellis says.
The final video touts the interconnectedness of Ford parts.
"Every part in every system is highly tuned to work with the next part," the narrator states.
"Why The Right Parts Matter"
Ford, Minute Physics via YouTube, July 29, 2016
Featured image: Video by the "Minute Physics" channel but apparently at Ford's behest explains the physics of a car crash and how crumple zones are important to protect passengers. (Screenshot from "Minute Physics" videos on www.youtube.com)
Share This: