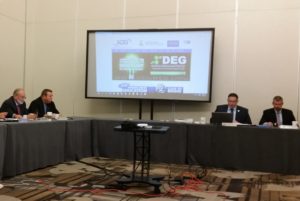 Society of Collision Repair Specialists efforts over the past quarter have centered on the estimating services, from additions to clarifications to a soon-to-be-overhauled DEG, leaders said Tuesday.
Executive Director Aaron Schulenburg told the audience at the group's open board meeting in Anaheim, Calif., that SCRS had worked with CCC to deliver some "really tremendous additions" to the estimating service's MOTOR guide.
CCC earlier this summer revised the manual to add new passages and wording on pre- and post-repair scans, aluminum, welder setup and refinishing.
Schulenburg said the organization in conjunction with the DEG also talked to CCC and its estimating service competitors Mitchell and AudaExplore about whether diagnostic road tests were included or non-included procedures in the software.
CCC and AudaExplore concluded that no, road testing wasn't an included — the shop must decide the need and the time for a diagnostic test drive based on the individual repair. (Alignment was the only exception in which a road test was included.)
"Mitchell was a bit more resistant," taking about a month to the other IPs' day to conclude the same thing, Schulenburg said.
While the point might seem minor, road testing ought to become much more important as advanced driver assistance (ADAS) systems require a test drive to calibrate the technology, Schulenburg projected. So that clarity from all three on how insurers and repairers should treat it it on an estimate will be important.
As for the Database Enhancement Gateway, which fields questions and suggestions from insurers and repairers related to CCC, Mitchell and AudaExplore estimating software, the 10-year-old platform will undergo a major redesign and overhaul soon.
The next generation of the free online service — try the existing one if you haven't already — is in beta testing and ought to debut within the next two months, SCRS past Chairman Barry Dorn said Tuesday.
It should be more efficient, streamlined, and indicative of its purpose as an industry resource, according to SCRS. To date, it has received and resolved nearly 9,700 inquiries about writing an estimate.
More information:
August 2016 update of CCC MOTOR Guide to Estimating
CCC, July 14, 2016
A promotion for the Database Enhancement Gateway can be seen in the background during the Society of Collision Repair Specialists open board meeting on Aug. 9, 2016, in Anaheim, Calif. (John Huetter/Repairer Driven News)
Share This: