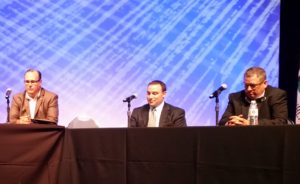 NSF International announced Tuesday it had certified 70 ABRA locations, the first collision repairers to be recognized under the program announced last year at the Detroit NACE.
ABRA plans to certify all of its locations under the NSF standards, according to the organization, familiar in collision repair for its aftermarket parts vetting program.
"We are pleased to have 70 of our repair centers now certified by NSF International," ABRA operations Executive Vice President Scott Krohn said in a statement. "This independent certification is confirmation of our ongoing commitment to providing superior quality repairs and exceptional customer service.  We continue to work hard toward a goal of earning NSF certification for every one of our ABRA repair center locations."
Krohn was part of the development panel initially announced for the standards last year. That body at the time leaned heavily towards panelists whose resumes included work for insurers, aftermarket part manufacturers and MSOs.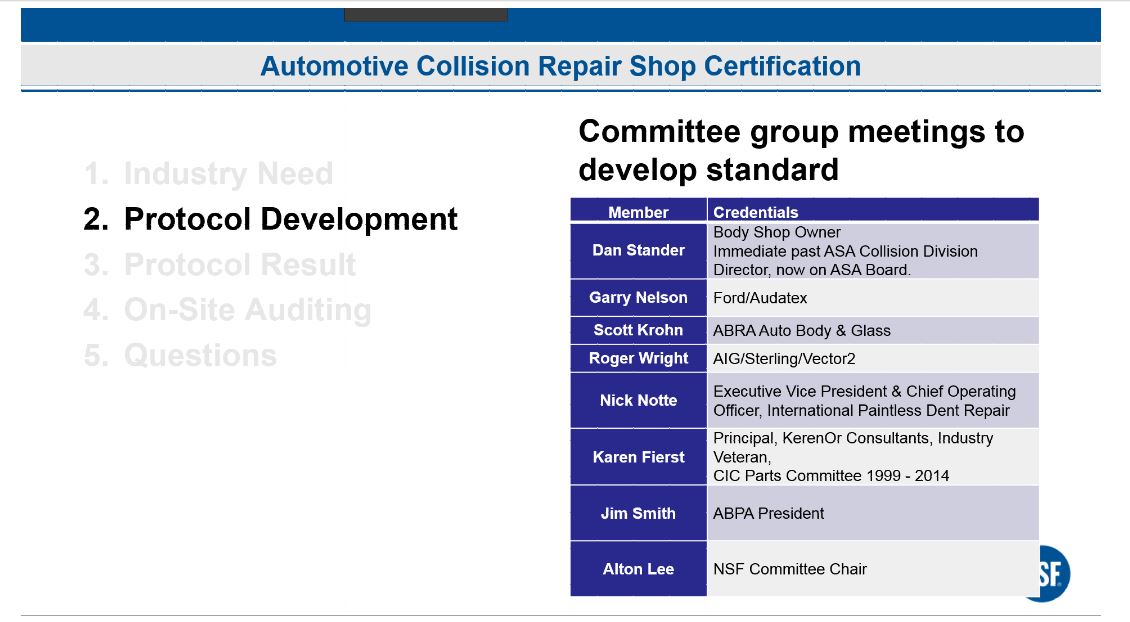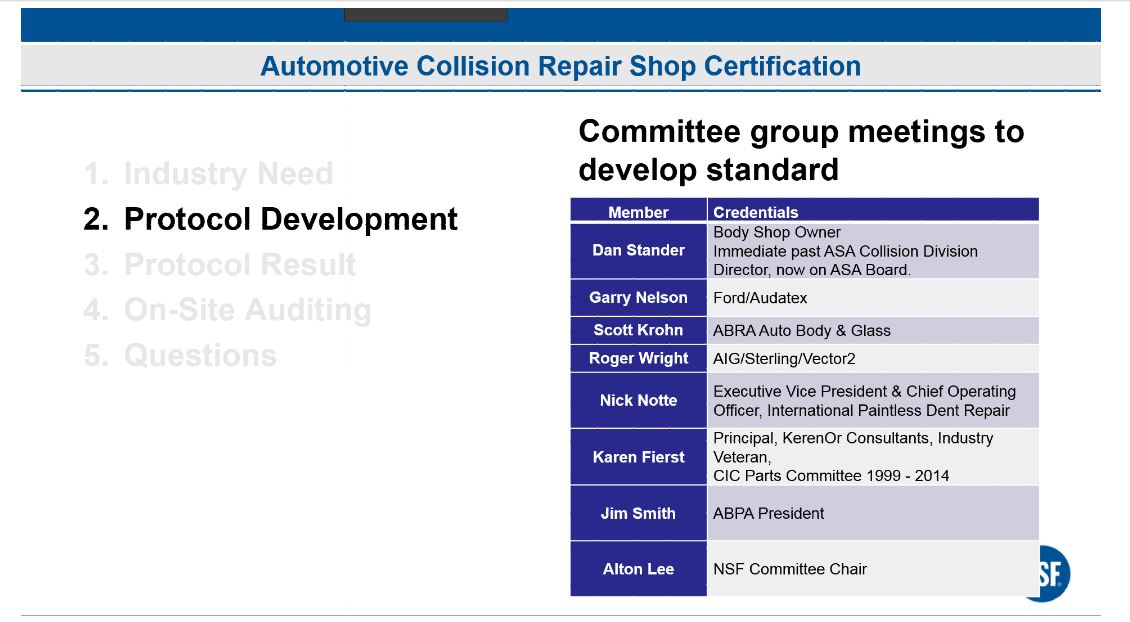 It was unclear Tuesday if this list of contributors had changed since then. Automotive certification programs senior technical project manager Dave Parzen on Tuesday told a CIC audience that the program was developed with insurers, shop staff, parties in leadership roles, and OEMs. He said some participants were anonymous, though a separate, more public council has to approve procedures.
Asked if collision industry developers were actual technicians or engineers, Parzen said no. It was more like business owners, he told the Collision Industry Conference.
NSF last year said the program would cost between $5,000-$7,000, depending on which of four certifications is desired — cosmetic, structural, aluminum cosmetic and aluminum structural — and how many shops are being certified within a group. That dollar amount also included the travel expense for the on-site audits by AccuracyDriven4.
Parzen didn't provide a specific price when asked Tuesday during the CIC panel. NSF offered "a pretty big range" on pricing, he said.
"It's a newer program," Parzen said.
NSF said Tuesday that each of the ABRA shops had to demonstrate the following:
Perform high-quality, consistent repairs
Use and maintain proper equipment for the job
Have qualified and trained personnel
Use quality parts for repairs
Respond promptly to complaints and consumer feedback
Utilize modern computer estimation systems
Provide excellent customer service
"Being the first to earn NSF collision repair shop certification, ABRA Auto Body & Glass is highlighting its leadership in quality and operational excellence," Parzen said in a statement. "Additionally, consumers now have the benefit of selecting a shop that has earned independent, third-party certification from NSF International to repair their vehicles."
Parzen also Tuesday offered some additional insight into where the program stands now.
"We don't claim to be experts," Parzen said. NSF's expertise is certification, not automotive, he said. Thus, it brings in industry experts as advisors.
NSF is required to update its standard at least once a year, and it is required to look at any comments submitted to it.
As mentioned earlier, NSF certifies four types of shops, and Parzen argued Tuesday that the range of quality levels within the 33,000-shop collision industry means it's vital to recognize what each shop is capable of doing safely.
All certifications are voluntary in the collision repair business, and "I think that's good for the industry," Parzen said.
The diverse panel only adds repair criteria with a consensus among the diverse panel.
If there's a dispute,"those requirements are not part of the certification standard," Parzen said.
SCRS Executive Director Aaron Schulenburg asked about the idea of standards being dependent on agreement.
"Standards really shouldn't be subjective," Schulenburg said. "… The industry doesn't agree on what quality is."  Parzen said NSF asks industry experts if they want to be part of the technical committee.
But despite this "consensus or bust" approach, OEM procedures reign supreme — even though there was a split within the CIC audience on whether that stance was correct.
"It is a requirement (under NSF) to follow .. OE procedures," Parzen said.
While "checklists are very attractive," Parzen said NSF's program also audits shops announced four times a year. The goal is to protect consumers and "a safe repair."
NSF's program hasn't kicked anyone off the program, considering it hadn't formally added anyone to it until now. But Parzen said there's no point system, and shops not up to snuff have to take corrective actions. Often, this can be done over the phone or via paperwork, but it's up to the auditor, he said.
"You either meet the criteria, or you don't," Parzen said.
Asked if there's a conflict of interest given NSF's aftermarket parts certification program, Parzen said the two were completely separate.
"They're different markets," he said, and the shop certification people don't rule on aftermarket parts.
Featured image: David Parzen of NSF, center, participates Aug. 9, 2016, at a panel on certification programs at the Anaheim, Calif., Collision Industry Conference. (John Huetter/Repairer Driven News)
Share This: