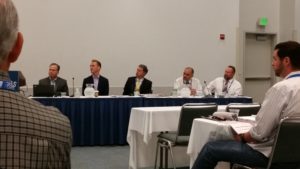 A BAR official said Thursday that California body shops must go beyond a simple "Opt-OE" tag and better inform consumers of the nature of such replacement parts.
That means giving the customer some sense of which BAR-recognized category would best fit the "Opt-OE" component.
"BAR only acknowledges the parts description of new, used, rebuilt, reconditioned or Original Equipment Manufacturer (OEM) crash part or Non-Original Equipment Manufacturer (non-OEM) aftermarket crash part," the latest "Write It Right: A Guide For Automotive Repair Dealers" guide states.
(The version online appears to be from 2014; a copy passed out Thursday appears to be a 2015 edition and was described as new. We'd suggest contacting the Bureau of Automotive Repair for the most current copy.)
The California Code of Regulations states, according to Westlaw Next:
"Each part supplied, in such a manner that the customer can understand what was purchased, and the price for each described part. The description of each part shall state whether the part was new, used, reconditioned, rebuilt, or an OEM crash part, or a non-OEM aftermarket crash part."
"It's gotta fit in those categories," Bureau of Automotive Repair Northern Field Operations staffer Rick McLarty said Thursday.
Basically, the shop must tell the customer the type of "Opt-OE" it is. Is it a flawed OEM part remanufactured into a workable one? Explain that. Is it from an OEM-sanctioned program or someone else? Explain that. Give the customer some transparency, and you and the BAR ought to get along fine, according to McLarty.
McLarty said the agency would likely at first just talk to a shop which didn't adequately describe parts. Right now, he joked, the agency's still dealing with bigger problems like shops that don't even install parts at all.
The BAR has just started to examine the Opt-OE issue — a hot collision repair topic during recent Collision Industry Conferences — and how to handle it beyond this description direction.
"We're on the beginning edge of this Alt-OEM topic," Southern Field Operations staffer Jaime Ramos said during a forum Thursday at NACE. He said "you can almost bet" there would be "a lot more clarification."
Ramos mentioned after the forum that from his perspective as both a consumer and BAR employee, a good thing might be to include whether the part would be covered under manufacturer warranty. (Even some OEM-approved Opt-OE parts aren't.)
This initial kind of direction might be a good reference point for the broader collision repair industry as it tries to determine what to do about the murky parts, which can range from OEM-sanctioned surplus or reconditions to dealers discounting parts and calling them Opt-OE to unintentionally foreign OEM parts  to whatever the vendor says to whatever Hyundai and Rydell Chevrolet decided in a sealed settlement was happening there.
Allstate executive Clint Marlow suggested a similar concept — classify Opt-OE like existing types of parts — during the Collision Industry Conference earlier in the week.
Share This: