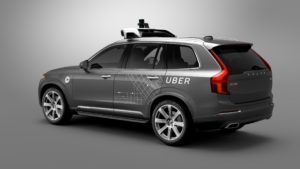 Bloomberg reported Thursday that Uber will this month offer free self-driving Volvo XC90 rides around Pittsburgh, though a "professionally trained" human driver will remain in the front seat as a backup.
The Associated Press reported the fleet would use Ford Fusions. The Los Angeles Times reported both models. Bloomberg, which said it had an exclusive on the story, reported the deal wouldn't be limited to Volvo, which might explain the conflicting reports. The Financial Times reported Uber's first Pittsburgh test car was a Fusion but it'd been picking OEMs, which also might explain the discrepancies.
Whatever the vehicle, the test-but-with-a-real-person example could further accelerate the arrival of the technology by providing another stream of data — atop the mapping information from Uber's real drivers Bloomberg reported it plans to leverage — to refine it and get Americans used to it.
Uber had a busy Thursday. Volvo and it announced that the two companies would together put $300 million into a project to develop self-driving cars, and Uber revealed that it bought self-driving heavy-duty truck startup Otto.
Humans, as we all have heard, are responsible for more than 90 percent of crashes. So even a computer that brings that down a little would be an improvement for society — and impact collision repair.
"Over one million people die in car accidents every year," Uber CEO Travis Kalanick said in a statement Thursday. "These are tragedies that self-driving technology can help solve, but we can't do this alone. That's why our partnership with a great manufacturer like Volvo is so important. Volvo is a leader in vehicle development and best-in-class when it comes to safety. By combining the capabilities of Uber and Volvo we will get to the future faster, together."
Bloomberg reported that passengers using Uber's app will randomly have a driverless car appear instead of a traditional Uber. Instead of $1.30 a mile, the trips will be free, according to Bloomberg.
Kalanick told Bloomberg that the technology will ultimately drop the per-mile cost so low that it'll be cheaper to ride a driverless Uber than your own car, even if you were driving a long time out in the boonies.
Here's how it works, according to Bloomberg:
For now, Uber's test cars travel with safety drivers, as common sense and the law dictate. These professionally trained engineers sit with their fingertips on the wheel, ready to take control if the car encounters an unexpected obstacle. A co-pilot, in the front passenger seat, takes notes on a laptop, and everything that happens is recorded by cameras inside and outside the car so that any glitches can be ironed out. Each car is also equipped with a tablet computer in the back seat, designed to tell riders that they're in an autonomous car and to explain what's happening. "The goal is to wean us off of having drivers in the car, so we don't want the public talking to our safety drivers," Krikorian says.
On a recent weekday test drive, the safety drivers were still an essential part of the experience, as Uber's autonomous car briefly turned un-autonomous, while crossing the Allegheny River. A chime sounded, a signal to the driver to take the wheel. A second ding a few seconds later indicated that the car was back under computer control. "Bridges are really hard," Krikorian says. "And there are like 500 bridges in Pittsburgh."
Though self-driving cars carry a real potential to start slicing collision frequency, the vehicles which can't avoid a crash (probably with an animal or a human driving a non-autonomous car) will likely have a higher severity. Progressive has hypothesized that the lower frequency from even mild autonomy like autobraking will ultimately cancel out the higher severity and leave insurers coming out ahead.
However, and this is the kind of thing that generates higher severity, auto body shops will need to be at the top of their game to ensure the vehicle returns to the road with all the technology properly working.
That means not only keeping all the sensors, LiDAR and cameras scanned and DTC-free and calibrated and also ensuring the collision or repair process didn't alter the body to the point that the results had been thrown off.
Examples or hypotheticals we've heard on the self-driving precursor tech available today include the wrong Toyota emblem throwing off adaptive cruise control, windshields affecting the tech mounted behind the rear-view mirror without calibration, and how a change in vehicle dimensions could throw off lane recognition or time to collision without calibration.
Uber's move (and Lyft's countermoves) could still be great for shops if the tech progresses to a point where it's letting all rank-and-file drivers have it (a la Tesla). The cars in the Uber fleet have got to look cosmetically sharp and drive well anyway. An Uber car you're trying to convince skeptical Americans is technologically capable of driving them around itself (with a spotter) has to look even better. That means a lot of cosmetic work for someone — on top of all the verification and maintenance someone's going to have to do to ensure all the gadgets still work even if the car never gets into a crash.
"How do you keep these vehicles maintained?" is definitely a big concern as autonomous models age, University of Michigan Connected Vehicle Proving Center Director Steve Underwood said earlier this year at Megatrends USA.
And there could be crashes still through the fault of the Uber car, particularly if the test- or regular Uber driver zones out. More on that here.
More information:
"Uber's First Self-Driving Fleet Arrives in Pittsburgh This Month"
Bloomberg, Aug. 18, 2016
Uber, Aug. 18, 2016
"Volvo Cars and Uber join forces to develop autonomous driving cars"
Volvo, Aug. 18, 2016
Featured image: An example of a self-driving Uber Volvo XC90 offered when Volvo and Uber announced a new partnership to develop autonomous cars.  Bloomberg, which reported Thursday that Uber would offer free self-driving XC90 wheels with a human backup, featured what appears to be the same picture, indicating this might be what's going to hit the Pittsburgh streets this month. (Provided by Volvo)
Share This: