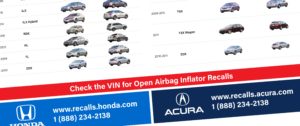 Citing the large number of vehicles still containing recalled Takata parts, Honda on Friday urged collision repairers and others to check VINs and "strongly encourage our mutual customer" to get a free replacement of the offending parts.
It provided a copy of a new poster to help spread the word within automotive repair businesses.
The company last year requested the help of the automotive aftermarket to spread the word to unaware or unmoved Honda and Acura owners possessing the potentially dangerous parts.
"The response to this effort was, frankly amazing, with over 120,000 posters distributed to independent shops across the country, and we greatly appreciate the efforts of everyone involved," Honda assistant national manager Gary Ledoux wrote Friday in a message to the industry.
Unfortunately, the recall will expand to tens of millions more vehicles since the November 2015 push. And in June, the National Highway Traffic Safety Administration reported certain 2001-03 Hondas and Acuras within the recall had particularly dangerous airbag conditions and needed to be addressed immediately.
"With as high as a 50 percent chance of a dangerous air bag inflator rupture in a crash, these vehicles are unsafe and need to be repaired immediately," U.S. Transportation Secretary Anthony Foxx said in a statement then. "Folks should not drive these vehicles unless they are going straight to a dealer to have them repaired immediately, free of charge."
About 70 percent of that 2001-03 subset has been repaired, but 313,000 are still out there, unaddressed.
"The risk posed by the airbag inflators in these vehicles is grave, and it is critical they be repaired now to avoid more deaths and serious injuries," the NHTSA wrote.
Across the U.S. and all OEMs, 10 million Takata airbag systems out of what could be nearly 70 million recalled vehicles have since been repaired, according to the NHTSA.
"While the Takata airbag inflator recalls affecting over 25 automotive brands in the United States have received a good amount of attention over the last few years, many affected vehicles have not yet been repaired, and we're doing our best to encourage owners of recalled Honda and Acura vehicles to seek free repairs as soon as possible," Ledoux wrote.
The issue lies not with the actual airbag but the Takata inflators, which have a "propensity to rupture," according to the agency.  A mix of moisture, temperature and time can affect the propellant in a recalled Takata inflator, burning it so quickly it ruptures and blasts shrapnel at occupants.
Honda's original November 2015 poster was a bold, minimalist affair that conveyed the range of model years and provided phone and Web resources for checking VINs.
The new August 2016 version is more intricate, and it actually lists and shows all the models and model years of affected Honda and Acura vehicles. The range of 2001-03 vehicles posing the greatest risk to owners is also highlighted.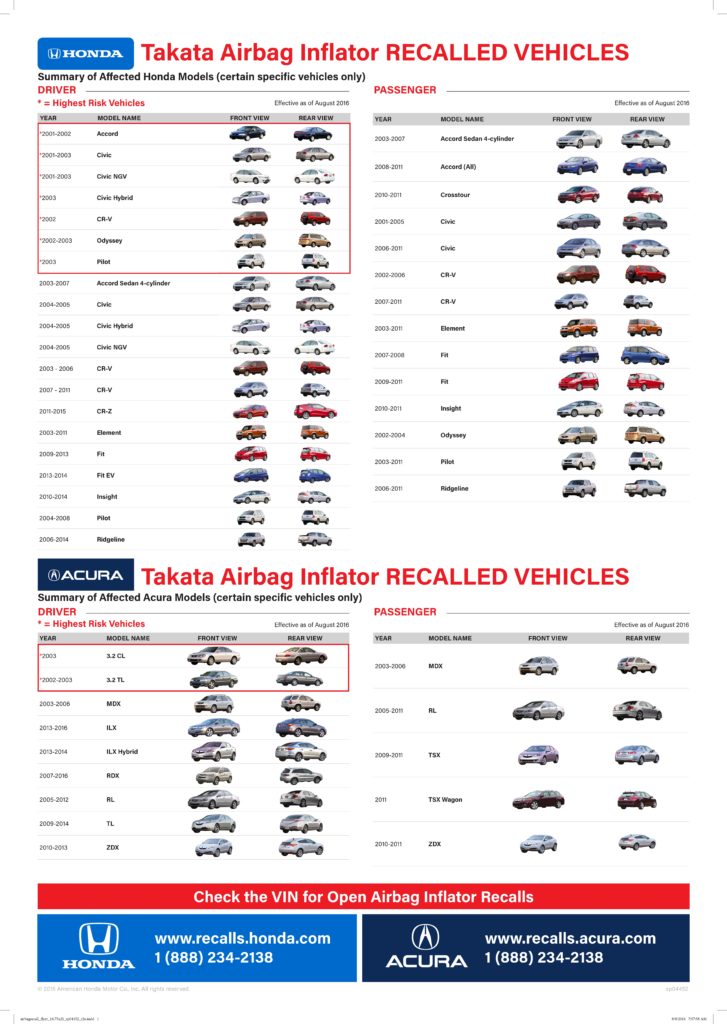 Download and print the poster for easy technician reference here. Or use the copy provided in the September issues of BodyShop Business, Brake & Front End, Counterman, Import Car, Tire Review or Underhood Service.
Like the November posters, the new flyers provide phone numbers and websites to check vehicle VINs.
"As with the original poster, shops and stores are encouraged to post the information where technicians, collision estimators, service managers, service writers, parts sales personnel, and customers can see them," Ledoux wrote. "When any of the affected models are encountered, shops are encouraged to check the vehicle's VIN to see if the recall has been performed and if not, strongly encourage our mutual customer, the Honda or Acura owner, to immediately arrange a FREE repair at their local dealer."
---
Check a VIN for recalls:
Honda: www.recalls.honda.com, 888-234-2138
Acura: www.recalls.acura.com, 888-234-2138
NHTSA recall VIN lookup: www.safercar.gov/checkforrecalls
---
As Honda observes, it's a matter of keeping everyone's joint customer safe.
The same logic goes for all makes and models of affected vehicles, which can be checked through the NHTSA's VIN lookup.
Given the sheer scope of the Takata recalls — 28.8 million and then a new 35-40 million vehicles being added between May 2016 and December 2019 — it's probably not a bad idea to run any VIN in the airbag era through the government database so the customer stays informed.
More information:
NHTSA Takata airbag recall information site
Honda (and Acura) Airbag Inflator Recall Center
New Honda VIN lookup information poster
Featured image: Citing the large number of vehicles still containing recalled Takata parts, Honda on Aug. 26, 2016, urged collision repairers to check VINs and "strongly encourage our mutual customer" to get a free replacement of the offending parts. It provided a copy of a new poster to help spread the word within automotive businesses. (Provided by Honda)
Share This: