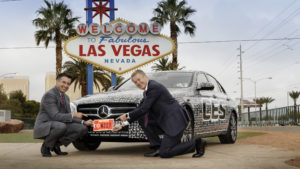 Repairers encountering a vehicle mix of luxury models might be among the first to lose crash-prone clients to a less fallible autonomous CPU someday, a Friday Bloomberg report suggests.
Citing a recent MaritzCX study of driver attitudes, Bloomberg reported that more than a quarter of Infiniti and Mercedes owners were "very interested" in buying a self-driving car.
MartitzCX found Toyota owners had the most interest among mainstream makes at around 22 percent, followed closely by Chevy, Honda and Ford owners, according to Bloomberg.
Bloomberg reported that Jeep and RAM owners showed the least interest — which the MaritzCX study author attributed to users wishing to take the vehicles off-road. Nearly 48 percent of all vehicle owners didn't want a self-driving car at all, Bloomberg reported.
Earlier this year, J.D. Power released the results of its second "Tech Choice" study, which found only 34 percent of all respondents were interested in what the firm called "full self-driving." Not surprisingly, trust and security were key concerns to any new autonomy, from truly self-driving cars down to adaptive headlights.
"The level of trust is directly linked to the level of interest in a new technology among automobile buyers," said Kristin Kolodge, executive director of driver interaction & HMI research at J.D. Power. "Acceptance can be increased with exposure over time and experience with automated technologies. But trust is fragile and can be broken if there is an excessive number of incidents with automated vehicles."
But shops and OEMs shouldn't misunderstand: More than 50 percent of Generations Y (Born 1977-1994) and Z (1995-2000) trust self-driving tech. Which means that if OEMs can indeed pull off their ambitious projections, they'll find buyers or users of the autonomous cars.
As with last year's findings (See our 2015 coverage here.), the demand for ADAS systems and other existing or near-future gadgetry signal the kind of technology coming to vehicles — and subsequently cutting into crash frequency but raising severity should something untoward still happen.
As to the cost factor, the J.D. Power news release also reveals the price of the various components, and which respondents still craved the systems even after they learned the sticker price.
For example, customers lose interest in night vision ($2,000) and lane-change assist ($1,500), but they still want camera side-view ($400) and rear-view mirrors ($300). They also really like the idea for self-healing paint despite the $500 cost — a tough break for Maaco and other cosmetic repairers. Simple components like a cheapo navigation system ($60) and wireless ($60, according to J.D. Power, which apparently never heard of monthly fees) also drew interest.
More information:
"Mercedes, Infiniti Owners Most Likely to Let Car Do Driving"
Bloomberg, Aug. 26, 2016
"Autonomous Self-Driving Vehicle Study"
MaritzCX, Aug. 4, 2016
"Consumer Interest Builds for 'Gateway' Automated Vehicle Technologies, Says J.D. Power Study"
J.D. Power, April 28, 2016
Images:
Mercedes in January 2016 announced the E-Class was the first production model to be given an autonomous test license in Nevada. (Provided by Daimler)
J.D. Power in April 2016 released their latest yearly Tech Choice study, indicating which features respondents most desired on a vehicle. (Provided by J.D. Power)
Share This: