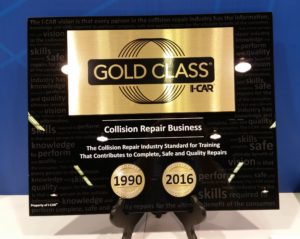 Unaffiliated shops interested in beating or joining a DRP might particularly be able to capitalize on whether the insurer requires only Gold Class shops.
Chris Andreoli, Progressive corporate claims repair network process director, said "we have a strong preference" for the recognition, but if the insurer mandated all DRP shops earn that designation, it wouldn't have enough locations.
"The math doesn't work," he said.
However, Progressive did give preference to Gold Class shops, Andreoli said, and Progressive's questionnaire for prospective Guaranteed Repair Network shops asks about ASE certification, OEM certification, and third-party certifications.
Farmers, however, was considering whether the complexity of modern vehicles demand DRP shops be restricted to Gold Class or Road to Gold.
"We're looking at that right now," Farmers strategy manager and technical adviser Gerry Poirier said.
Farmers had to "do something" for customers, and besides Gold Class, it was examining I-CAR welding certifications. (Unfortunately, largely absent in the collision repair industry.)
Shops who are doing training, "that's who we want to partner with," Poirier said.
"I don't want that car coming back," he said.
Asked how insurers actually verify the shop's status — "there are some old plaques" in lobbies,  moderator Marcy Tieger of Symphony Advisors noted — Poirier said Farmers had direct contact with I-CAR.
He said he receives such a report monthly, and it's "very easy" to set such a thing up. (Customers can also search for Gold Class shops on www.goldclass.com, and presumably I-CAR keeps that list current.)
Allstate already demanded its shops be I-CAR Gold, though it might recognize other training like the ability to work on high-end European vehicles, according to claims director Clint Marlow, who also said more collaborations like the recent ASE-I-CAR mutual recognition were needed.
The insurer wanted an "ongoing, strong commitment" to continuing education, he said.
Interestingly, at State Farm, the nation's No. 1 auto insurer, "we leave it up to the shop," claims director Russ Hoffbauer said. He said the insurer felt a lack of training would show up in quality and KPI metrics tracked by the insurer.
More information:
I-CAR Gold Class page for repairers, insurers
I-CAR Gold Class page for customers
Featured image: I-CAR advertises its Gold Class program at NACE in August 2016. (John Huetter/Repairer Driven News)
Share This: