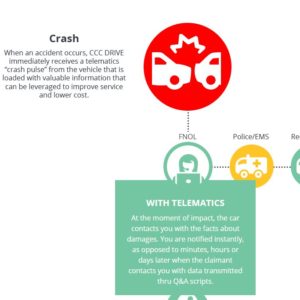 As we observed earlier Wednesday, there's pros and cons for the collision repair industry with the move by CCC and others into auto FNOL insurance telematics.
We presented some of the potential — and potential drawbacks — of the technology from a collision repairer's viewpoint in this analysis.
But don't take our word for it. Here's some of CCC's own quotes on the new DRIVE system announced Wednesday. (Though CCC is by no means the only party working on this for the automaker and insurance industries.)
Visit the CCC DRIVE webpage to learn more from CCC's sales pitch, and evaluate for yourself what it could mean for your business. Also, take a look at CCC's depiction in the 2016 Crash Course of how a then-hypothetical EFNOL system could work.
Target audience
"Purpose-built for insurance, our telematics engine is the insurance industry's first full-service, open telematics platform, connecting insurers with the service providers, devices and data needed to take full advantage of the power of telematics across the policy value-chain."
Goals
"Protect policyholders by combining the power of telematics with CCC's extensive network of collision repairers and historical claims data to provide above-and-beyond service in the event of an accident"
"Extend your reach and delight policyholders through engagement opportunities such as route mapping and vehicle diagnostics to your telematic service offerings"
'Crash pulse'
"When an accident occurs, CCC DRIVE immediately receives a telematics 'crash pulse' from the vehicle that is loaded with valuable information that can be leveraged to improve service and lower cost."
"At the moment of impact, the car contacts you with the facts about damages. You are notified instantly, as opposed to minutes, hours or days later when the claimant contacts you with data transmitted through Q&A scripts."
"Telematics data may help you understand the severity of the accident, the likelihood of injury, and if necessitated, the potential need for EMS services."
Driveability/total losses/settlement
"Telematics data may help you determine whether the vehicle is driveable or not, post accident."
"Telematics data may help you determine whether the vehicle is repairable (tow to shop) or totaled (tow to salvage)."
"Telematics severity data may also help you better and quickly determine the salvage value of the vehicle."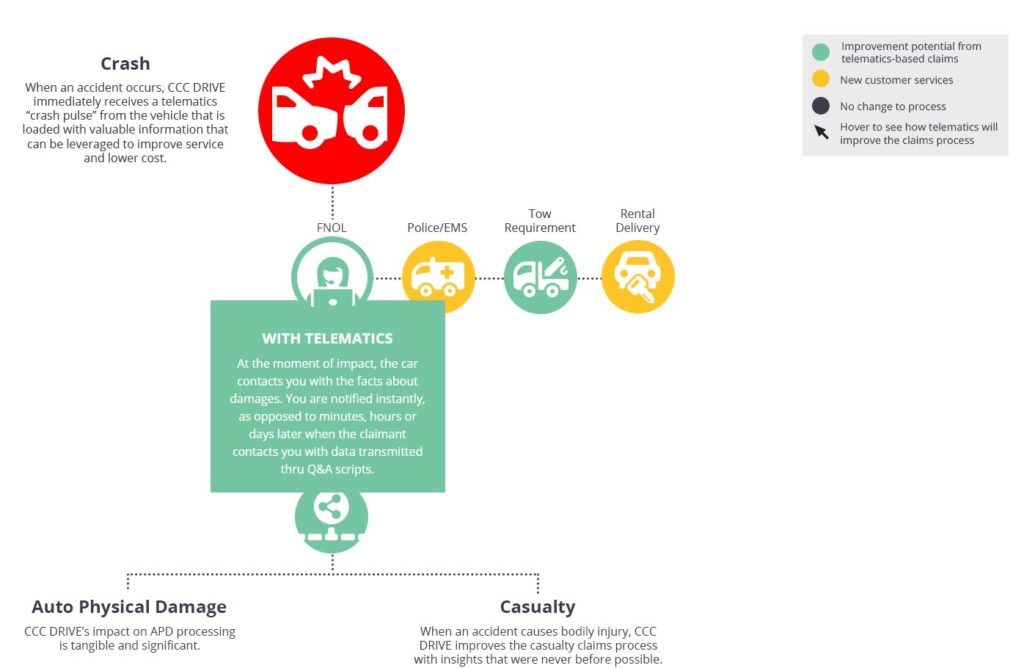 Which tow company?
"If undriveable, you may be able to immediately direct a tow truck in your network to the vehicle."
Which repairer?
"If repairable, telematics data may help you determine if there are particular shops that might be more capable or available than others to perform the repair."
Appraising/estimating/part orders
"Data insights from the CCC DRIVE crash pulse can be compared to thousands of similar accidents in the CCC data warehouse to quickly determine the severity of the crash and how to best proceed."
"Telematics data may help you determine the severity of damage and the degree of repairs needed, helping you decide if it should go to a shop that specializes in complex repairs versus light repairs."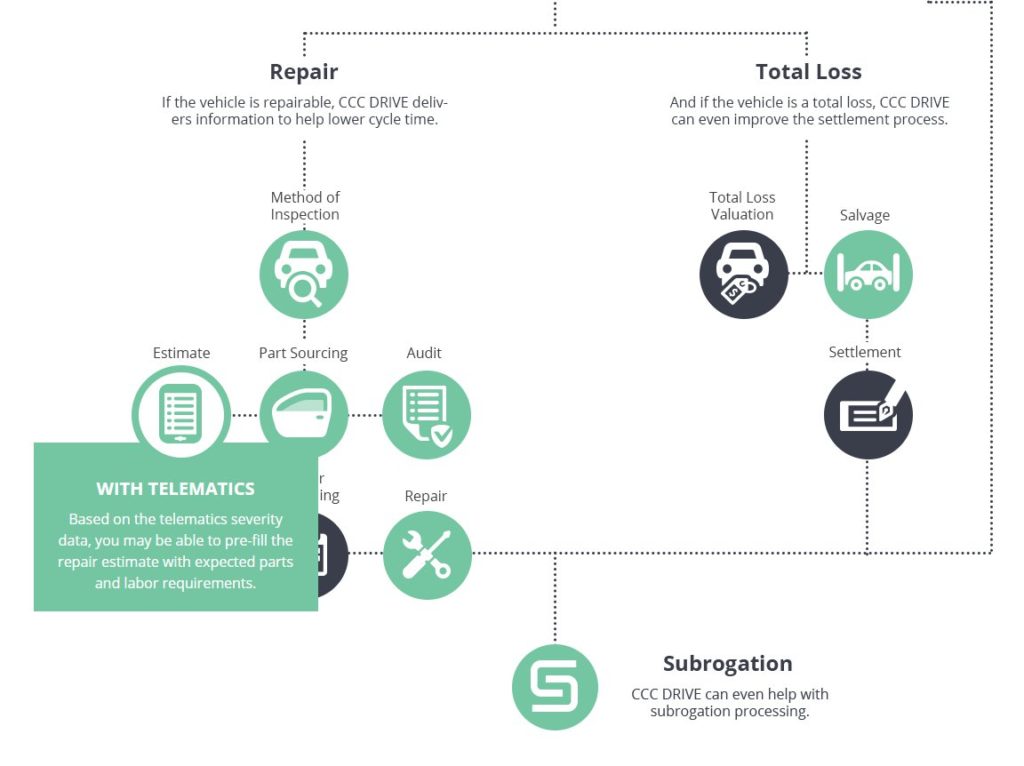 "Based on the telematics severity data, you may be able to pre-fill the repair estimate with expected parts and labor requirements."
"Telematics data may be able to help you identify and order the parts that will be required for the repair, which may help reduce cycle time."
Fraud detection/scrubbing/quality control
"Telematics data may help you to flag exceptions that are common to similar types of accident profiles. This may help you better uncover and flag potential hidden damage"
More information:
CCC, Sept. 7, 2016
"CCC DRIVE™ Platform Harnesses the Power of Telematics to Significantly Improve Claims Management"
CCC, Sept. 7, 2016
Featured images: CCC announced Wednesday a new telematics platform, the home screen of which is shown here, which could allow a vehicle to automatically notify an insurer when a crash occurs. (Screenshots from www.cccis.com)
Share This: