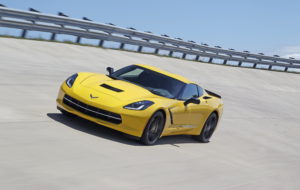 In a move which could accelerate the growth of composites as a body panel and structural option for OEMs, Teijin announced Tuesday it would buy fellow carbon-fiber manufacturer Continental Structural Plastics for $825 million.
The deal is expected to close in December. Teijin described itself as a thermoplastic carbon fiber leader and CSP as a thermoset fiber leader, though both companies work on both polymers.
Teijin said it'd use both companies' manufacturing facilities abroad to sell to European and Asian OEMs, and it wants to sell $2 billion in automotive composites by 2030, up from $900 million in 2020. (It's unclear if that represents both companies' combined sales or just CSP's.)
CSP is a big automotive carbon- and glass-fiber player, as its Auburn Hills, Mich., headquarters would imply. Its fiber-reinforced portfolio includes the thermoset composite TCA Ultra Lite, which can be found on 21 body panels of the 2016 Chevrolet Corvette C7. It's also the world's largest automotive sheet molding player.
"When combined with CSP's patented vacuum and bonding manufacturing processes, TCA Ultra Lite offers a premium Class A finish with paint and gloss qualities comparable to metals, including aluminum," CSP bragged in July 2015 about its 2016 Corvette carbon-fiber. "The material is able to withstand the E-coat process, and passes all OEM paint tests.  It also offers reduced costs at all volumes – and for production volumes under 150,000, tooling costs for composites can be as much as 50 to 70 percent less than those for stamping steel or aluminum."
Teijin, meanwhile, that it has a "one-minute" production time for carbon-fiber-reinforced thermoplastics — which has also got to be music to OEM ears, and it has a means of reducing carbon fiber waste. It's also done business with GM and been registered on the automaker's materials list in the past few years. In 2011, it created a concept tiny four-seater to argue for carbon-fiber-bodied vehicles.
"Teijin is implementing a solutions-oriented business model as part of its long-term management vision, with development of composite applications for mass-produced automotive components one of its priorities in the field of high-performance fibers. Environmental concerns such as CO2 emission reductions and improvements in fuel efficiency are now global issues; accelerated development of tough and lightweight eco-friendly composite components is therefore a pressing task in the automotive industry. Teijin is now focused on establishing a platform for business development in automotive composite products, aiming to provide a wider range of solutions for automakers."
---
Learn more about carbon fiber at OEM Collision Repair Summit
Learn more about carbon fiber from General Motors body structures advanced composites engineering group manager Mark Voss during "Advanced Vehicle Materials, Construction and Repair Considerations" on Nov. 3 at SEMA. The second half of the segment features Dow Automotive aftermarket business marketing manager Frank V. Billotto, who'll talk about how to join that carbon fiber and other mixed-material body designs with adhesives. The session is part of the 2016 OEM Collision Repair Technology Summit hosted by the Society of Collision Repair Specialists during the Repairer Driven Education Series Nov. 1-4. Register here.

---
Thermosets and thermoplastics are basically different types of resin surrounding carbon or glass fibers. When these polymer matrixes harden, they're reinforced by the fibers inside, and you get the strong, light composite material seen in cars, trucks, bikes and planes.
"The primary physical difference is that thermoplastics can be remelted back into a liquid, whereas thermoset plastics always remain in a permanent solid state," Modor Plastics writes. "Think of thermoplastics as butter – butter can be melted and cooled multiple times to form various shapes. Thermoset is similar to bread in that once the final state is achieved, any additional heat would lead to charring."
Apparently, the two matrix substances had been sort of the Hatfields and McCoys of the composites industry for years but now are engaged in "healthy competition," according to this 2015 Composites World column by Dale Brooks of the Institute for Advanced Composites Manufacturing Innovation. For auto body purposes, the difference is probably irrelevant (though according to Brooks, the BMW i3 and most automotive carbon-fiber has historically used thermosets).
For the purposes of this article, the difference is probably irrelevant for collision repairers. (We'll start researching if there is any repairability issue or if shops would handle both types the same way.) The main takeaways here are:
Big carbon fiber player will buy another big carbon fiber player.
The bigger new company wants to make auto body composites, and it'll be armed with both fiber players' knowledge and customers once the deal closes.
You'll probably see carbon-fiber or glass-fiber parts even sooner in your shop.
More information:
"General Motors Lightens the Corvette with Continental Structural Plastics' TCA Ultra Lite"
Continental Structural Plastics, July 21, 2015
"Teijin to Acquire Continental Structural Plastics"
Teijin, Sept. 13, 2016
Teijin auto carbon fiber plan post CSP acquisition
Teijin, Sept. 13, 2016
Featured image: The 2016 Corvette Stingray C7 has 21 body panels made up of TCA Ultra Lite from Continental Structural Plastics. (Provided by Chevrolet/Copyright General Motors)
Share This: