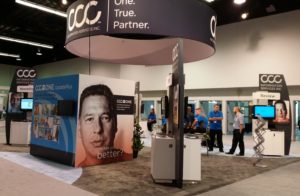 CCC confirmed Monday that the telematics capabilities of its new DRIVE system would be available for collision repairers and OEMs as well.
The system, which digests and analyzes data collected by a vehicle, OBD-II device or smartphone in a format a CCC customer can use, already can be purchased by auto insurers. CCC's news release last week and the DRIVE website identify it as a tool for that industry, and it builds off the usage-based insurance Drive Factor system developed in 2010.
But CCC corporate strategy Senior Vice President Marc Fredman said Monday that it intends to make the DRIVE service available to the other major auto body industry players — the shops themselves and the manufacturers of the vehicles they're fixing. Auto body shops might see announcements about the product in the "coming months," he said.
"It is absolutely not just insurer-focused," he said. "It is our platform for all segments."
OEMs with their own in-vehicle crash and mechanical diagnostics notifications seem as though they'd be competitors to CCC. But Fredman said CCC already is working with some OEMs today, and in discussions with many more.
Automakers want different types of help from CCC's DRIVE, according to Fredman. Some want to develop more internal services, he said, while others want assistance giving internal vehicle information to insurers and auto body shops.
In the collision repair space, the IP has spoken with independents as well as multi-store operations, and it'd be feasible for a single-store independent to capitalize on the DRIVE systems too, he indicated.
DRIVE could give shops an opportunity to know a macro level of damage on the vehicle coming into your shop, he said. That would allow a shop to better manage its scheduling. That's a big plus from a business perspective.
Another option might be to use the data in a shop's interactions with other parties," according to Fredman. (For example, a rental car company.)
Someday, it might be possible even to start ordering parts based on the telematics data, but that's further out in the future, as are some of the other possibilities CCC explores on its telematics webpage, Fredman said.
That's "more in the spirit of things that are sort of possible," he said. For now, he advised potential customers to look at its news release from last week.
---
Learn more about repair planning, telematics  at Repairer Driven Education
Collision repairers seeking information about estimating, scheduling and telematics should check out "Repair Plan Like you Mean It" with DCR Systems' Michael Giarrizzo Jr., "Advanced Vehicle Systems: Are We Ready?" with Jake Rodenroth of Collision Diagnostic Services and  "Competing with the Talking Car – Virtual Steering" with Steven Feltovich of Sherwin Williams. The two sessions are part of the Society of Collision Repair Specialists' Repairer Driven Education Series from Nov. 1-4 during SEMA. Register here.

---
Speaking of the future, could CCC's DRIVE Factor scan the car and get that a prescan to a shop beforehand? It could be easier for third-party providers to do so, and at least one OEM has floated the idea of prescans someday being delivered to shops.
"I think that's an interesting question," Fredman said, but CCC hadn't developed a "public position" yet on scanning.
Fredman said CCC's "expectation" was to link DRIVE to CCC One for the repair community — for all customers, it "should flow in seamlessly," he said.
A day should come when a customer visits a collision repairer with a walkthrough, is asked if they'd like to make their vehicle data available, and it's the automatically delivered to the technicians.
"Part of what we're trying to do is … democratize this data," he said. "… We want this to be available in a seamless way to everybody."
If CCC provides an insurer, repairer and OEM with the same information from the vehicle, that transparency and immediacy seems as though it would replace or eliminate some of the imprecision and disputes tied to the collision repair status quo.
For example, it could eliminate photo estimating as the starting point of a repair. It wouldn't be a substitute for the actual physical "inspection," but it'd probably be a more accurate and less contentious way for shops, insurers and customers to start the repair process.
Here's the difference: Collision repair photo estimating is like feeling sick and having a remote health insurer vet your claim based off a selfie you took. Not surprisingly, it leads to inaccurate "it doesn't look that bad" insurance appraisals and arguments between the desk reviewer looking at photos and working off an internal set of guidelines and the repairer looking at the actual car.
Telematics is like the doctor and insurer starting with the results of a blood and urine test; in collision repair, it'd be the speed and direction of an impact, which allows a sense of potential hidden damage and a broad sense of what's wrong. It's not a substitute for your doctor examining you physically, but it's a better perspective on what actually could be wrong with you.
More information:
CCC, Sept. 7, 2016
"CCC DRIVE™ Platform Harnesses the Power of Telematics to Significantly Improve Claims Management"
CCC, Sept. 7, 2016
Featured image: The CCC booth at NACE 2016 is shown. (John Huetter/Repairer Driven News)
Share This: