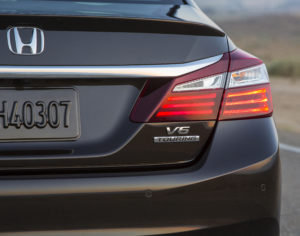 I-CAR reported Friday that Honda's come up with a fun little way to tell which backup and parking sensors were damaged in a crash.
Essentially, the Honda or Acura will offer its own version of Morse code, beeping in a particular pattern when the technician — or owner — turns on the ignition, according to I-CAR. Based on the number and speed of beeps, you'll know which sensors are affected, I-CAR wrote.
"Due to the sensors being a factory accessory, in many cases, they may not be able to be diagnosed with a scan tool," I-CAR wrote, citing Honda repair procedures. "When the ignition is turned on, the sensors may beep one time. If the sensors beep more than once, it indicates a defective sensor. The pattern of the beeps will indicate which sensor or sensors are causing the problem."
This technique might not work under certain extreme hot and cold weather, according to I-CAR. It also doesn't remove the need to scan and calibrate the car according to the instructions in Honda's position statements and repair procedures, of course. Let's not make this another dash light misconception that results in 20 years of missed DTCs.
But it's a handy trick to know for a collision-prone area of the vehicle. It's also a fun "Name that tune" type game for technicians to play. "The car beeped four times fast. For 50 points, what's wrong with it?"
Learn more (including the answer to that question) in I-CAR's coverage and then check the Honda or Acura repair procedures for the formal instructions.
More information:
"Honda/Acura Easy Backup Sensor Diagnostics"
I-CAR Repairability Technical Support, Sept. 9, 2016
Featured image: Some sensors on this 2017 Honda Accord Touring are visible on the bumper fascia. (Provided by Honda)
Share This: