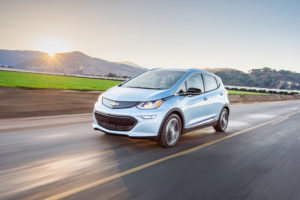 The 2017 Chevrolet Bolt, GM's mass-market, 200-mile electric vehicle, will have multiple aluminum exterior components, Chevrolet confirmed Tuesday.
Chevrolet spokeswoman Michelle Malcho confirmed that the Bolt — clocked by the EPA at 238 miles of range per charge — has doors, fenders, a hood and a liftgate incorporating the metal. General Motors earlier described the car as "steel and aluminum."
GM this week wrote that the Bolt would be on sale "at select Chevrolet dealerships" by the end of the year. For a little more on the car's design and production, check out this Detroit News Monday report on preparations at the GM's Orion Township, Mich., plant making the Bolt.
The car costs less than $37,500 and falls to below $30,000 so long as tax credits stay intact. (They phase out once an OEM sells 200,000 electric cars, according to the IRS.) $30,000 and 200 miles are the two magic numbers projected to spur average Americans to buy an electric car, and Tesla Model 3, the other major mass-market $30,000/200-mile car, drew 325,000 pre-orders (globally) in the first week since it was unveiled.
---
Learn more about advanced materials at Repairer Driven Education
Learn more about repairing advanced materials like aluminum, ultra-high-strength steel and carbon fiber at "Structural Repair and Materials for 2016 and Beyond" with Ken Boylan of Chief, "Advanced Vehicle Materials, Construction and Repair Considerations" with Mark Voss of General Motors and "Case Study of the Procedures for Steel Quarter Panel Replacement" with P&L Consultants' Larry Montanez. The sessions are part of the 2016 OEM Collision Repair Technology Summit hosted by the Society of Collision Repair Specialists during the Repairer Driven Education Series Nov. 1-4. Register here.

---
So the Bolt isn't going to be some weird hippie/celebrity alternative-fuel car only a Berkeley body shop will see. Collision repairers will need to prepare for the car, both its body and whatever special considerations are necessary for working with an electric powertrain.
Malcho said she couldn't share any other details about the Bolt's steel/aluminum body and exterior at this point, but more details should be available in the next month or two.
She also couldn't say whether Chevrolet would have a special certified network, the way it did with the aluminum/steel 2016 Cadillac CT6 and Tesla has with its other aluminum electric vehicles. (No word yet on the Model 3.)
Nor would she say if General Motors would issue training and equipment guidelines for all shops, similar to what archrival Ford did with the aluminum F-150.
Information on collision repair should be coming in the next couple of months, too, Malcho said.
"It's a little too early," she said.
More information:
"GM Orion readies for Chevy Bolt EV production"
Detroit News, Sept. 13, 2016
Featured image: The 2017 Chevrolet Bolt will have aluminum in its closures and fenders. (Provided by Chevrolet/Copyright General Motors)
Share This: