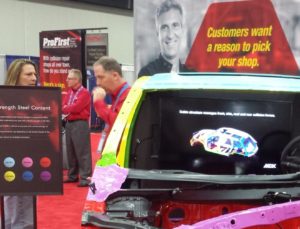 Honda's ProFirst certification program has hit the 700-shop mark on its way to its 2018 goal of 1,200, Autobody News reported earlier this month.
In some markets, Honda's already closed the door on new applicants, citing saturation, assistant national manager Gary Ledoux told the magazine Sept. 8.
"We don't want to be like Starbucks, with a location on every corner," Ledoux told Autobody News. "Unfortunately, some shops came to the party a little late, so they're now on a waiting list."
The Autobody News report indicates shops seeking to join the system seem to be most tripped up by Honda's education demands. That might reflect what I-CAR has pointed out is a serious lack of continuing education in the industry.
"The one part of the process seems to slow down when it comes to the training component," Ledoux told the magazine. They need to be I-CAR Gold or a VeriFacts VQ or Medallion shop, and that is something that can't happen overnight. They can get the welder and are willing to do everything else, but completing the right training or becoming a VQ or Medallion shop seems to be an obstacle for some shops."
The comment about buying a welder easily but struggling with education also brings to mind one criticism of certification programs (or presumably DRPs, for that matter): Having all the equipment doesn't necessarily mean a shop knows how to properly use it. GM, which hasn't yet announced a broader certification program (but probably will), has suggested that perhaps an OEM network should verify outputs.
VeriFacts, which works with Honda on its certification program and Cadillac on its CT6 program, and Assured Performance, which works with many other OEMs, have taken different approaches to this question.
VeriFacts audits shops, while Assured Performance provides shop with an app to document they've followed OEM procedures, arguing that's more useful for liability purposes. Over the summer, the latter also hired 20-year CARSTAR veteran and former I-CAR Board Chairman Bob Keith to oversee its inspector and education programs.
One other interesting point about Honda certification: Ledoux stressed you've got to market yourself.
"Some members will call us and ask, 'How many cars did you bring us last year?' and we tell them, 'This is not a DRP.' We do get referrals for our shops, and consumers find them on our website, but I tell people that certifications set the table and then you need to do the rest
It's an interesting interview with one of the most active mainstream OEM certification managers about a program which grown exploded from less than 400 shops last December. Read the rest here.
Want to fill one of the slots left on the network? Visit the ProFirst site for shops or email profirst@ahm.honda.com.
More information:
"Honda ProFirst Certification Program Hits 700 Shops"
Autobody News, Sept. 8, 2016
Featured image: Honda ProFirst marketing can be seen in the background of Honda's 2015 NACE booth. (John Huetter/Repairer Driven News)
Share This: