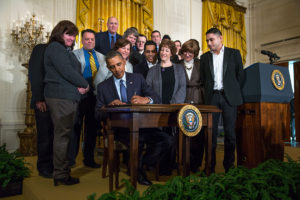 The U.S. House on Wednesday voted 246-177 in favor of delaying a Dec. 1 change in federal overtime rules by six months.
Senators introduced a similar bill that day, and 21 states and more than 50 business groups filed two separate lawsuits against the Department of Labor over the regulation.
A labor attorney told Crain's Detroit Business he thought the litigation might "have a steep uphill climb to succeed," and companies should probably prepare for the Dec. 1 deadline. This was prior to the bills in Congress, however.
"Both suits are challenging the authority for the Department of Labor to do something they've done in the past,"Butzel Long PC partner Gary Klotz told the newspaper. "If they did it then, they can do it now."
If Klotz's right, it sounds like the fate of the rule rests in the hands of Congress. The Senate is controlled by Republicans, like the House.
But Democratic President Barack Obama, who supports the new guidelines, announced Tuesday he'd veto the House bill, and so presumably the identical Senate bill.
"While this bill seeks to delay implementation, the real goal is clear—delay and then deny overtime pay to workers," the White House said in a statement about the House bill.
Congress has only successfully overridden Obama once, the 9/11 foreign lawsuit bill, according to the New York Times.
Employers, some shop employees to see impact
Whatever happens with the overtime rule, there'll be an effect on collision repair employees and owners, so both should pay attention to what happens in court, Congress — and to the current Dec. 1 deadline.
Under the new rule announced in the spring, anybody on salary making less than $47,476 a year gets time-and-a-half pay for exceeding 40 hours in a workweek as of Dec. 1.
In the past, the threshold had been $23,660 — below the poverty threshold for a family of four in 2014.
"Some salaried employees currently classified as exempt managers commented that they earn less per hour than the employees they supervise," the Department of Labor observed, referring to the old rule.
The Auto Care Association indicated then that members were already switching salary workers to hourly.
"Members fortunate enough to be aware of the coming changes are already beginning the reclassification of many employees as well as revisiting overall wages and benefits," Auto Care Association President and CEO Bill Hanvey said in a statement Wednesday. "One association member has already advised us that he 'has to inform 10 percent of his employees that they are now hourly, not salaried' and he doesn't know how to deliver that message. Even more troubling is the large number of companies in the auto care industry who remain unaware of the change in regulation and its consequences."
Most collision repairers probably have at least one salaried worker who'd be eligible for overtime under new federal rules, an auto body shop human resources attorney said.
For shops properly classifying employees under the existing law, it likely would be just "one, maybe two people in the shop" — but there'd still be an impact, Fine, Boggs & Perkins partner Cory King estimated in May. "It's going to affect every shop to some degree, but not huge," he said.
King predicted that some shops would simply shift salaried staff to hourly and set the hourly rate at a level that results in roughly the same total compensation to the employee as their prior exempt salary, rather than pay more to maintain the exemption or cut hours to 40 as the government had hoped.
For example, a $30,000 salaried exempt employee working 50 hours a week who is now no longer exempt could be shifted to an hourly wage of roughly $10.50/hour, which presuming the employee continues to work the same number of hours per week would result in annualized compensation of about $30,000.
Of course, if an employee works 51 hours, then he or she will earn an extra hour at time-and-a-half, one of the things the rule change was meant to address. But the opposite is also true, if the employee works less than 50 hours per week then they will end up receiving less than their prior $30,000 annual salary.
"Wise employers are going to do the math, figure it out and set the hourly wage at an affordable rate based on a reasonable estimate pulled from the number of hours that's currently being worked," King wrote in an email. Increasing salaries just to try and keep someone exempt probably isn't financially feasible for many shop owners, he predicted.
More information:
"Lawsuits unlikely to stall overtime rules"
Crain's Detroit Business, Sept. 25, 2016
"Senator Lankford Introduces Bills to Delay Overtime Rule and Protect Small Businesses, Colleges and Nonprofits"
Senator James Lankford's office, Sept. 29, 2016
White House, Sept. 27, 2016
"Texas AG Ken Paxton and Nevada AG Adam Laxalt Lead Coalition of 21 States Against the Obama Administration's Illegal 'Overtime Rule'"
Texas Attorney General's office, Sept. 20, 2016
"U.S. Chamber Files Lawsuit Challenging Obama Administration's Overtime Rule"
U.S. Chamber of Commerce, Sept. 20, 2016
Featured image: Democratic President Barack Obama on March 13, 2014, signs a memorandum directing Labor Secretary Tom Perez to overhaul national overtime for salaried workers. (Lawrence Jackson/Official White House Photo)
Share This: