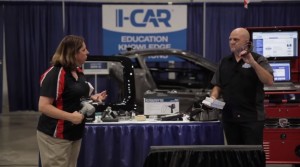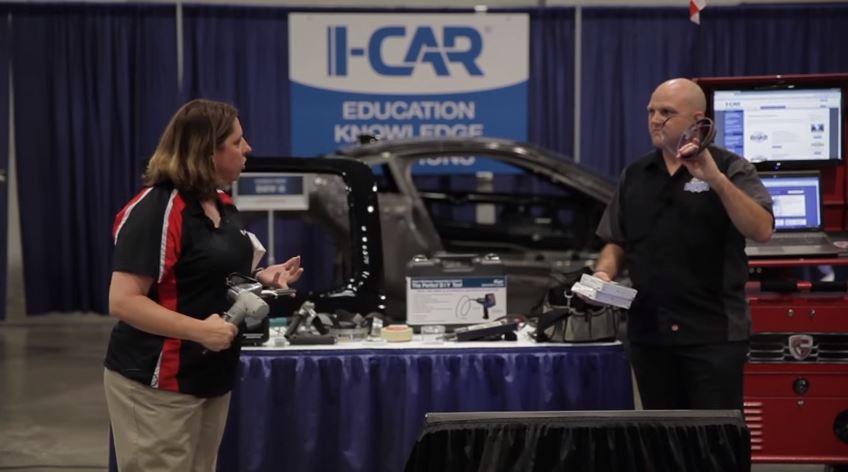 I-CAR and the Society of Collision Repair Specialists will take SEMA's auto body stage to deliver presentations on on exotic and familiar collision repair topics like scanning, advanced metals and composites, tools, paint and estimating,
Both organizations will appear on the main stage all four days of the SEMA Show in Las Vegas. They'll also collaborate on one of the presentations, "Restoring Vehicle Functionality through Electronic Technology and Diagnostics," during SCRS' OEM Collision Repair Technology Summit on Nov. 3.
"Our focus on the SEMA Show Collision Repair and Refinish Stage has always been on delivering really high quality information that delivers information in an environment that is accessible to anyone in attendance," SCRS Chairman Andy Dingman said in a statement. "SCRS has been a firm believer that quality educational opportunities provide some of the greatest ROI for show-goers. We believe the combination of free options on the show floor and more in-depth experiences in the classrooms coupled with the energy and excitement of the SEMA Show provides distinct opportunities just not found at any other venue."
If you plan to attend SEMA, don't miss your last chance today to save money on tickets for both the show and SCRS' Repairer Driven Education series.
After Friday, SEMA prices rise from $40 to $90, and you'll have to pick up your badge on-site instead of having it mailed to you. Register here at www.semashow.com.
SCRS is offering a $375 early bird price for Repairer Driven Education. You get access to the entire week of courses, and the headliner OEM Collision Repair Technology Summit and subsequent Sky Villa afterparty Nov. 3. That's a steal since each class by itself is $75, including each of the three consecutive Nov. 3 OEM Summit sessions and the party later that night. Register for the full-series pass here, or register for individual classes (and the party) early here at www.scrs.com/RDE. Classes rise to $85 each after Oct. 14, and the full pass increases to $400.
Even if you missed the Friday discount cutoff for SEMA and SCRS, you'll still get your money's worth, so sign up anyway. Here's just what's available on the main collision repair stage for free from SCRS and I-CAR — just a small piece of the gigantic show.
Tuesday, Nov. 1
11:30 a.m.: "Lessons from beyond the repair: highlighting the importance of proper repairs with American Honda," Honda.
1 p.m.: "I-CAR: Collision Repair Diagnostics," Jason Bartanen, I-CAR.
Wednesday, Nov. 2
11:30 a.m.: "Accessing and utilizing OEM collision repair procedures and documentation," OEM Collision Repair Roundtable members.
1 p.m.: "The Need for Training on Today's New Vehicles and Technologies," Jason Bartanen and Josh McFarlin, I-CAR.
Thursday, Nov. .3
1 p.m.: "Cool Tools," Jason Bartanen, I-CAR, and Kristen Felder, Collision Hub.
11:30 a.m.: "Color Matching and Styling: More than Painting by Numbers," PPG and Charley Hutton, Charley Hutton's Color Studio.
Friday, Nov. 4
10 a.m.: "I-CAR Knowledge and Skills – The Requisite Foundation for Repair Excellence," John Van Alstyne, I-CAR
11:30 a.m.: "Documenting Commonly Performed, and Often Overlooked Collision Repair Estimate Items," Ron Reichen, Precision Body & Paint (and former SCRS chairman) and guests.
"As the industry trends to the need for more and more vehicle specific knowledge and techniques, it's important that our presentations reflect that," Bartanen said in a statement. "Whether it's from the OEMs themselves, our other industry partners or those of us presenting from I-CAR, this lineup offers a very comprehensive look at where our industry is, and where it's heading."
Don't miss the chance to learn even more from both groups through individual classes throughout the week. More details: www.I-CAR.com/SEMA and www.SCRS.com/rde.
Other main stage presentations
OEMs Audi, BMW, Ford, General Motors, Honda and Porsche; 3M Fusor and Collision Diagnostic Services will also command the main stage as well, with presentations including topics like
The Ford F-150
The BMW 7 Series
The Honda Pilot and Civic
Multi-material hybrid construction (Audi)
Carbon fiber design and repair
Diagnostics and zero-point calibration for passenger airbag sensors
A variety of joining techniques, including more advanced methods
More information:
SCRS Repairer Driven Education webpage
Featured image: Offering some new highlights as well as older favorites, Collision Hub CEO Kristen Felder and I-CAR Director of Industry Technical Relations Jason Bartanen described "Cool Tools" at SEMA 2015. (Screenshot from Collision Hub YouTube video)
Share This: