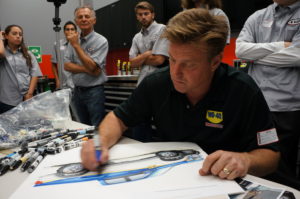 Capital One Spark Business and the Society of Collision Repair Specialists on Monday announced their new partnership will launch with a special small-business event featuring automotive star Chip Foose.
The forum on SEMA's Nov. 1 opening day will go deeper than a typical celebrity appearance and speak directly to the kinds of automotive small businesses that comprise much of SCRS' membership.
"Starting a business in the automotive world is tough and having it succeed is even harder." Foose, the owner of Foose Design, said in a statement Monday. "I know first-hand how dedicated Capital One is to helping small businesses succeed, and look forward to partnering with them on a number of exciting events at SEMA."
Appearing with Capital One small-business credit card head Buck Stinson, Foose will discuss growing a small business and the lessons the process taught him. He'll also examine how to use external resources for entrepreneurial success.
"A Business Fueled by Passion – Talking Shop with Chip Foose" will take place 3-5 p.m. Nov. 1 in the North Hall Upper Level, Room N258. To attend this exclusive event, interact with Foose and hear the celebrity builder's suggestions for creative ways to maximize business potential and accelerate growth:
Be one of the first 150 people on the pre-qualification list to show up to the SCRS booth at the SEMA Show (North Hall, Booth No. 11173) between 9 a.m. and 2 p.m. Tuesday, Nov. 1.
Tickets are first-come, first-served, and it's only one per person. SCRS and Capital One anticipate that the event will hit maximum capacity, so visit the SCRS booth sooner rather than later Nov. 1 to clinch a pass.
However, if you couldn't get a ticket to the event, you can still see a live feed on Periscope (available for iOS and Android) by following @CapitalOne.
---
More SEMA preview coverage
---
Foose will follow up the talk 10:30 a.m. Nov. 2 at the Capital One Spark Business Booth by producing custom car sketch based on what attendees say "drives automotive repair businesses," according to SCRS and Capital One. He'll sign copies of it Nov. 4 from 9-9:30 a.m. at the Capital One booth, No. 30318.
"We're passionate about helping small businesses succeed, and see a real opportunity for business owners in the automotive repair industry to benefit from our industry leading suite of Spark Business credit cards that offer industry leading rewards and benefits. With unlimited 2% cash back on every purchase, you could be putting thousands of dollars back into your business each year," Stinson said in a statement. "SCRS is a natural partner that we align with on delivering tools and resources that accelerate business growth. We're thrilled to work with SCRS and Mr. Foose to support and empower business owners in the automotive space."
Besides the Foose events, Capital One Spark Business will also sponsor SCRS' Repairer Driven Education Series at SEMA.
"We are very excited for Capital One Spark Business to join as a corporate member of SCRS and to partner with them on a number of incredible events during SEMA," SCRS Executive Director Aaron Schulenburg said in a statement. "The financial expertise, insights and products that they bring to the table is a great benefit for SCRS members, and opens the doors for unique collaboration to benefit the industry. We are thrilled that they have also sponsored our Repairer Driven education series at the show, and proud to have such recognizable and respected brands as a part of the education platform we deliver."
Details: www.CapitalOne.com/smallbusiness, www.SCRS.com and www.ChipFoose.com. Get small-business insight at www.SparkBusinessIQ.com and through the Repairer Driven Education Series at www.SEMAShow.com/SCRS.
More information:
"Capital One Spark Business Partners with the Society of Collision Repair Specialists to Empower Businesses in the Automotive Repair Industry"
Capital One Spark Business and SCRS, Oct. 17, 2016
Repairer Driven Education Series
SEMA, 2016
Featured image: Celebrity builder Chip Foose is seen during a past partnership with WD-40. (Provided by WD-40 via Business Wire)
Share This: