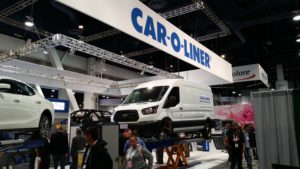 Automotive tool and diagnostics manufacturer Snap-on announced Monday it planned to buy collision repair mainstay Car-O-Liner for $155 million.
The acquisition is expected to close quickly, in less than a month.
Snap-on wrote in a news release it was attracted to Car-O-Liner's collision repair and heavy-duty product line portfolio. Car-O-Liner did about $95 million in sales over the past 12 months, according to Snap-on.
"Car-O-Liner's product offering and special expertise are important additions to our Repair Systems & Information Group, bringing greater capabilities in collision repair and strengthening Snap-on's position in the heavy duty segment," Snap-on Chairman and CEO Nick Pinchuk said in a statement. "Given trends in the collision space, including the need for greater precision, the requirement to accommodate new materials and the higher emphasis on shop efficiency, we believe this acquisition will further Snap-on's progress along its strategic and coherent growth runway of expanding with repair shop owners and managers. We look forward to welcoming Car-O-Liner associates to the Snap-on family."
Snap-on director of PR communications Richard Secor described a relatively vanilla transaction.
"It's a well-recognized brand," he said of Car-O-Liner's appeal, and also repeated the expanded collision repair and heavy-duty collision repair capabilities the sale brought Snap-On.
Snap-on's growth strategy involved targeting both collision repair and mechanical owners and managers for sales, and "this fits in with that strategy," he said.
Buying the Swedish Car-O-Liner didn't suddenly bestow Snap-on immediate access to a slew of new countries, the way the Rhiag sale did for LKQ. According to Secor, Snap-on already sells to 130 nations. However, it did give the company a better collision repair footprint in some of those countries, according to Secor.
There were no plans to move Car-O-Liner's headquarters from Sweden (its U.S. branch is in Michigan, just across the lake from Snap-on's Kenosha, Wis., home.), and he said there weren't any plans for layoffs or consolidating product lines common to both companies.
"This is all business as usual," Secor said.
The announcement of the sale came prior to the start of trading Monday. MarketWatch reported Snap-on stock rose $1.84 to $149.17, up 1.25 percent.
More information:
"Snap-on to Acquire Car-O-Liner"
Snap-on, Oct. 17, 2016
Featured image: The Car-O-Liner booth sits at SEMA 2015. (John Huetter/Repairer Driven News)
Share This: