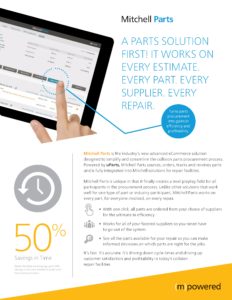 Mitchell announced Monday it and uParts had partnered to integrate a new, free "Mitchell Parts Procurement" system inside Mitchell's estimating software.
Collision repairers will be able to source and order parts through Mitchell Estimating/UltraMate as early as next month, according to Mitchell. The system also will be integrated with Mitchell RepairCenter.
Mitchell said the new offering would make parts procurement more efficient and automated.
Sales and service-repair Vice President Jack Rozint said the program was the "next generation" of Mitchell Parts Manager in RepairCenter, which offers email parts ordering and management functionality today.
"Mitchell Parts underscores our commitment to our clients, enabling us to deliver on the promise of empowering better outcomes," Mitchell auto physical damage Executive Vice President Debbie Day said in a statement. "We chose to partner with uParts based on their superior technology and deep understanding of the entire procurement process. Managing the entire workflow and handling all exceptions from a single cloud-based portal helps our shops increase their operational efficiencies while reducing their cycle-time."
Rozint said Mitchell had invested in uParts, a fellow Southern California company. It doesn't own uParts, he said, but it has enough of a stake that the deal will be exclusive.
Shops can use whichever suppliers they want, and any supplier can join the network, according to Mitchell. The company touts that any shop or supplier "with an email address can participate" in the open platform. (You're essentially sent a link to an online form, and you're in business, according to Rozint.)
"So there is no need for a repair facility to go outside the system because one or more of their favored suppliers aren't in the network," Mitchell wrote in a brochure.
The service is free for shops — and for smaller suppliers, too, according to Rozint.
"That's another beauty of the system," said Rozint, who said he'd been studying the issue since the 1990s and found smaller supplier acceptance to be the major hurdle for electronic parts procurement.
Unlike other parts procurement systems, uParts doesn't charge suppliers until they reach a certain level of business. So there's no disincentive for a supplier used for occasional "onesie-twosie" part orders to sign on, he said.
"They can all still play on the uParts network," Rozint said.
If business starts booming for the supplier, they'll eventually be moved to a subscription pricing model and to per-transaction charges, he said.
Rozint said he'd heard "very positive feedback" from suppliers, who can opt to have their entire inventory integrated into the system for even easier parts ordering, or using simply an email portal to take orders. Either saves time compared to the traditional call-and-fax system, according to Rozint.
"They're actually seeing some efficiency gains," he said, and a Mitchell brochure indicates auto body shops themselves are seeing 50 percent decreases in time spent ordering or tracking parts.
It also has OE Connection integration like the existing Mitchell Parts Manager, removing another chance that shops would have to exit the estimating platform to log onto another procurement system.
The system also provides analytics for shops to keep tabs on those favored suppliers, tracking data like pricing, availability and service. Think a supplier has been slow to ship you parts? Now you can rely on data instead of anecdotal perceptions or having to have more than one parts manager compare notes.
UParts allows shops to order OEM, aftermarket and recycled parts, and it can even search inventories and develop an optimized "uParts Bundle" of all three to meet the need for a particular repair order. Mitchell indicated shops would be able to order all parts associated with an estimate using "a single click."
Both Mitchell and uParts said Mitchell Parts Procurement would benefit multiple collision repair interests, not just shops, and Rozint stressed this as well.
"It's the first solution that really works for everybody," he said. Repairers, insurers, suppliers — all of them can live with it, unlike other solutions preferred by one interest but hated by another, he said. (UParts isn't mandated by insurers, removing another red flag for shops.)
"Mitchell Parts is unique in that it finally creates a level playing field for all participants in the procurement process," Mitchell wrote on its Mitchell Parts portal. "Unlike other solutions that work well for one type of part or industry participant, Mitchell Parts works on every part, for everyone involved, on every repair."
"Mitchell has a rich history of innovation in collision repair and claims management," uParts CEO Alex Adegan said in a statement. "Together, Mitchell and uParts offer a comprehensive parts solution that levels the playing field to satisfy the needs of all sides of the transaction. Mitchell's leadership coupled with our decades of experience in collision parts is a perfect combination for streamlining business operations of all parties in the process."
There's certainly an opportunity for Mitchell and uParts to eat into some competitors' share if it proves as popular — or at least noncontroversial — as indicated.
"For us, this is the right parts solution—they understand this industry and have a collision repair-friendly product that's going to make us better at what we do," Marina Auto Body's Tom Williamson said in a statement provided by Mitchell.
The third-quarter "Who Pays for What?" survey found that 10.9 percent of repairers polled in April were using CCC TRUE Parts, and 9.6 used Solera's APU — parts products from Mitchell's two major competitors. About 0.1 percent used uParts. (Take the final survey of the year, which examines aluminum, here through Oct. 31.)
However, when asked what system they'd use if insurance companies weren't a factor, only 9.2 percent said CCC TRUE and only 0.7 percent said APU. UParts interest actually rose, to 0.3 percent of respondents.
More information:
"Mitchell Announces Mitchell Parts Procurement Through Strategic Alliance with uParts"
Mitchell, Oct. 17, 2016
Mitchell Parts Procurement portal
Featured image: Mitchell on Oct. 17, 2016, announced it and uParts had partnered to integrate the parts procurement system's capabilities into Mitchell. A Mitchell Parts Procurement brochure is shown. (Provided by Mitchell)
Share This: