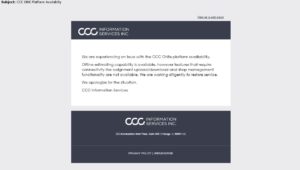 Citing a corporate disclosure policy, CCC declined Monday to offer more details about the Thursday CCC ONE connectivity outage that crippled what appeared to be a large part of the collision repair industry.
The estimating service provider doesn't talk about such technical issues publicly, spokeswoman Michelle Hellyar said Monday.
"It stays in contact with customers, of course," she said.
Hellyar said all she could say was that CCC ONE "has been up and running and operating normally" since a hardware problem knocked out its connectivity Thursday to an undisclosed number of collision repairers.
Questions remaining Monday included many users were affected, the outage's exact duration, what type of hardware issue occurred or if a backup system was planned for the future.
The information provider has said that CCC ONE counts 22,000 collision repair facilities as users, which works out to about two-thirds of the industry's roughly 34,000 individual locations potentially affected to some degree.
"We are currently experiencing an issue with CCC ONE® platform availability," CCC wrote to Repairer Driven News on Thursday prior to connectivity being restored. "We have identified a hardware failure as the source of the issue. We have informed customers and will continue to communicate with them as we work through the situation. Offline estimating capability is available, however features that require connectivity, such as assignment upload/download and shop management functionality are not available."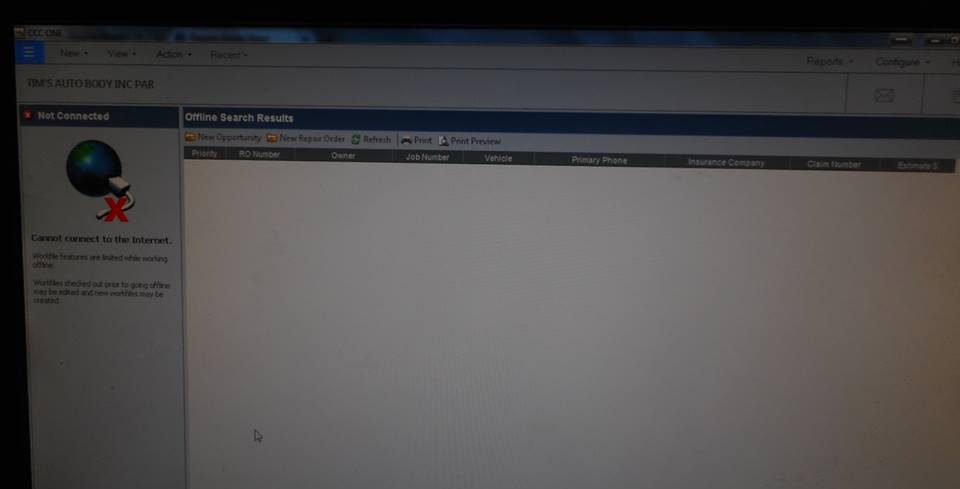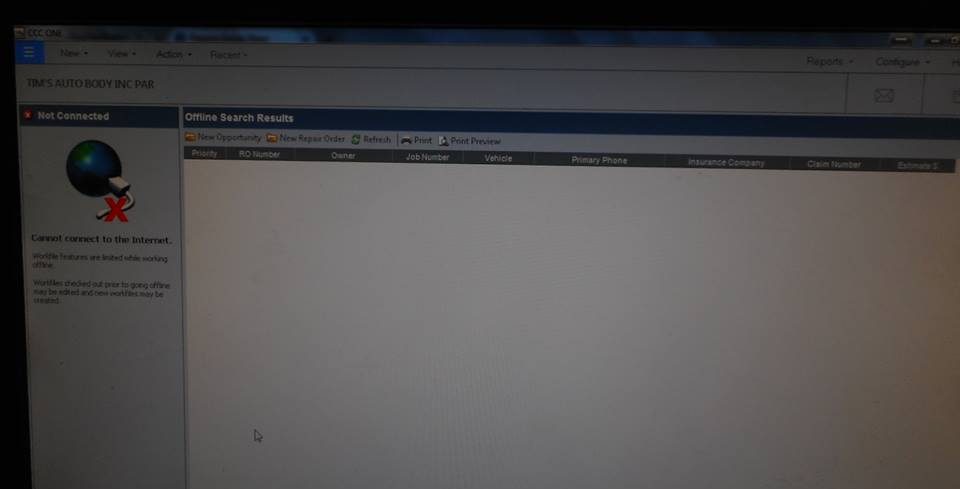 Shops in states as diverse as Massachusetts, Washington, South Dakota and Texas all reported losing CCC ONE online functionality Thursday.
A New Jersey shop indicated the outage began at about 7 a.m. EST, the earliest time reported to us Thursday. A South Dakota repairer did note a 15-minute glitch Wednesday afternoon, but didn't know whether it was related and said the system worked the rest of that day. A Texas appraising company owner said she couldn't log in since 1 p.m. (likely CST) Wednesday.
The earliest restoration report came from a Massachusetts shop at 3 p.m. EST, eight hours later. CCC formally notified users by Twitter and email shortly afterward that they could resume logging on to the system.
CCC also Monday wouldn't say whether the auto insurance and parts supply industries, which use other versions of CCC software, were affected by the outage, or if any other services for shops remained online. Asked about the impact on his industry Thursday, State Farm spokesman Justin Tomczak wrote that the CCC ONE outage affected its Select Service direct repair program partners, which would have indirectly affected its claims handling if the outage were prolonged. But he didn't indicate any direct effect.
Some collision repairers reported workarounds, while others reported turning customers away.
"I got into work at 7:30 PST and it was out already by then," Roarke Ponce, owner of Excel Auto Body (Klamath Falls, Ore.) wrote on our Facebook page on Thursday. "Since I can't access my existing files while it is offline I will be just making notes on paper so I can make the changes or entries needed when it comes back online. If anyone new comes in, everything will be written out by hand and photos taken and I will email estimates to the customers when the system comes back online."
CCC told customers Thursday that offline estimating remained functional, but users reported difficulties printing the estimates.
The company wouldn't elaborate Monday about why printing would be an issue.
Others had a second information provider as a fallback position. The most recent "Who Pays for What?" survey by Collision Advice and CRASH Network found about 34.5 percent of 753 respondents had multiple estimating systems installed (though users also indicated they felt CCC was the best in terms of quality).
CCC didn't say whether it would compensate repairers at all for the glitch, such as airlines or the cable industry have been known to do during other inconveniences.
"I am hoping that CCC is willing to step up to the plate and provide some sort of break or compensation to shops for yesterday's outage as we all lost business," Flagship Collision (Verona, Pa.) owner Michael Sullivan wrote in an email Friday to Repairer Driven News.
"If the insurance company can charge me a rental for my screw up, why can't we charge CCC for a mistake that was fully in their court?"
CCC also declined to answer questions about what measures it would put in place to better notify customers. Though CCC did post updates on Twitter, describe the situation on tech support messages and send mass emails, users still expressed frustration at CCC's communication or offered suggestions to improve it.
"I have YET to get any news by email of any issues,"  Best Paint and Body Shop (Hartford, S.D.) lamented in an email Thursday. "Tried to figure things out myself thinking it was our internet being the issue. Finally called tech line to get an answer only to be told experiencing large call volumes and that if we are having connecting issues to please try it later.  Messaged a friend who is a tech with CCC One to have him tell me the issue. Had to turn customers away. Bad for business when we are struggling already for work in a small SD town! I can't even connect to try and look at previous estimates I wrote. Just dead in the water!"
Unlike more binary "utility" issues like a power or water outage where it's fairly clear if the utility or one's home infrastructure is to blame, an Internet connectivity problem like CCC's can be more difficult — and frustrating — to diagnose for a user. (Is it my software or computer? My modem? My router? My ISP? The other party?)
"I'm sure you know that the CCC One server is down for the past couple of hours or so. While this occurs infrequently, I think that some notification from CCC to end-users would be both useful and appreciated," Nick Kostakis of Angelo's Auto Body in New Jersey wrote to CCC on Thursday in an email he shared with us. "As it stands now when you attempt to log in, the CCC One home screen message does not convey that the issue is on CCCs end, but rather that there is no internet connection available, making some wonder on whose end the issue exists. Finally, the only way to know that the problem has been resolved is to repeatedly attempt to log in.
"A broadcast email to the main Admin user indicating that there is an issue, and a follow up one when the server is back up, would be very much appreciated."
Share This: