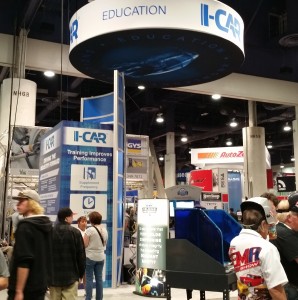 I-CAR warned collision repairers Wednesday that many OEMs do not allow repairs on a bumper cover if a blind spot sensor exists behind it.
It also noted even bumper cover removal can require a calibration of blind spot sensors under some OEM procedures.
"Events that may require a calibration of the sensor include, removal of the sensor, removal of the bumper cover, or damage to mounting locations," I-CAR wrote.
"Programming will be required on many blind spot sensors, followed by an aiming procedure. … Also, keep in mind that most OEMs do not allow repairs to bumper covers in front of blind spot sensors."
The caution was the latest entry in the organization's nifty "Typical Calibration Requirements" series. The educational organization has been reviewing OEM procedures and giving readers a nice summary of typical best practices and what they might expect for procedures like windshield replacement and ADAS calibration. (Though as I-CAR notes, you've got to check and use the actual OEM procedures for the specific model in front of you.)
As bumper covers are the most commonly affected items in a collision (68 percent of the time), according to Mitchell data, repairers need to pay extremely close attention to these kinds of OEM requirements as advanced driver assistance technology appears more frequently behind fascias and panels. About 72 percent of those times, the affected bumper covers are replaced, according to Mitchell's study of a 3 million-estimate subset of the IP's data.
Don't miss the blind spot piece or other entries in the calibration series on the Repairability Technical Support portal. Here's some other recent entries:
I-CAR at SEMA
I-CAR also this week released its full SEMA educational lineup, following an earlier announcement about it and SCRS' SEMA main stage presentations.
It plans more than 30 courses or demonstrations during the show Nov. 1-4 at the Las Vegas Convention Center, spread across classrooms, the main stage and I-CAR's booth, No. 10879.
"Year after year, SEMA Show brings the industry's brightest minds together to talk about the latest in vehicle technologies and materials," I-CAR President and CEO John Van Alstyne said in a statement. "For repair professionals, this is the ideal opportunity to prepare for the 'Technical Tsunami™' by receiving training on the latest techniques and processes that can help organizations and individuals remain focused on repair excellence, despite the changes and challenges ahead."
I-CAR said it will present three-hour classroom courses at SEMA derived from its regular catalog, including:
"Synchronizing Workflow Through Communication" (PM120L01)
"Refining the Team and the Business" (PM145L01)
"Vehicle Technology and Trends 2016" (NEW16)
"Aluminum Exterior Panel Repair and Replacement" (APR01)
"Understanding the Cycle Time Process" (GE001L01)
"Sectioning of Steel Unitized Structures" (SPS11)
"Advanced Steering and Suspension Systems Damage Analysis" (DAM15)
"Understanding and Preventing Refinish Defects" (REF10)
"I-CAR designed the SEMA courses and presentations to help improve collision shop business performance and address changes in technology and materials," I-CAR curriculum and product development director Josh McFarlin, who will co-teach one of the main stage classes, said in a statement.
Details and registration: www.I-CAR.com/SEMA
More information:
"Typical Calibration Requirements for Blind Spot Sensors"
I-CAR, Oct. 19, 2016
I-CAR Repairability Technical Support portal
I-CAR, 2016
Share This: