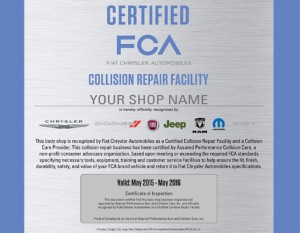 FCA continues to open its collision repair certification program to new applicants, but at some point, saturation will occur in particular markets.
When that occurs, the OEM will examine replacing poor-performing shops with better ones, FCA senior collision manager Bryan Wayne said. He said FCA would judge shops using familiar key performance indicators like cycle time, cost and customer satisfaction — but also by quality-control metrics.
Besides instances in which customers return the cars for issues — something that FCA knows to affect its own brand loyalty — the OEM will track whether the shop accessed repair procedures and the presence of pre- and post-scans on the vehicle estimate, Wayne said last week.
"We know when they've accessed it," Wayne said of repair procedures, and the estimate itself keeps a record of scanning in the form of line items.
Wayne said FCA isn't checking the actual repair output through reinspections or other means, as GM has mused might be necessary should it develop a collision repair certification program. However, it seems as though a shop which referenced repair procedures but ignored them would quickly be "outed" by bring-backs, or even the post-repair scanning information.
Wayne said that this combination of factors — scans, bring-back and repair procedure metrics — ought to yield FCA's goal of a vehicle repaired correctly.
---
Attracting customers in age of 'virtual steering'
Find out how to market to customers and referrers like OEMs or insurers with "Marketing To Your Referral Sources: The Business of Acquiring Business Leads" taught by Frank LaViola of Collision Industry Marketing. And learn how to compete during a time where insurer and OEM technology notices a crash and can direct drivers to a network of shops automatically with "Competing with the Talking Car – Virtual Steering," taught by Steven Feltovich of Sherwin Williams. The two sessions are part of the Society of Collision Repair Specialists' Repairer Driven Education Series from Nov. 1-4 during SEMA. Register here.

---
FCA research has found that 60 percent of collision repair customers which bring the vehicle back to the shop for a post-repair issue sell or trade that car within a year. Of those, 63 percent switch to a different make.
"That's kind of the mantra that we use," Wayne said.
Those statistics indicate bad collision repairs cost OEMs dearly — a point of auto industry market share is worth literally billions to OEMs and dealerships. An OEM also doesn't want to invest the kind of effort and money into building that share only "to lose it over something that's controllable," according to Wayne.
Wayne said, noting that since he joined the certification program in September 2015, he's wanted metrics on the shops.
"That's been almost the bane of my existence," he said.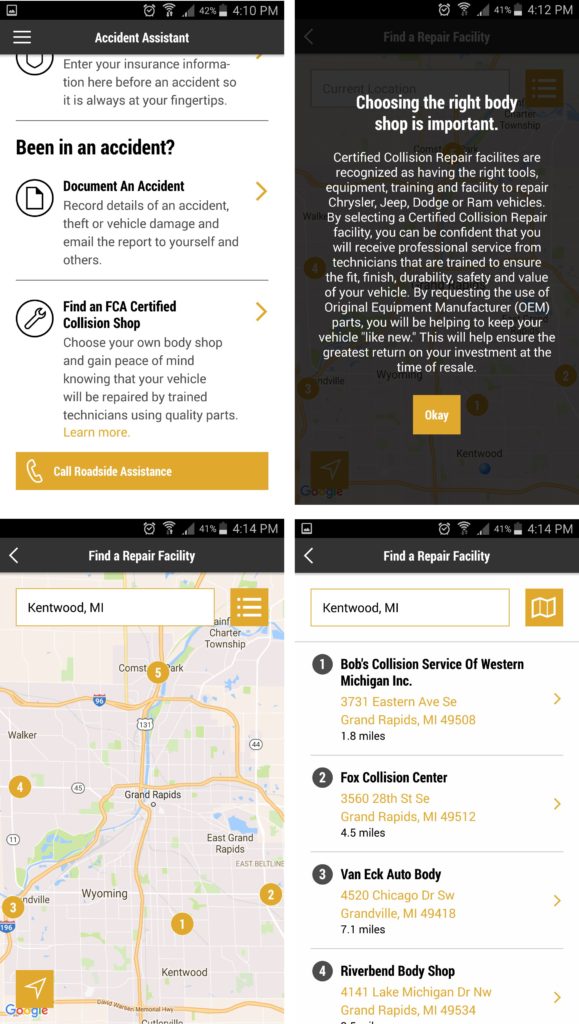 After working with Collision Advice CEO Mike Anderson and CCC to develop and implement key performance indicators, "we are now at that stage where we are getting data," Wayne said.
FCA will examine OEM part usage compared to aftermarket, recycled or refurbished parts, but "that isn't a disqualifier" if the shop uses anything other than new OEM components, according to Wayne.
So long as the customer's happy and the vehicle is repaired properly, the shop won't have an issue with FCA on non-OEM parts, he said.
Of course, it seems possible that non-OEM parts would affect other metrics, based on some points Wayne made about aftermarket parts.
Wayne gave the example of a shop expecting to receive poor-quality aftermarket parts hedging its bets by ordering five copies of the part, hoping one will fit.
"That's all stuff that adds to the cycle time," he said.
He also noted that a "bad fitting fender" could create "wind noise" for a customer, according to Wayne.
"Now, you're mad at the car," he said. (Which would seem to affect either customer satisfaction with the repair or the bring-back rate.)
In terms of cost and cycle times KPIs — which could be inevitably elevated by the quality FCA wants — Wayne described FCA examining unreasonable outlier costs (ownership costs can affect an OEM brand) and touch-to-cycle time ratios skewed by a shop calling dibs on more work than it could handle.
More information:
Mopar customer-facing collision site
Mopar, 2016
FCA certification website for shops
Assured Performance-FCA, 2016
Images:
A sample FCA certification marker from Assured Performance. (Provided by Assured Performance)
Screenshots related to finding a certified collision shop from the FCA Mopar owners' app. (Screenshots from the Mopar Companion app)
Share This: