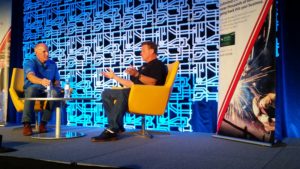 Auto design star Chip Foose discussed his own career and small business decisions before a SEMA audience Tuesday as part of a Society of Collision Repair Specialists-Capital One Spark Business event.
We'll get into some deeper coverage of his small-business insights in the coming days, but we wanted to give those who missed the panel a taste of the event.
Below, find some video highlights from the Repairer Driven News YouTube channel.
Chip Foose on the show "Overhaulin'"
Foose on starting out, licensing and hiring
Foose on spouse Lynne Foose
Foose on his best investment
Foose on purchasing online with credit card
Foose will follow up the talk 10:30 a.m. Wednesday at the Capital One Spark Business Booth by producing custom car sketch based on what attendees say "drives automotive repair businesses," according to SCRS and Capital One. He'll sign copies of it Friday from 9-9:30 a.m. at the Capital One booth, No. 30318.
More information:
Repairer Driven News YouTube channel
"Capital One Spark Business Partners with the Society of Collision Repair Specialists to Empower Businesses in the Automotive Repair Industry"
Capital One Spark Business and SCRS, Oct. 17, 2016
Featured image: Auto design star Chip Foose discussed his own career and small business decisions with Capital One small-business credit card head Buck Stinson before a SEMA audience Nov. 1, 2016, as part of a Society of Collision Repair Specialists-Capital One Spark Business event. (John Huetter/Repairer Driven News)
Share This: