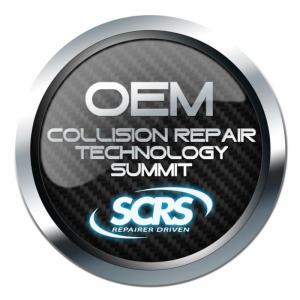 The OEM Collision Repair Technology Summit — the headliner event of the SCRS Repairer Driven Education series — offers auto body professionals the chance to learn about technology right from the folks who are developing it.
For the repairers who couldn't make the three sessions on scanning, composites/adhesives and training, we'll bring you live updates below.
9:30-11:30 a.m.: Scanning
The event starts at 9:30 a.m. Pacific with a panel of OEMs with scanning mandates. John Hughes, responsible for collision repair at FCA; Chris Tobie, Honda collision business specialist; Justin Miller, certified collision planner at Nissan; and Eric Mendoza, training assistant manager for Toyota Collision Repair and Refinish will discuss diagnostics with moderator John Ellis of Ellis & Associates.
Part II of the discussion examines OEM and aftermarket scanning options with I-CAR industry technical relations director Jason Bartanen;  Ellis (again the moderator); Chuck Olsen, operations executive director of AirPro; Bosch training manager Bob Pattengale; Collision Diagnostics Services CEO Doug Kelly; and Jason Gabrenas, national diagnostics trainer for Snap-On.
12:30-2:30 a.m.: Composites and joining
At 12:30 p.m., General Motors body structures advanced composites engineering group manager Mark Voss will host what SCRS called an "exploratory discussion" on the materials, which often feature some sort of fibers encased in a resin. Dow Automotive aftermarket business marketing manager Frank V. Billotto will then address how to join that carbon fiber and other mixed-material body designs with adhesives.
3-5 p.m.: Meet with OEM trainers
The final portion of the day, starting at 3 p.m., will examine OEM training and feature Shawn Hart, Audi collision repair training instructor and curriculum designer; Rick Miller, network consultant for Jaguar Land Rover; James Meyer, senior collision repair and refinish training instructor for Toyota, and Mike Kukavica, collision repair technology instructor for Porsche.
Follow along with all the action below or on Twitter with @repairerdriven.
Featured image: A sign for the SCRS OEM Collision Repair Technology Summit is shown Oct. 31, 2016, before SEMA. (John Huetter/Repairer Driven News)
Share This: