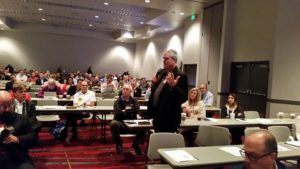 A frank assessment of the Collision Industry Conference from J&E Auto Body owner Joe Lubrano launched what outgoing Chairman Randy Stabler called the best open mic session in his two years leading the gathering.
The comments should give incoming Chairman Guy Bargnes plenty of fodder for his two-year term.
Lubrano said that when he first came to CIC in the 70s, "I saw hope." But "nothing ever, ever got done," and so he quit coming. Others in the formerly "standing room only" audience followed suit when they saw "nothing but talk."
For example, Lubrano said, the idea of having to rekey estimates should have been addressed years ago.
"That should be a dead issue. But unfortunately, it's not," he said.
Lubrano also said shops and insurers should collaborate on what he viewed as the threat from CCC's switch from the EMS to BMS standard.
"We can talk," he said. "But we have to change."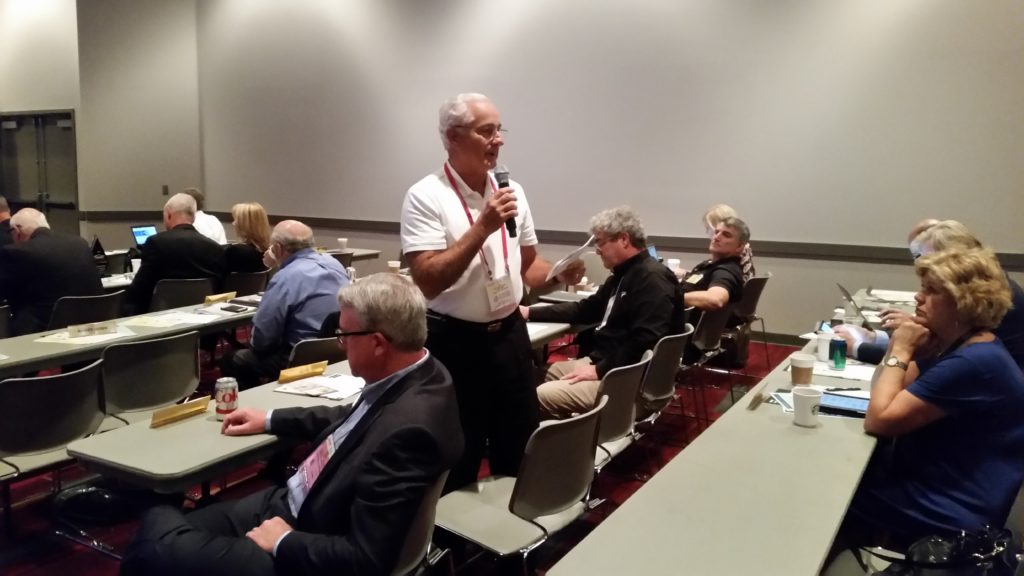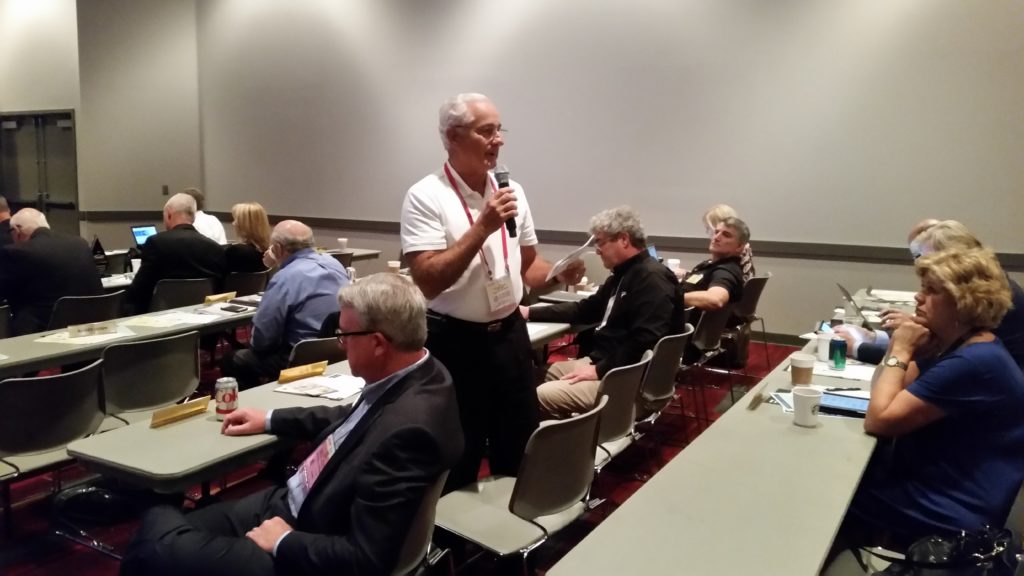 Lubrano also suggested the CIC community hash out the idea of insurers paying itemized amounts for paint and materials instead of an artificial rate. The latter can underpay shops for the actual supplies used during the course of a year.
If dialogue from CIC gatherings could result in actual "this is what we did" examples, it'd increase attendance, Lubrano predicted.
Lubrano's comments and others Wednesday echoed a similar conclusion by Barnes' marketing committee.  In January, his co-chair Chris Brandl of Questback told the audience that collecting feedback data was meaningless unless the body did something about it.
"We must close the loop with feedback," Brandl said. Otherwise, you risk an "uninvolved and unengaged" audience.
In his first official act as chairman, Bargness on Wednesday sought direction from CIC participants on what topics the body should address over the next two years. Check your email for it or keep checking the CIC site for a link.
Brett Bailey, owner of A&B CARSTAR and a Society of Collision Repair Specialists board member, suggested two topics Wednesday.
One would be for industry leaders to cease circumventing OEM directions for repairing vehicles, he said.
As OEMs describe their repair procedures as "recommended," the industry sees "recommended" spun into "17 different directions" and the vehicle repaired to suit the spinner's interests, according to Bailey.  If the OEM which build the car says to repair it a certain way to restore crashworthiness, "as an industry, we need to adopt it" as the standard once and for all, he said.
I-CAR, the Society of Collision Repair Specialists, Automotive Service Association and Alliance of Automotive Service Providers have all formally resolved that OEM procedures are the standard. I-CAR reiterated this in July with a post literally titled "Always Follow Vehicle Maker Procedures."
Bailey also noted that "we've sort of decided to manage this industry by KPIs." While valuable, they can leave a shop "vulnerable," he said.
"The No. 1 goal" should be a safe repair — but sometimes that doesn't happen, he said.
"As an industry, we need to clean that up," he said.
Assured Performance CEO Scott Biggs joked that if someone could see post-CIC email discussions, they'd see participants concluding either that a past CIC was boring — or you need to be there.
"If it's something interesting, people want to be there," Biggs said. While the debate must occur respectfully, controversy should be embraced, he said, noting that one of the most valuable things he's taken from CIC was "what the other people feel."
"Confrontation really is the fuel for enthusiasm," agreed Mike Jones, motivational speaker and founder of Discover Leadership. "… Iron sharpens iron."
John Yoswick, editor of CRASH Network, said CIC might want to revisit some issues from the past. In looking at coverage from a decade ago, he saw that a CIC committee had proposed estimates which show the difference between original and revised repair times instead of simply an asterisk. All three information providers had acknowledged the interest from the CIC gathering, but "to my knowledge, that's never changed.
Lubrano agreed, noting that the older question of "Who owns the data?" was particularly relevant in light of the CCC BMS-EMS announcement. However, he also remembered having to "go back and forth and jump through hoops" to obtain his own customer data from Mitchell.
And Michael Quinn of Certified Collision Group pointed out that CCC had a set of terms that hadn't been redefined or revised since 1998. (Of course, an attempt to redefine another outdated document, the "Class A" requirements, was abandoned after a lengthy controversy.)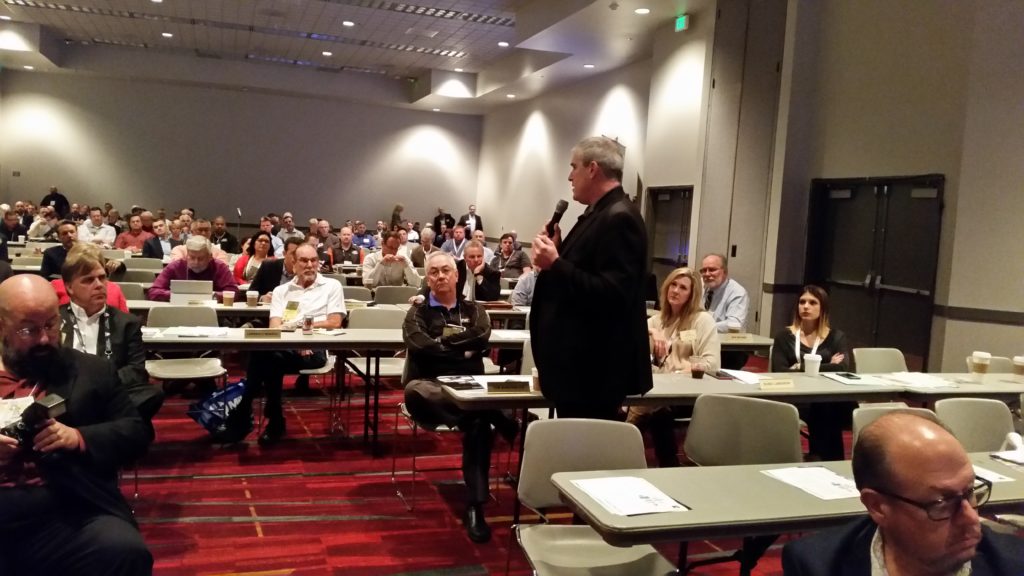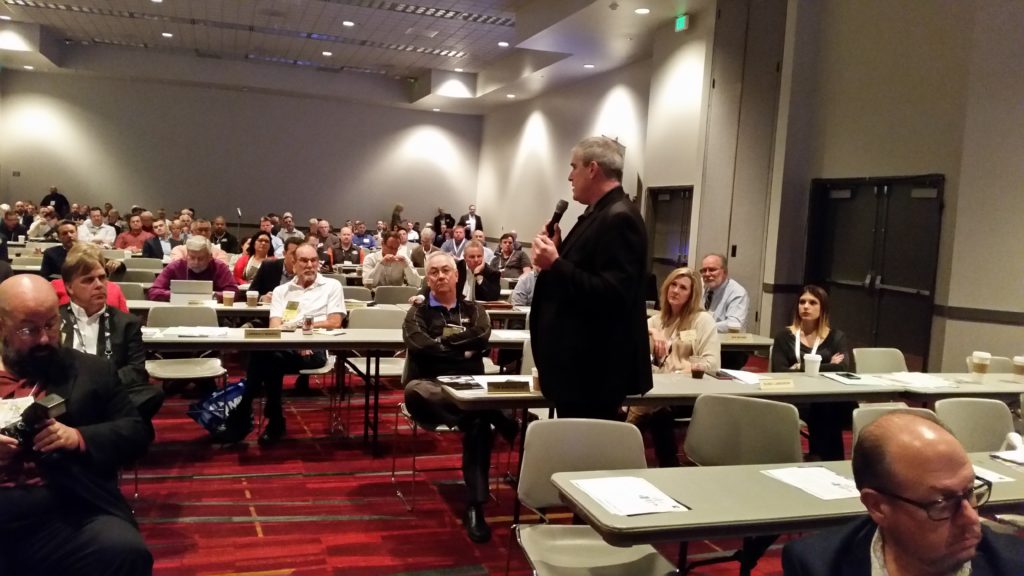 Mark Olson, former VeriFacts chief operating officer (and a founder), now of Vehicle Collision Experts, said "partnership" was lacking at CIC. "there's also a lot of egos in this room," he said. "… Check your ego."
He said that if the industry didn't change itself, the government would do it for them.
"I'm committed to that," he said.
"Anybody in?" he asked, receiving applause.
More information:
"Always Follow Vehicle Maker Procedures"
I-CAR Repairability Technical Support, July 7, 2016
Share This: