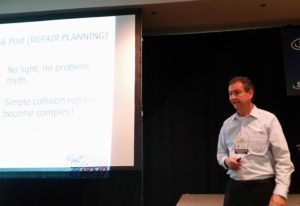 Sherwin-Williams consultant Steve Feltovich advised repairers to develop a strategy now to address increasing vehicle complexity and what he indicated was the inevitability of OEM-influenced shop choices.
About 90 percent of vehicles possibly could have "connectivity" by 2020, and OEMs have a huge incentive to leverage that to recommend customers go to a repairer who will fix the car correctly on the first try, Feltovich said Friday. Otherwise, automakers risk losing millions, if not billions in sales to competing brands. This interest and ability to also communicate with an customer disrupts what can be a largely insurer-dictated business model of collision repair.
"Connectivity" seems like a buzzword, but it's effectively limited by software developers' imaginations. Think about all the stuff you can do now — traffic conditions, mapping, imaging, communications, location-based services — on the iPhone or Android smartphone, technology invented less than a decade ago. Pair all of that with data generated by the car's numerous sensors and internal electronic systems, add greater levels of autonomy, and the vehicle not only changes how Americans live but what their cities look like.
Here's examples from 2014 and this year of what we're talking about:
As cars become more autonomous, they'll go the route of airplanes and demand far more service and repair precision as well as backup systems, Feltovich predicted during the Society of Collision Repair Specialists Repairer Driven Education series at SEMA.
This draws and demands more scrutiny from OEMs and others, according to Feltovich. He pointed out the ability of future connected vehicles to communicate maintenance or collision-related issues with an OEM with the example of Rolls-Royce aircraft engines, which are sensor-packed and transmit updates to a 24-hour monitoring center in Europe. Only Rolls-Royce mechanics work upon the devices, he said.
"Rolls owns it, cradle to grave, around the world," Feltovich said. See this below in a BBC Rolls documentary (Watch around 41:30) and a Rolls-Royce marine concept video.
This type of precision will be demanded for cars because of modern lightweight designs, Feltovich said.
He cited the complex ultra-high-strength steel rear frame rails of the 2016-present Honda Civic, the "very aircraft-like repairs" of an unspecified Mercedes trunk, and the remove-and-replace procedures on the Cadillac CT6. ("'You peel it back like an onion,'" Feltovich quoted a General Motors representative; certified shops must remove layers until they reach an undamaged section, and then they rebuild outward from there with new components.)
"We're not thinking that precise," he warned auto body and insurance representatives present.
Another example involved a German car on a Celette bench. "That's a jig platform," he said, with an 0 mm tolerance.
"It's either right or it's wrong," he said.  "… They're being built to 0 mm tolerance, some of the vehicles."
On top of that, the OEM can't afford the branding implications of a lousy collision repair. Or worse, the liability of a fatally lousy repair on a safety system like autobraking or a self-driving car itself — and when even budget OEM Kia has a self-driving car display at SEMA, you know the technology is coming, Feltovich argued.
And yet, shops are still "way behind" on elements like diagnostics, he said.
"We're going to suffer some pain there," Feltovich said, observing that older garage techs who don't want to learn about electronics make for the worst mechanics today. He recalled a Ford shop that didn't bother to diagnose a car and so put in a new transmission instead of the throttle body it needed. (Or as Spanesi's Tom McGee put it Wednesday, how many $30,000 cars can a thin-margined shop afford to buy back because of screwups?)
Feltovich said he has advised shops, "You need an IT guy." Have a party whose only job is calibration, diagnostics, and other electrical systems, he suggested.
"It's not something that they're used to hearing," he said.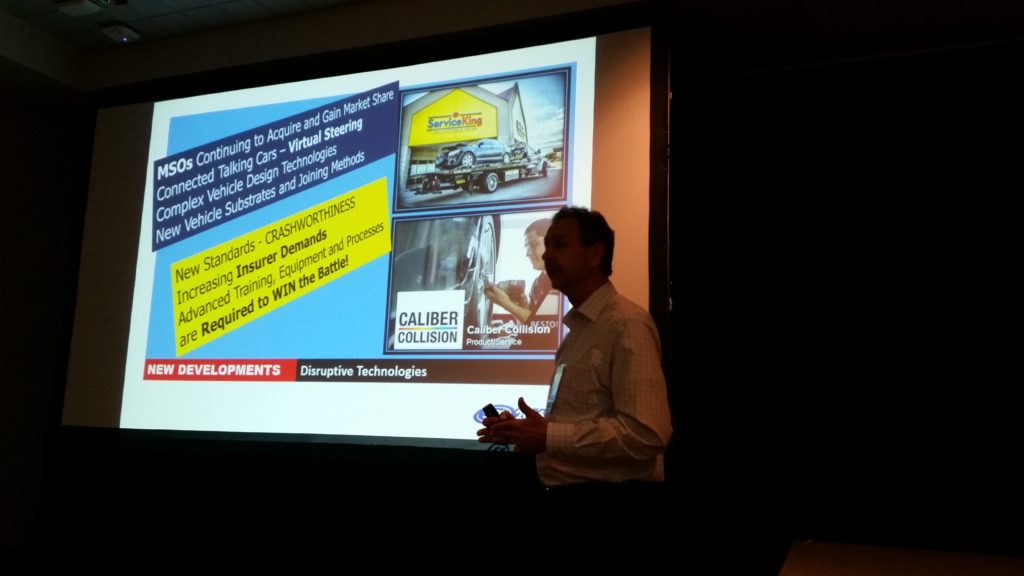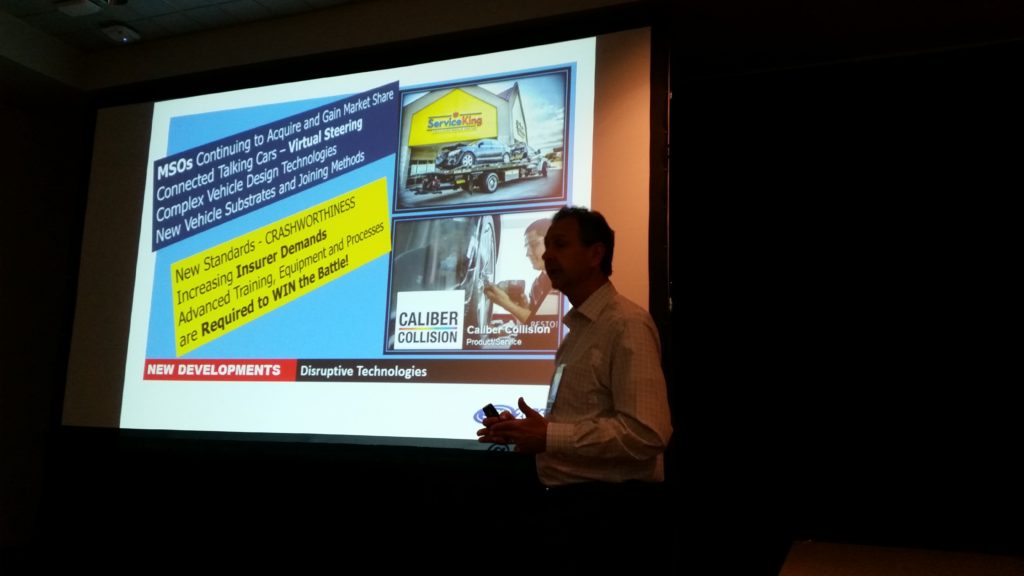 Feltovich recommended shops think about what OEM certification programs they'd want to join; whether they want to repair aluminum (which indeed is likely grow in popularity) and if they can afford the "clean room" necessary for it; and what other equipment and training they'll need to have.
Achieving this level of precision and staying in OEM good graces could be especially hard for independent shops to compete given the investments in training and equipment necessary, according to Feltovich. Multi-store operators, on the other hand, will have enough capital to cover multiple brand certification and repair requirements, he said.
In Europe, MSOs dominate the repair process, while independent shops must specialize in one or two brands.
"That's all they can handle," he said.
Even insurers are beginning to wake up to this complexity, according to Feltovich.
In Canada, Manitoba Public Insurance audited "who's capable of being our repair center for certain types of vehicles."
"They've really deselected a lot of repairers in that market," Feltovich said.
Correction: An earlier version of this article incorrectly identified Sherwin-Williams Steve Feltovich as advising Progressive direct repair program shops. Feltovich was referring to "progressive" shops, as he hadn't advised the insurer, the carrier said.
Featured image: Many collision repairers are unprepared for the complexity of modern vehicles, and facilities which fail to catch up will be snubbed by future connected cars with the ability to recommend qualified, OEM-vetted shops, Sherwin-Williams consultant Steve Feltovich said at SEMA 2016. (John Huetter/Repairer Driven News)
Share This: