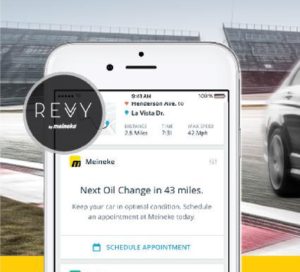 Maaco and CARSTAR sister company Meineke on Tuesday announced it would take pre-orders for the Revvy, an OBD-II plugin that allows users to obtain vehicle diagnostic data and recommend issues be addressed by a local Meineke.
The device is $129.99, but it can turn any vehicle into a hotspot for an unspecified cost using a no-contract T-Mobile 4G LTE data plan.
"The Meineke Revvy will improve the entire driving experience — changing how vehicles are driven, maintained and repaired with the industry's first onboard system that connects cars and drivers," Meineke President Danny Rivera said in a statement. "Not only does the Meineke Revvy learn and monitor you and your car, it also links you to a trusted service partner so you are always protected on the road."
The Revvy will be available to customers in mid-December.
There's a lot of competition for in-car Wi-Fi. OEMs offer it; it's easy to turn a smartphone into a hotspot or buy a hub (assuming you have an affordable data plan) and connected car options like T-Mobile's own SyncUP detects DTCs and provides Wi-Fi for a $0-$169 dongle, a $20 SIM card and a monthly $6.25-and-up 2 GB+ two-year data plan. There's also third-party connected devices like the $49.99 Verizon Hum, which can scan DTCs and do other things for a $10 monthly two-year contract but doesn't appear to offer the same streaming Wi-Fi connectivity.
Meineke won't subsidize Revvy's Wi-Fi a la the T-Mobile example, but it keeps things no-contract and flexible; customers would buy whatever they wished from a suite of T-Mobile options.
Besides, there's a lot more going on here than Wi-Fi. The Vinli-powered Revvy, like the Mojio-partnered T-Mobile SyncUP, is open to developers wanting to create apps. (Hum doesn't seem to offer that ability either.)
That opens up a suite of useful goodies for Revvy users, such as the teen-driver tracking Beagle, Amazon's Alexa telling you about your car, a parking spot detector, and more services connecting a phone to the car. Just like an Android or iPhone app market, the sky's the limit for other automotive service and repair-disrupting software with Meineke's Revvy.
Meineke boasted Tuesday that Vinli had the "Largest App Ecosystem for the Car," and the company's backers include Samsung, Continental and Cox Automotive.
Of course, Google and Apple will probably offer similar apps through the Android Auto/Apple CarPlay being furiously integrated into basically every OEM's new cars — if they aren't already. That could be all she wrote for Revvy, SyncUP, Hum and the rest.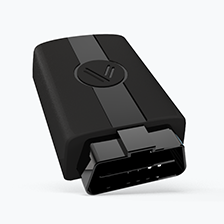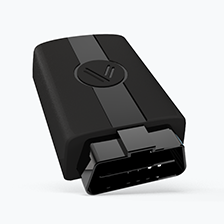 On the other hand, the average vehicle is around 11.6 years old — and every car dating back to at least the 1996 model year can use Revvy through the dongle without paying OEM Wi-Fi costs or signing a wireless contract. That's a giant, lucrative fleet of "dumb" cars about to become smart and connected — and requiring Meineke service and repair to keep running.
Revvy also provides other vehicle data in a daily report, according to Meineke:
Miles driven
Vehicle locations and time there.
Average and top speeds
Hard braking and acceleration
Gas mileage
"Engine load"
For collision repairers, insurers, OEMs, mechanics and dealerships, there are two main takeaways.
1. Third-party 'steering'/recommendations
There's not just OEMs and insurers recommending/"steering" (depending on your perspective) to preferred networks of auto body shops and mechanical service and repair/roadside assistance businesses anymore. Automotive third parties can get into the game fairly easily by combining apps and OBD-II devices to promote their own companies.
For dealership service centers and body shops performing mechanical work, Meineke might have snagged a huge competitive advantage in attracting business by launching Revvy. Dealerships might still get newer models' DTC business from OEM and Apple/Google smartphone connectivity, but there's going to be a lot of older cars and users preferring to use potentially cheaper third-party connectivity options out there too.
Though more details weren't immediately available, a Meineke representative said sister Driven Brands companies CARSTAR and Maaco were also excited by the potential of Revvy.
It seems likely that a large MSO could develop its own crash-detecting and body shop-directing apps for Revvy/Vinli in conjunction with — or in competition with — insurers and IPs like CCC or the European eCall service. Even a smaller collision repair business with access to a coder or two might be able to develop something like this or another useful tool for consumers. (There's a long history of "garage" tech startups programming great things on the cheap — including Google and Apple.)
2. Busted!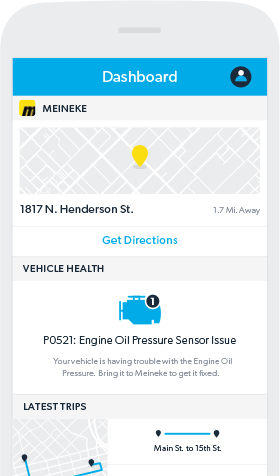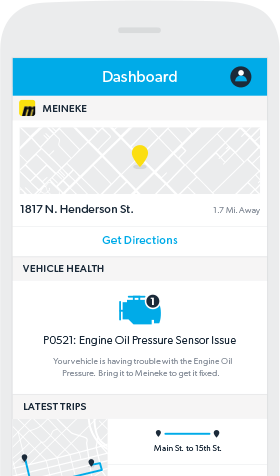 The more immediate takeaway for collision repairers and auto insurers incentivizing corner-cutting is this  — screw up a repair in a way that triggers a diagnostic trouble code, and the car could rat you out to a customer via their phone or Alexa.
And remember, scanning can be necessary for vehicles at least as far back as 1996, as Mercedes recently observed, so anyone thinking they can skip scanning a old car lacking later-model features like autobraking might be surprised to learn from the car he or she was wrong.
According to Meineke, the Revvy "connects to vehicle onboard diagnostic systems, creating a fully connected car that delivers freedom from worries about vehicle maintenance, peace-of-mind and deeper insight into vehicle performance – no matter who is driving."
It scans the car each time the vehicle is turned on, Meineke says.
"If a check engine code returns an error, the Meineke Revvy notifies the driver that maintenance or repairs are needed," Meineke wrote in its news release. "It will also contact the neighborhood Meineke to arrange an appointment.  All the driver has to do is drop off their vehicle at their neighborhood Meineke for service."
For drivers, there's the chance to do preventative maintenance and get peace of mind by performing fixes at one of Meineke's 900 locations.
This raises the issue of how well Vinli's code detection compares to a OEM tool in terms of accuracy and updates, but this has been described as less of a concern for mechanical repairers given their generally older clientele of vehicles. Newer vehicles have warranties and don't break down for a while anyway, giving aftermarket scan tool manufacturers more time to reverse-engineer or provide OEM scanning comprehensiveness.
Plus, if you're driving a 11-year-old car with zero connectivity, anything's better than the status quo.
"The vehicle's onboard diagnostic system is there to alert drivers of vehicle issues or maintenance needs," Meineke wrote. "Knowing what the lights mean and proactively managing the vehicle's maintenance can save thousands in repair costs and extend the life of vehicles."
More information:
"Rev Up Your Life on the Road with the New Meineke Revvy"
Meineke via PRWeb, Nov. 29, 2016
Images:
Meineke will sell a new connected car capability known as the Revvy. (Provided by Meineke)
The Vinli plug-in, a version of which Meineke will use with Revvy.  (Provided by Vinli)
This screenshot demonstrates Meineke's upcoming Revvy. (Provided by Meineke)
Share This: