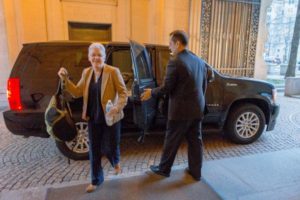 The Environmental Protection Agency on Wednesday proposed preserving the infamous 54.5 mpg 2025 standard for OEMs, and a spokeswoman reminded Automotive News and other media that it could lock in the standard ahead of the April 1, 2018, decision deadline.
Doing so might formally commit OEMs to the aggressive lightweighting push that's resulted in aluminum, ultra-high-strength steel, magnesium and composites making headway into mainstream vehicles — complicating life for auto body repairers.
The EPA will end public comment Dec. 30 and then Administrator Gina McCarthy will "decide whether she has enough information to make a final determination on the model year 2022-2025 standards," the agency wrote Wednesday.
According to Automotive News, EPA Office of Air and Radiation acting assistant Administrator Janet McCabe swore Wednesday the decision had nothing to do with Republican President Trump taking office in January.  The Wall Street Journal earlier this month reported that a review of national regulations under Trump administration would include the CAFE standards.
As Automotive News wrote:
The proposal that came today was expected to come sometime in 2017, according to a timeline previously posted on the EPA's website. A final decision was due no later than April 2018.
"The April 2018 deadline was a 'no later than' set forth in the 2012 rule," McCabe said. "There is no required precise date on which the final determination needs to be done."
McCabe said the decision was based on substantial analysis and a "rigorous technical record," not what the incoming Trump administration may do.
"That's really not what's on our minds," she said.
"Given the auto industry's importance to American jobs and communities and the industry's need for certainty well into the future, EPA has reanalyzed these clean car standards and sought further input," McCarthy said in a statement Wednesday. "It's clear from the extensive technical record that this program will remain affordable and effective. This proposed decision reconfirms our confidence in the auto industry's capacity to drive innovation and strengthen the American economy while saving drivers money at the pump and safeguarding our health, climate and environment."
The EPA wrote in a news release that OEMs were "well positioned" to meet the targets — which have been described as a difficult hurdle — and in fact beat the 2015 standard.
"At the end of 2015, all large automakers were in compliance with the standards," the EPA wrote. "In fact, automakers on average out-performed the model year 2015 standards by seven grams per mile. These gains are happening at a time when the car industry is thriving, and domestic vehicle sales have increased for six consecutive years, while maintaining consumer choice across a full range of vehicle sizes and types."
And be grateful, the EPA told OEMs — it could have set harder standards.
"Although EPA's technical analysis indicates that the standards could be strengthened for model years 2022-2025, proposing to leave the current standards in place provides greater certainty to the auto industry for product planning and engineering," the agency wrote. "This will enable long-term planning in the auto industry, while also benefiting consumers and the environment.  "
Be heard: Public comment can be left here for Docket EPA-HQ-OAR-2015-0827 through Dec. 30.
National Automobile Dealers Association President Peter Welch on Wednesday criticized the decision as "midnight regulation" making vehicles more expensive and subsequently slowing fuel economy gains.
"Washington today decided to make new cars and trucks more expensive for America's working men and women," Welch said in a statement. "The outgoing administration has chosen to halt progress on fuel economy by enacting a policy that will delay the introduction of safer and cleaner vehicles by making them more expensive.
"Consumers deserve access to affordable new cars and trucks, but Washington's midnight regulation will increase costs and force many working families into older, less safe and less efficient used cars.
"NADA looks forward to working with the Trump Administration to ensure that working families can choose the cleaner new cars and trucks they need at prices they can afford."
Earlier this month, we discussed why lightweighting and other gas mileage innovation might continue for a variety of reasons under Trump, whatever he and the EPA decide to ultimately do.
And we since remembered another reason — California, a wild card as unpredictable as Trump.
The California Air Resources Board was brought into the decision-making for the CAFE standard to prevent the chance that the environmentally friendly California, a gigantic automotive market, would deliver tougher regulations than the feds and force companies to build two sets of cars.
More information:
"Robust Technical Analysis Supports Leaving Carbon Pollution Standards for Cars and Light Trucks in Place Through 2025, EPA Administrator Finds"
Environmental Protection Agency, Nov. 30, 2016
"EPA's Rush to Final MPG Standards Will Make Personal Transportation More Expensive"
National Automobile Dealers Association, Nov. 30, 2016
"EPA jolts industry, affirms CO2 standards"
Automotive News, Nov. 30, 2016
Featured image: Environmental Protection Agency Administrator Gina McCarthy gets out of a hybrid Chevrolet Tahoe in 2014. (Provided by the Environmental Protection Agency)
Share This: