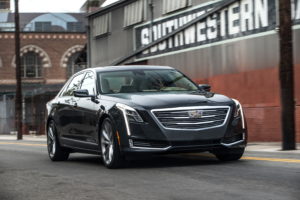 General Motors' new issue of GM Repair Insights reports that the OEM is still trying to build out a 100- to 150-auto body shop network for the aluminum-and-steel Cadillac CT6, suggesting a potential business opportunity for some collision repairers.
The vehicle sold 1,169 in November and 7,876 since it launched earlier this year, and GM acknowledges that repairers might be skeptical of the benefit of signing on for such a niche luxury car.
But GM Repair Insights counters this with quotes from Edison, N.J.-based Ultimate Collision Repair's owner Jerry McNee. McNee argues that the more certifications, the merrier — and the more street cred for the shop, according to the magazine.
"If we're going to be the best, we have to do the best work, and that means repairing everything," McNee, whose shop's 12 certifications before Cadillac included luxury brands like Bentley and BMW, told GM Repair Insights. "… Certifications are the way to go in this business."
A November list of certified shops indicates some states that could probably use a couple more shops in the network. (Somewhat ironically, there's only one CT6-certified shop in Michigan.) Twenty-five states don't even have a single collision repairer approved to repair the car, based on that list.
Besides bolstering a shop's reputation and having GM market you to CT6 owners — and perhaps indirectly to other Cadillac owners who noticed the brochures or once had a CT6 — certification could guarantee the shop some exclusive business. Like Tesla and certain European luxury OEMs, General Motors won't allow uncertified shops to receive CT6 structural measurements or structural parts.
That's because the mixed-material CT6 demands a variety of cutting-edge joining strategies and expertise on properly repairing both modern automotive steel and aluminum — including how not to screw up either substrate through corrosion or incorrect joining. In 2015, it explained as much to collision repairers, and a March presentation reiterated some of this for insurers.
If only 150 shops in the country can work on the CT6's skeleton, it might behoove repairers to consider joining those ranks. One also has to wonder if CT6 certification might help get a foot in the door if Cadillac builds another mixed-materials vehicle (the Escalade, for example, could perhaps stand to lose a few pounds through such lightweighting) or if — and likely when — General Motors launches a broader collision certification program.
Certification requires specific equipment, training — including two GM-specific classes and three I-CAR aluminum courses — and other auditing. General Motors wholesale channel associate Rachel Rodriguez told GM Repair Insights that "depending on the existing resources a shop brings to the table, qualifying for the network can require little more than an audit or a more significant investment in time and equipment/tools, with full certification usually taking 1-3 months."
More information:
"Aluminum Opportunity — GM looks to build ranks of Cadillac Aluminum Repair Network"
GM Repair Insights, Dec. 7, 2016
GM Cadillac aluminum repair network page
Featured image: The 2017 Cadillac CT6. (Copyright General Motors)
Share This: