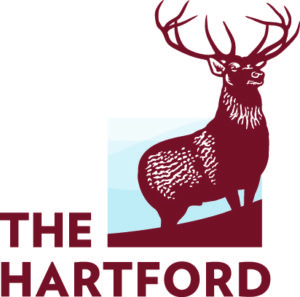 The Hartford has told its network of direct repair program shops to now consider "same-series" recycled parts older than the actual policyholder's vehicle being repaired.
Prior to the switch, the insurer only allowed recycled parts the "same year or newer" to be used on the customer's vehicle.
"The Hartford recently revised its policy for recycled cosmetic parts, such as hoods and bumpers, to include parts from the same vehicle series," Hartford spokesman Thomas Hambrick confirmed in an email last week.
The change was disseminated through an email to Customer Repair Service Program collision repairers shared with us last month.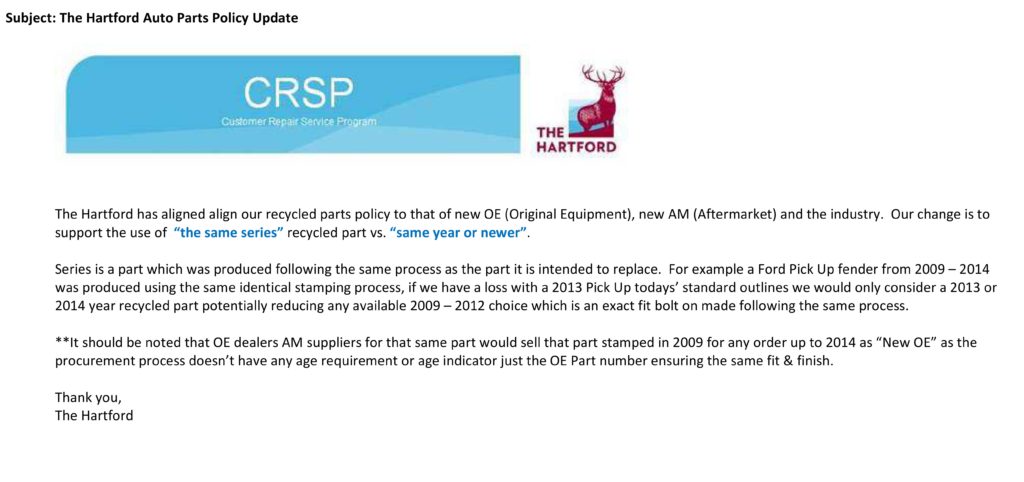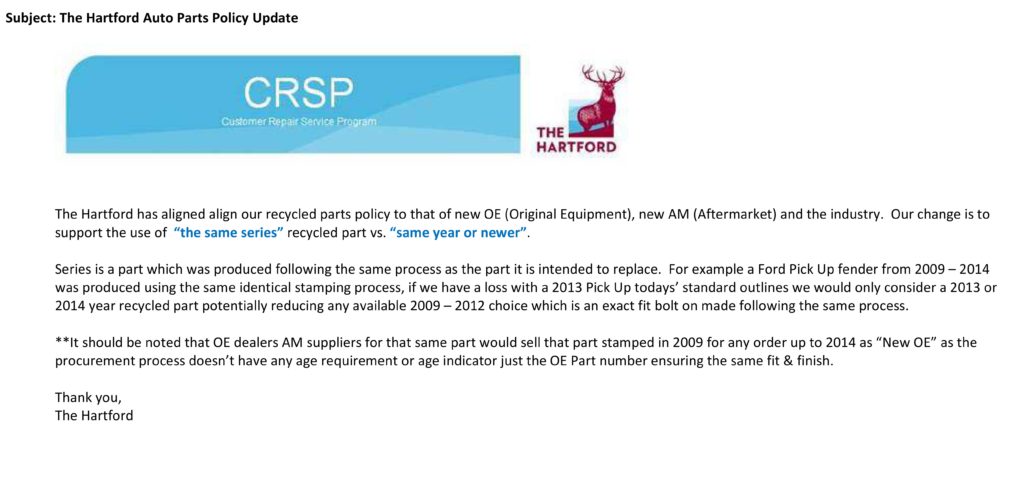 Parts in the same series are identical, and an older part will fit a newer vehicle within that design or refresh generation, and vice versa. Opening up the field could help source more used parts — argued by recyclers to be better than new aftermarket alternatives — quickly for Hartford customers, thereby getting their cars fixed faster.
"Series is a part which was produced following the same process as the part it is intended to replace," the Hartford wrote to repairers. "For example a Ford Pick Up fender from 2009 – 2014 was produced using the same identical stamping process, if we have a loss with a 2013 Pick Up todays' standard outlines we would only consider a 2013 or 2014 year recycled part potentially reducing any available 2009 – 2012 choice which is an exact fit bolt on made following the same process."
The Hartford in its note to DRP shops also observed that dealers and aftermarket suppliers would sell a part that old to a shop anyway.
"It should be noted that OE dealers AM suppliers for that same part would sell that part stamped in 2009 for any order up to 2014 as 'New OE' as the procurement process doesn't have any age requirement or age indicator just the OE Part number ensuring the same fit & finish."
However, the collision repairer, who requested anonymity given the DRP relationship, argued that a part older than the vehicle would have experienced more wear and weathering given its longer time on the road or in a salvage facility (which might not have the same part-protection conditions as a dealership warehouse).
Design or refresh generations can last a while. Besides the Ford example mentioned by Hartford, we recently covered the Jeep Compass, hits its next generation for the 2017 model year after being introduced for MY 2006 and refreshed for MY 2011.
"The Hartford is committed helping get its customers back on the road as soon as possible and will never compromise safety or quality of a repair," Hambrick said in response to such age-related concerns. "We expect shops in our direct repair program to develop fair and accurate estimates to complete quality repairs.   We believe that expanding the potential population of a parts search to include all years of a vehicle series will increase the number of quality parts options for repairs. As always, to demonstrate our commitment to quality, The Hartford guarantees the workmanship of repairs completed by our direct repair shops for as long as our customers own their vehicles."
This controversy might to some degree resolve itself. Former Mitchell industry relations Vice President Greg Horn pointed out at NACE that OEMs might be refreshing vehicles more frequently than in the past, which would for at least some parts reduce the number of years in a series. (While this could complicate life for aftermarket manufacturers, it's probably good for recyclers, as smaller runs of parts make the used versions a hotter — and pricier — commodity.)
And of course, if modders and owners someday start customizing cars through 3-D printing of cosmetic components — or a local OEM-sanctioned printer spits out replacements — all bets might be off.
More information:
New Hartford recycled parts policy
The Hartford, fall 2016
Images:
The Hartford's logo. (Provided by the Hartford)
The Hartford has told its network of direct repair program shops to now consider "same-series" recycled parts older than the actual policyholder's vehicle being repaired. (Hartford email provided to Repairer Driven News)
Share This: