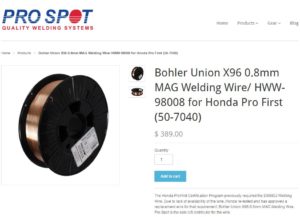 Honda on Thursday warned collision repairers of the existence of knockoff versions of the 980-megapascal wire it requires for structural MAG welding on ultra-high-strength steel.
"There is imitation 980 MPa wire out there," Honda collision instructional designer Chris Tobie told a VeriFacts Guild21 call. (See slides.)
The imitators retail for much less than the older Bosch DS980J and new Bohler 0.8 mm Union X96 wire spools, but Honda hasn't tested or approved anything other than the coils supplied by those two manufacturers through what is currently three retailers, he said. (Honda might have more retailers to announce soon, according to Tobie.)
Some of the knockoffs are coming from overseas, "where there are no testing and no regulations for quality control," according to Tobie.
Nobody knows if it even is 980 MPa, he said.
If it's in reality weaker, you're looking at a weld failing at one of the areas where structural strength was most important, judging by the steel grades Honda used. That can't be good.
"If you choose to use one of those cheaper wires, you are creating liability for yourself," Tobie said. "… Peoples' lives're in our hands, folks. This is not a place to cut corners."
Bosch no longer makes DS980J, but collision repairers who have some left can still use it, Tobie noted. The new Bohler Union X96 wire can be purchased from Pro Spot, the Honda/Acura tool and equipment program or Dealer Equipment & Services; contact information for the retailers can be found in the August 2016 Body Repair News.
As for the pricing of the approved wire, Tobie said the cost has fallen from around $95 a pound during the end of the DS980J run to just $35 per pound with the new Bohler wire. The Union X96 is sold in 11-pound rolls, according to the Body Repair News.
Honda allows repairers to weld with lower-strength wire so long as the spools "have a tensile strength equal to or greater than the lowest tensile strength of the parts being welded," according to the Body Repair News. However, Tobie recommended Thursday that repairers just use the 980 MPa wire for the entire 270-980 MPa gamut of steel the OEM allows to be welded. (That's one reason why Honda wanted the cost of the wire to fall as it has.)
Otherwise, a shop constantly swapping out grades of welding wire runs the risk of making a mistake.
"Do you really want to take that chance?" Tobie asked. "… Generally, it's best to eliminate potential errors."
More information:
"Body Repair Manual Welding & Sectioning Guideline Revisions"
Honda Body Repair News, August 2016
"Acura Body Repair Manual Welding & Sectioning Guideline Revisions"
Acura Body Repair News, September 2016
Honda Independent Repair Website
Honda via VeriFacts, Dec. 8, 2016
Featured image: The real Bohler Union X96 980 MPa welding wire is shown on Pro Spot's website. (Screenshot from http://store.prospot.com)
Share This: