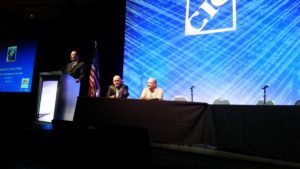 UPDATE: Chubb on Jan. 9, three days after this article was published, called an earlier email declaring it would scan all 1990-or-newer vehicles before and after a collision "sent prematurely" and not company policy. The carrier said it would continue to handle vehicle scans — which numerous OEMs have deemed necessary within repair procedures and position statements — on a "case-by-case" basis. Find out more here.
Hot off the news that Chubb will pay for pre- and post-scans of at least everything back to 1990, the Collision Industry Conference will next week tackle the question of how collision repairers, insurers and other stakeholders should handle the revelation that diagnostics need to be conducted on vehicles.
Jack Rozint (Mitchell) and Michael Quinn's (Certified Collision Group) Emerging Technologies Committee will tackle the issue in the longest session of the one-day conference, from 10:45 a.m. to noon Jan. 12. The committee also has formed a task force with two work groups to further address the issue, and members of the collision repair industry and other stakeholders are welcome to join in that effort.
"Emerging Technologies" is in this case sort of a misnomer. The need to scan has been around for years, but many insurers and collision repairers apparently didn't realize it until 2016, when OEMs raised the procedure in position statements.
OEMs like Honda and Toyota have confirmed that trouble codes without dashboard lights date at least to the start of the OBD-II diagnostics standard in 1996. Its predecessor OBD-I was codified by a 1990 federal law and mandated by California in 1988.
Since the average repairable car is only around 7 years old, the U.S. fleet only averages 11.6 years and mostly refreshes itself after 20 years, the odds would seem to favor virtually everything that the insurer isn't totaling as requiring scans. By the point you're in the potentially grayer area of the 1990s, the car's only probably worth a couple of grand and is potentially totaled by even a minor collision anyway, rendering scanning moot.
Unfortunately, scanning adds severity that actuaries might not have anticipated when pricing premiums and liability for the shops which don't do it or miss items by using an aftermarket scanner instead of a more expensive OEM scan tool. There's also the question of what to do when something minor happens.
Chubb didn't want to get into such "what if?" games that could blow back on it, according to Montana regional MSO owner Matthew McDonnell, who's participating in the committee discussion Jan. 12. McDonnell described Chubb's position as a "fantastic" stance that despite defaulting to 2.0 hours (1.0 pre-, 1.0-post) at the body rate still allows for supplements to cover dealership or Collision Diagnostic Services scan sublets.


But not everyone might be as happy with that solution, and there might be a lively little dialogue next week. Prepare for the discussion by reviewing the prolific committee's work products on the topic since the CIC convened in November. And if you're really interested in the topic, why not join the committee? 
There's already about 30 members representing auto body shops, insurers and OEMs — arguably the three most interested industries — and also equipment companies and trade groups. But it welcomes other participants.
"The work of this group is critical to our industry," incoming CIC Chairman Guy Bargnes of Painter's Supply & Equipment Company said in a statement. "The issues of scanning and diagnostic procedures are among the most critical facing the collision repair industry today. We must get our collective arms around this issue and we invite all interested parties to participate."
Right now, the task force sees three main goals for the collision repair ecosystem with regard to scanning:
Educate & inform all interested parties
Protect the Consumer – Enable proper repairs
Minimize friction between all parties in the claims, customer service & repair processes
To this end, it's spun off two work groups, both chaired by rival diagnostic tool manufacturers.
A "Definitions" group led by AirPro Diagnostics' Chuck Olson will collect and identify all the terms relevant to the topic, OEM and otherwise. That might sound easy, but it's not. The OEMs all seem to be handling their own diagnostics requirements and the SAE J2534 scanning software access standards differently, and there's no consistency among some of their vehicle technology or repair terminology either, as I-CAR's calibration definition compilation and the Insurance Institute for Highway Safety have pointed out.
A "When to Scan" and how you'd know to do so group led by Jake Rodenroth of Collision Diagnostic Services. That body will examine how best to bring OEM scanning procedures into the repair process — including possibly integrating them into estimating services. It'll also examine how shops and insurers can identify when scanning is necessary in those grey areas between the OEM procedures and the facts of the collision.
"I am confident we can find solutions to address all stakeholders' concerns while ensuring a complete and safe repair for the consumer," Rozint said in a statement. "The group we have assembled represents some of the best minds in our industry and we all are committed to addressing the issues at hand."
As noted above; there's room for more "best minds." Email emergingtech@ciclink.com.
More information:
January Collision Industry Conference agenda
Collision Industry Conference, Dec. 28, 2016
CIC Emerging Technologies Committee work products
Collision Industry Conference
"CIC Emerging Technologies Committee Invites All Stakeholders to Tackle Pre-Post Repair Scans & Diagnostic Repairs"
Collision Industry Conference, Dec. 30, 2016
Images:
At left, Jack Rozint, now of Mitchell, discusses scanning at the August 2016 Collision Industry Conference. (John Huetter/Repairer Driven News)
Chubb, the world's largest property-casualty insurer, has told U.S. estimators that it will pay for pre- and post-repair scans on all vehicles dating back to 1990.  (Provided by Chubb)
Share This: